Description
Assalamoalaikum Wa Rahmatullah Welcome to another storynight, This is the Qur'anic story of Musa A.S and his incredible life. Exploring his childhood, being raised as a prince, the Pharoah and his return to Egypt. Told by a professional storyteller with audio and visual aids within an Islamic framework.
WATCH OUR STORYNIGHT PROMOTIONAL VIDEO :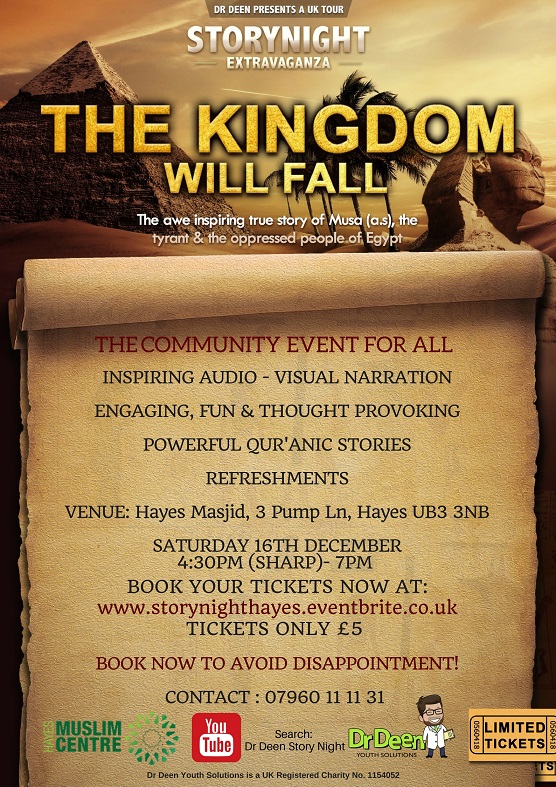 You Tube search: DR DEEN STORY NIGHT
**ABOUT DR DEENS STORY NIGHT PROJECT** In a world of mass media , smartphones and gaming, how can we engage our children in purposeful entertainment? After all, so much of what our children watch and play is inappropriate, shameless or destructive whether that be spiritually, physically or mentally. With 76% of Muslim twelve year olds using unsupervised smart phones ,what can we expect? Stories…… Stories are a method used by the Lord of the Worlds, Allah (swt ) to guide, inspire and even entertain with meaning and clear purpose. Dr Deen's Story Night is a project we started in 2012 to bring audio visual storytelling to the youth.
The results were astounding. Muslim youth staying glued to their seats for hours on end. The story of Yusuf (a.s) fours hours on and they were asking for more! Compare that to seating youth in a halaqa or Islamic lecture! Whilst story night primarily focused on the youth, story night has been a success in bringing families together to enjoy the stories and spend valuable time in a safe space. Story night has been enjoyed by Muslims not just in the UK. We held storynight for Muslims in Shanghai, China. We have plans to take Story night to Sri Lanka soon. Story night is a series of stories from the Qur'an and Seerah. Following feedback from attendees future plans include lives of inspirational people; role models in a world struggling to offer many inspirational personalities away from the lives of celebrities and pop stars.
For further information or to book a session please contact doctordeen1@gmail.com or tel: 07960 11 11 31