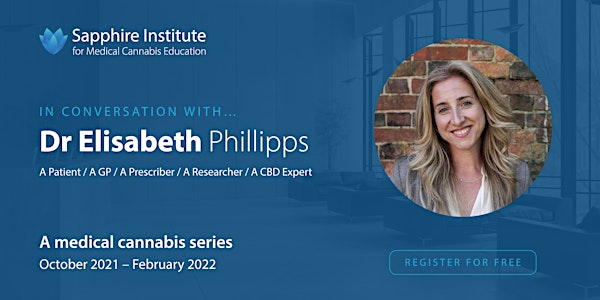 Dr Elisabeth Philipps | In conversation with ... A medical cannabis series
This new medical cannabis education series invites patients, carers and clinicians to listen to their peers and learn more about treatment
About this event
The Sapphire Institute for Medical Cannabis Education has partnered with CBD expert Dr Elisabeth Philipps to host a range of topical conversations on medical cannabis. From basic questions about treatment, to further education on condition specific access, we cover off CBD and medical cannabis welcoming a new guest to share their experiences each month.
Dr Elisabeth Philipps is a clinical neuroscientist and functional medicine practitioner, with extensive training in nutrition and lifestyle approaches to supporting health. Elisabeth will use her special interest in the endocannabinoid system (ECS) and its importance in underlying all aspects of health to chat to a range of researchers, prescribers and patients using medical cannabis and CBD.
This free series welcomes patients, carers and clinicians interested in Cannabis Based Medicinal Products (CBMPs) bespoke to the UK. All sessions start at 12pm. Please register for each webinar you are interested in attending.
1. The Patient
14th October 2021
With patients at the centre of this conversation series, we start by exploring the unique journey all patients experience when seeking access to medical cannabis.
2. The GP
4th November 2021
Over 70% of GPs are asked about cannabis treatment by patients according to recent research*. We speak with a GP to understand their perspective on treatment and how patients can access treatment when conventional treatment has failed.
3. The Researcher
20th January 2022
Sited as one of the barriers to wider access of CBMPs, research and real-world evidence is advancing in the UK. Elisabeth will uncover the latest research projects and results, and what this could mean for patients in the near future.
4. The CBD expert
24th February 2022
Over the counter CBD differs from medical cannabis prescribed by specialists. In the final session, Elisabeth delves into these differences to understand when, and for who, they may be appropriate.
5. The Prescriber
(New date confirmed) 17th March 2022
Chronic pain is known to affect 1 in 4 adults in the UK in their lifetimes. We interview Pain Specialist Dr Wendy Holden about the challenges faced by patients to manage chronic pain, as well as the paucity of medications available for chronic pain.
The Sapphire Institute for Medical Cannabis Education provides a source of online training, free education and up to date research on medical cannabis https://sapphirecannabiseducation.co.uk/
Who can attend:
Created with patients in mind we invite carers, families, patients and interested healthcare professionals to register for free. Conversations are centred around the UK landscape and CBMPs available locally, though international guests are welcome. Please share any questions prior to the session by emailing education@sapphireclinics.com
Connect with us:
https://twitter.com/SapphireClinics
https://twitter.com/DrPhilipps
https://www.facebook.com/SapphireClinics
https://www.instagram.com/drelisabethphilipps/
https://www.linkedin.com/company/sapphire-medical-clinics
https://www.linkedin.com/in/dr-elisabeth-philipps-ba736215/
* https://primarycarecannabisnetwork.com/