Dr Frank Kaufmann - UPF Members, Friends & AFP, Monthly Gathering
Description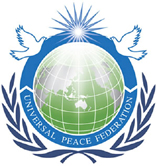 Ambassadors for Peace (AFP), UPF Members and Friends Monthly Get Together
Guest Speaker Dr Frank Kaufmann: Director, Inter-Religious International Federation for World Peace (IIFWP)
43 Lancaster Gate, London, W2 3NA
6.00 pm Refreshments & 6.30pm Start
Dear Ambassadors for Peace, Friends and Members of UPF,
Our end of the month meeting this month has changed to Thursday, November 22nd because of the availability of a guest speaker, Dr Frank Kaufmann who is visiting from New York. As you may know, at UPF we strive to encourage all to live a meaningful life and share this passion with others! Many of UPF, Ambassadors for Peace and friends of UPF try to do the same. In fact unless we find our purpose in life – life remains uninteresting.
Dr Frank Kaufmann who is been a longstanding interfaith figure and commentator. He served as editor in chief of the IRFWP's academic journal Dialogue and Alliance from 1998 until 2009, during which time, in 2004 was named as one of the top ten religion journals (out of 650) by an independent panel commissioned by the American Theological Library Association (ATLA).
Universal Peace Federation seeks to bring together a network of peace oriented, altruistic people to heal inter-racial, inter-religious, inter-national tensions and build a unified world of peace by establishing an order of inter-dependence, mutual prosperity and universally shared values. To learn more about of the vision of the Universal Peace Federation please see www.uk.upf.org
We look forward to seeing you. Kindly RSVP to attend.
Kind regards,
Robin Marsh: UPF-UK Secretary General Mobile: 07956210768
Margaret Ali: UPF-UK Director Mobile: 07723024750
Universal Peace Federation (UPF) - UK
Office: 02072620985
www.uk.upf.org @ukUPF pa@uk.upf.org
UPF is an NGO in Special Consultative Status with the Economic and Social Council of the United Nations
YouTube Channel