Description

"Crash Diets: or how to build a planet in 22 seconds in the lab"
Dr Helen Fraser (the Open University)
Despite the discovery of close to 4000 exoplanets (planets outside our own Solar System), we still don't exactly know how planets are made. Helen will show us how planets are a by-product of the star-formation process. In theory, tiny grains of dust and ice, smaller than the width of a human hair, collide together to build bigger and bigger bodies that eventually form the planets, asteroids, comets and other debris in Solar Systems (like our own) - but does this theory work? Helen's research tests these ideas in the laboratory - but not just any lab - to see the particles slowly colliding under the "same" conditions as space - we need to exploit microgravity conditions - so Helen will take us on a journey in the vomit comet - or a parobolic flight - 22 seconds of weightlessness - during which we can test how to "build a planet".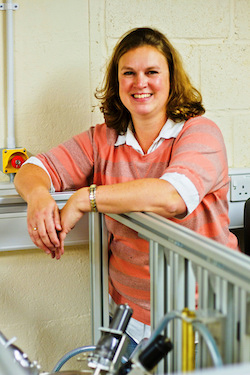 Dr Helen Fraser is a Senior Lecturer in Astronomy at the Open University where she leads the Astrochemisty Group. She arrived via an academic post at the Unviersity of Strathclyde, and fellowships at Leiden Observatory and the Unviersity of California, Berkeley, as well as a postdoc in Nottingham. She has held visiting professorships at University of Aix-Provence in Marseille, Stockholm Unviersity and Cergy University in Paris. She was born and brought up an "Essex Girl"; graduated from Manchester (at the height of its music scene) with a BSc (Joint Honours) Physics and Chemistry, before completing her PhD (in Physical Chemistry) at Jesus College Cambridge University.
Her research interests span "all things ice", looking at how solid state materials play a role in the processes of star and planet formation. Her research group combine laboratory experiments with major facilities use, such as microgravity environments and neutron scattering, to understand the role of ice in interstellar chemistry and planet forming collisions. They have also uniquely developed slitless-spectroscopy techniques for mapping the distribution of condensed matter materials in star-forming regions through astronomical observations, and exploit molecular dynamics simulations to understand the physical chemical properties of ice in space.
She really enjoys communicating science to the public - often through appearances on BBC 5 Live (most recently with Nicki Cambell) and Radio 4 programmes, as well as BBC News and Science programmes. She has recently been involved in Aleksandra Mirs Space Tapestry exhibition at Liverpool Tate and Oxford Gallery of Modern Art, and was on of the production team on the "60 Second Adventures in Microgravity" You Tube series, voiced by David Mitchell. When not doing "ice", Helen is a qualified scuba diving instructor and can be found tagging sharks, a love of an animal she has passed to her son - who also takes up alot of her time. She somehow fits in singing in a choir, swimming and being a member of a book group - and now she is officially "middle aged" even enjoys gardening!
We would like to thank the generous support of the Open Unviersity 50th Anniversary celebrations and the IAU 100th Anniversary Celebrations for making this event possible.
---
The PUBLIC LECTURE series associated with the International Astronomical Union Symposium 350 "Laboratory Astrophysics from Observation to Interpretation" has been incorporated into this international scientific research event so that others worldwide can beenfit form the gatehring of world-renowned scientists in this field. Though not often noticed by the public, some very fundamental physics, chemistry, biology, geology and maths directly underpin the headline grabbing astronomy discovers and mission sucesses as humankind explore the unvierse. These public lectures, open to all, will expose those with science and astronomy interests to the exciting cutting-edge research world of "astronomy in the laboratory". Since astronomy and STEM are great tools for inspiring future generations, this lecture series will be broadcast worldwide via the Open Unviersity You Tube channel - reaching students and enthusiasts fro Africa to Aisa, South America to schools just around the corner from Cambridge. Shortly after easter the lectures will be edited and permanent copies will be available (again via the OU You Tube channels) to watch and enjoy. We hope yuo will join us and come learn a little about Laboratory Astrophysics.
---
FAQ's

What time should I arrive?
Doors will open at 7:30pm with the lecture starting at 8pm.
How long wil it last?
The lecture will end at 9pm. The audience will be welcome to answer questions and the event finish by 9.15 pm.
Are there minimum age requirements to enter the event?
There is no minimum age, although the topic of the lecture is most suited to those over the age of 8.
What are my parking options for getting to and from the event?
There is no on-site car parking - but bike parking is available in the Jesus Chimney and nearby. The closest car park to the College is Park Street Car Park, located just around the corner from the main West Court entrance.
How can I contact the organiser with any questions?
Queries can be e-mailed to IAUS350-labastro2019@open.ac.uk
Do I have to bring my printed ticket to the event?
Please bring your printed or copy of eticket to the event.
Is my ticket transferrable?
No - please ensure the person who orders the ticket is the one who turns up. This is because the broadcast permissions require us to be able to confirm that we have the audience approval for filming.
Is it ok if the name on my ticket or registration doesn't match the person who attends?
No - again please ensure the person who orders the ticket is the one who turns up. This is because the broadcast permissions require us to be able to confirm that we have the audience approval for filming.
PLEASE NOTE THAT THIS LECTURE WILL BE BROADCAST WORLDWIDE VIA THE OU YOUTUBE CHANNEL AS PART OF THE OU'S 50TH ANNIVERSARY CELEBRATIONS, AND THE IAU'S 100TH ANNIVERSARY. BOTH ORGANISATIONS PLEDGE TO ENABLE ASTRONOMY AND STEM EDUCATION IN THE DEVELOPING WORLD. PARTICIPANTS WILL NOT THEMSELVES BE BROADCAST, AND AUDIENCE QUESTIONS WILL BE OMITTED FROM THE BROADCAST. BY ACCEPTING A TICKET TO THE EVENT YOU ARE ALSO ACCEPTING THAT THE FILMING / BROADCAST WILL TAKE PLACE.