Dr Johnson's Bluestocking Salon

Thursday, 18 May 2017 from 18:30 to 21:00 (BST)
Event Details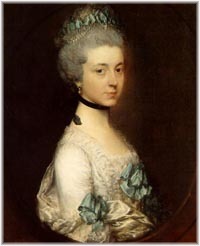 Elizabeth Montagu
"Brilliant in diamonds, solid in judgement, critical in talk" [Hester Thrale in a letter to Fanny Burney]
Miss B & Miss Kitty Pridden of The Georgian Dining Academy are delighted to offer, in collaboration with Dr Johnson's House, a special event to celebrate the literary legend's friends and acquaintances with a Bluestocking Salon. We will be working our Georgian magic throughout the floors of this historic home to pay homage to Samuel Johnson and his many fascinating friends. 17 Gough Square is the only remaining residence of Dr Johnson, and it was where he wrote his famous Dictionary. The house itself is an architectural gem, with a wealth of original features. It seems a fitting place to celebrate the intellectual and artistic life of Georgian London, a bespoke event to bring this giant of a man and the Georgian period back to life.
Guests will enjoy an evening of readings of letters, books and poetry, as well as short talks on the leading ladies and gentlemen of the Bluestocking group. We hope as a guest you will participate, and please request our list of characters, of which you may choose to emulate by dress, readings (books, poetry, writings, articles, plays, quotations etc) or a five minute talk on a chosen character.  
You will be also be entertained by the 'Curator in the Library' who will share the secrets and delights of the bookcases, as well as regale you with the life and times of Elizabeth Carter. 
The Withdrawing Room will be hosted by Miss Kitty Pridden where talks about the gentlemen of the group will take place, the Garret is where you will be encouraged to give or hear Readings, hosted by Miss B. 
A Programme of the evening will be made available, the plan being, the 'performance' and 'talk' aspects will work in rotation on each floor between 7pm - 8pm with refreshments and a finger buffet being served before 7pm and after 8pm. There will be time for questions and discussion as it was so in the original Salons. You will be free to explore the whole house at any time.
Guests are gently encouraged to dress up, the historic atmosphere of the evening is greatly enhanced with the addition of costume. The Georgian Dining Academy is not re-enactment, we graciously and warmly welcome any who chose to make an effort - to whatever level that may be. Those of our guests wishing to embrace the idea of an 18th Century costume 'upgrade' can request our costumiers list. 
When & Where

Dr Johnson's House - Bluestocking Salon
17 Gough Square
EC4A 3DE London
United Kingdom


Thursday, 18 May 2017 from 18:30 to 21:00 (BST)
Add to my calendar
Dr Johnson's Bluestocking Salon