Multiple Dates
Dr Tina Rae: A Toolbox of Wellbeing: Strategies for a Recovery Curriculum
Sales Have Ended
Ticket sales have ended
Thank you for your webinar booking for A Toolbox of Wellbeing with Dr Tina Rae Please ensure you have provided the correct email address for each delegate if booking on behalf of other people. This is an online event and each delegate will be sent a webinar link via email. Your link for the Zoom meeting will be sent a few days before the event. If you have any queries relating to this event, please contact Hinton House directly, sales@hintonpublishers.com
Sales Have Ended
Ticket sales have ended
Thank you for your webinar booking for A Toolbox of Wellbeing with Dr Tina Rae Please ensure you have provided the correct email address for each delegate if booking on behalf of other people. This is an online event and each delegate will be sent a webinar link via email. Your link for the Zoom meeting will be sent a few days before the event. If you have any queries relating to this event, please contact Hinton House directly, sales@hintonpublishers.com
A webinar to explore activities & ideas for building emotional wellbeing in young people, based on the bestselling A Toolbox of Wellbeing
About this Event
From Hinton House Training
A Toolbox of Wellbeing: Helpful strategies & activities for children, teens, their carers & teachers
Presenter: Dr Tina Rae
A webinar for teachers, SENCOs, TAs, parent and carers based around activities from the bestselling book A Toolbox of Wellbeing.
In this webinar Tina Rae will give an overview of the impact of the COVID pandemic on the mental health and wellbeing of our children and young people. She will discuss the need for therapeutic approaches and trauma-sensitive classroom environments as part of the Recovery Curriculum, to ensure that all children and young people, as well as those who care for them, have useful strategies to manage the transition back to school. Young people are showing an increase in anxiety and key tools to manage this will be explored in detail.
Ideal for non-specialists, this webinar will outline the three trauma recovery approaches which form the basis of the Toolbox :
Self–Regulate for Wellbeing
Get Moving Mentally & Physically for Wellbeing
Connect for Wellbeing
A selection of the user-friendly activities for building good mental health and resilience will be explored, including:
The Calm-Down Jar
5-4-3-2-1 Method
Visualisation
Grounding
Recognising Thinking Errors
Worry Time
The Anxiety Ladder
This webinar will give confidence to anyone working with or looking after young people in using range of evidence-based tools and approaches that can be made use of immediately, as well as an increased understanding of how to create and maintain trauma sensitive classrooms and approaches to ensure self-regulation, effective thinking and positive connections.
Ticket Prices
Webinar Ticket Only £20
Webinar Ticket + Copy of Book with FREE Postage £34.99
Timetable
1.45-2.00pm Registration
2.00-3.10pm Presentation from Dr Tina Rae
3.10-3.30pm Questions from delegates
The Toolbox
There is no requirement to buy the resource in order to attend the webinar and delegates will feel confident to be able to use the activities with young people.
The book can be bought postage-free along with your ticket, directly from Hinton House www.hintonpublishers.com and from all booksellers.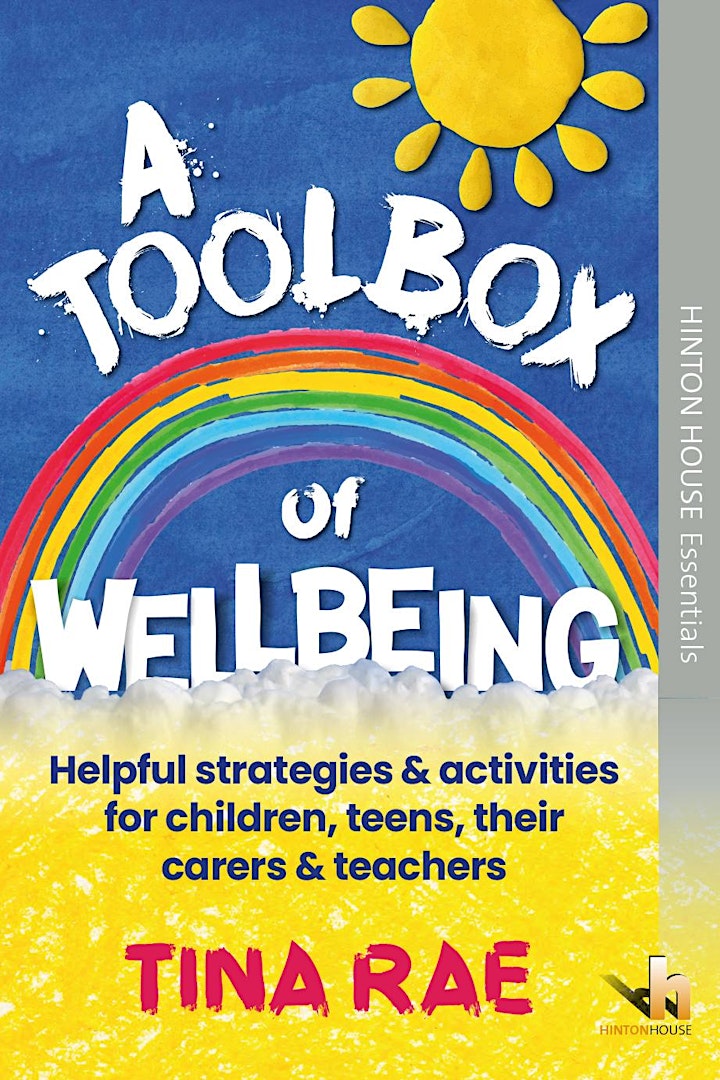 About Dr Tina Rae
Dr Tina Rae has over 30 years' experience working with children, adults and families in clinical and educational contexts within local authorities and specialist services. She currently works as a Consultant Educational and Child Psychologist in a range of SEMH and mainstream contexts and for Compass Fostering as a Consultant Psychologist supporting foster carers, social workers and Looked after children. From 2010 to 2016 Tina was an Academic and Professional Tutor for the Doctorate in Educational and Child psychology (University of East London).
Tina is a member of the editorial board for the journal Emotional and Behavioural Difficulties and for the International Journal of Nurture in Education. She is also a member of the Advisory board for Fresh Start in Education.
Tina is an award-winning, prolific author and has written more than 100 publications to date. She is passionate about promoting the mental health and well being of children and young people and her publications are renowned for being evidence based, practical and user friendly. She is the 'go-to' author for all those in the caring professions who promote and nurture the mental health and well being of our children.
Recent publications include:
Rae T. (2020) A Toolbox of Wellbeing: Helpful strategies & activities for children, teens, their carers & teachers, Hinton House Publishers, Banbury.
Rae T., Such A. & Wood J. (2020) The Wellbeing Tool Kit for Mental Health Leads in Schools A comprehensive Training Resource to Support Emotional Wellbeing in Education and Social Care, Hinton House Publishers, Banbury.
Rae T. (2020) Motivation Matters, Hinton House Publishers, Banbury.
Rae T. & Such A. (2019) The ASD Girls' Wellbeing Toolkit An Evidence-Based Intervention Promoting Mental, Physical & Emotional Health, Hinton House Publishers, Banbury.
Rae T. & Wood J. (2019) The Essential Resilience and Wellbeing Toolkit for Early Years & Younger Children, Hinton House Publishers, Banbury.