Cambridgeshire Beekeepers Association is delighted to welcome back Dr. Tom Seeley to talk about locating wild colonies of honey bees .
About this event
"More than any other insect, the honey bee has the power to capture our hearts and connect us emotionally with the wonders and mysteries of nature. We love these beautifully social bees, we want them in our gardens, and many of us cannot bear the idea of living without them."
In this talk, we will look at bee hunting—locating unknown colonies of honey bees—which is one of the most fascinating games in the world. We will review the equipment involved and the process of establishing and following beelines, which are lines of bees flying back to their homes. This outdoor activity is one of infinite variety, of suspense, perseverance, and (often) triumph! You go out and find honey bees foraging on flowers. Where is their home? A large tree, a building, or someone's hive? With simple equipment, and special skills, you can solve this mystery!
Below is a photograph that shows Dr Seeley showing a group of beekeepers how to be bee hunters. That afternoon, they lined their way to a wild colony living in the wall of an old barn about 0.25 mile from the starting point.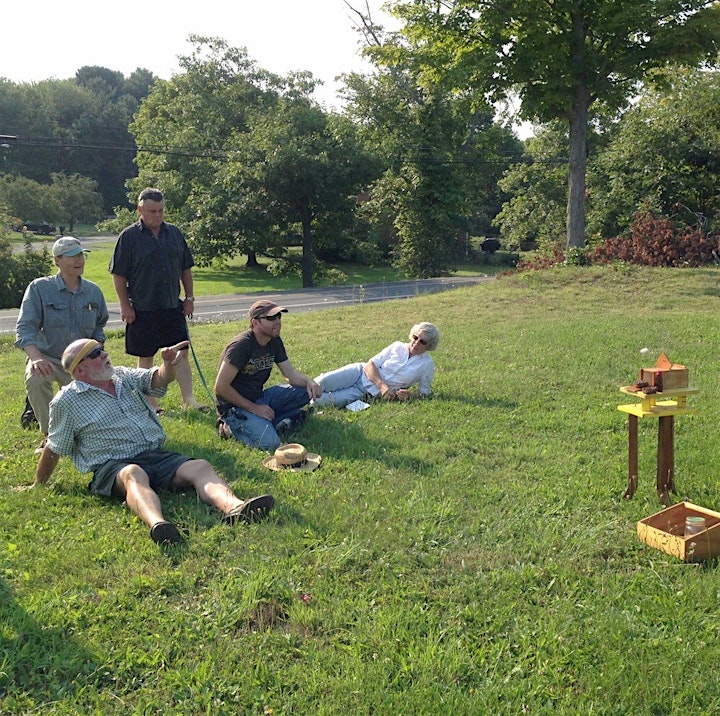 About the Speaker
Dr Tom. Seeley is a biologist and writer and the Horace White Professor in Biology at Cornell University, where he is a member of the Department of Neurobiology and Behavior. He teaches courses on animal behavior and does research on the behavior, social life, and ecology of honey bees. Tom is also an avid beekeeper; he began to master this craft when he was a high school student in the late 1960s. His scientific work is summarized in five books: Honeybee Ecology (1985), The Wisdom of the Hive (1995), Honeybee Democracy (2010), Following the Wild Bees (2016), and The Lives of Bees (2019). In recognition of his scientific contributions, he has been elected a member of the American Academy of Arts and Sciences, a fellow of the American Association for the Advancement of Science (AAAS), and a member of the German National Academy of Sciences. He writes: "These honors are gratifying, but for me the most important "prizes" by far are the discoveries that I have made about the natural lives and inner workings of honey bee colonies."
NOTES:
Under 18s - CBKA is for everyone, but anyone under the age of 18 should be accompanied on camera by an adult.
Organiser of Dr. Tom Seeley - The Craft of Bee Hunting
WELCOME TO CAMBRIDGESHIRE BEEKEEPER'S ASSOCIATION
We are a volunteer-run members' organisation and Registered Charity that represents the interests of beekeepers in the county of cambridgeshire. We educate, advise and bring together more than 500 beekeepers and raise awareness of issues affecting honeybees.