Description
Day of Alternative Drawing Workshops, by Draw to Perform
Sun 2 Dec 2018, 10:00-18:00. Exeter Street Hall, Brighton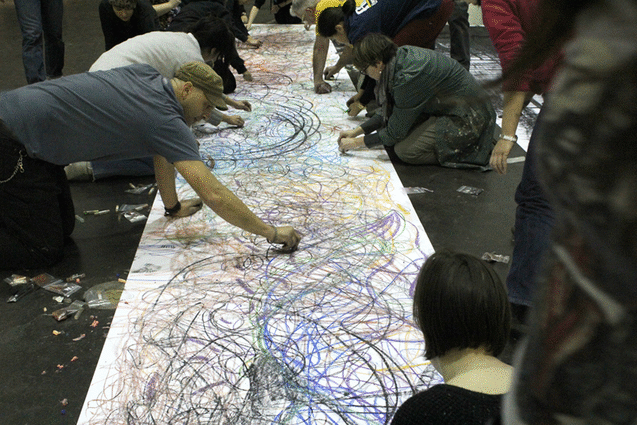 The upcoming family workshop day by Draw to Perform will include four bookable workshops about drawing, provided by acclaimed artists and performers. The workshops will explore alternative ways to make marks, draw and express. These workshops will present different strategies for forming a dialogue between drawing, sound, movement, process and performance. Participants will draw live, share and discuss their outcomes and ideas. All workshops will target different groups and issues in contemporary drawing and will allow the general public the opportunity to experience an art form a first hand, work with and be tutored by some of the leading artists in their field.
All of the workshops are suitable for all ages and do not require prior drawing experience. Participation of children is encouraged and this could be a wonderful whole- family experience of creativity and fun. A special workshop (workshop 2) is dedicated to wheelchair users. This workshop provides an opportunity to explore and enjoy creative expression with a dedicated award-winning drawing device.
Please note Exeter Street Hall has limited space capacity and workshops have limited numbers of tickets. Book your tickets online now, save money and reserve your participation in this event!
__________________________________________________
Sunday 2 Dec - Schedule:
Workshop 1 (10:00-11:30) with Ram Samocha
Workshop 2 (12:00-13:30) with The enAball
Workshop 3 (14:00-15:30) with Nelly Lewis
Workshop 4 (16:00-17:30) with Xelís De Toro
http://www.exeterstreethall.org
Exeter Street Hall
16-17 Exeter Street
Brighton BN1 5PG


__________________________________________________
Workshop 1 (10:00-11:30) with Ram Samocha
Mark Some Noise - Directed by Draw to Perform founder and artist, Ram Samocha, this drawing workshop is about back to basic artistic expressions while learning to draw with unusual and unique materials to create effective marks. The drawing marks that we will create will produce sounds, which we will learn to control and use in our work. The sound component will work as an added layer to the piece. The final exploration is an action filled with high energy and amazing vibe that combining drawing, movement, and sound.
This workshop will appeal to all ages including children (6+) and family audience.
Ram Samocha is a multi-disciplinary artist who currently resides in Brighton, UK. Samocha's work combines drawing with video, installation, and live performance. Samocha often mixes modern and traditional drawing techniques while searching for new ways to combine between 2D and 3D works. Samocha is the founder of Draw to Perform, an international gathering of artists and theorists involved in drawing performance. Samocha's work has been recognized nationally and internationally and his work is part of various museums and private collections.
https://www.youtube.com/user/RamSamocha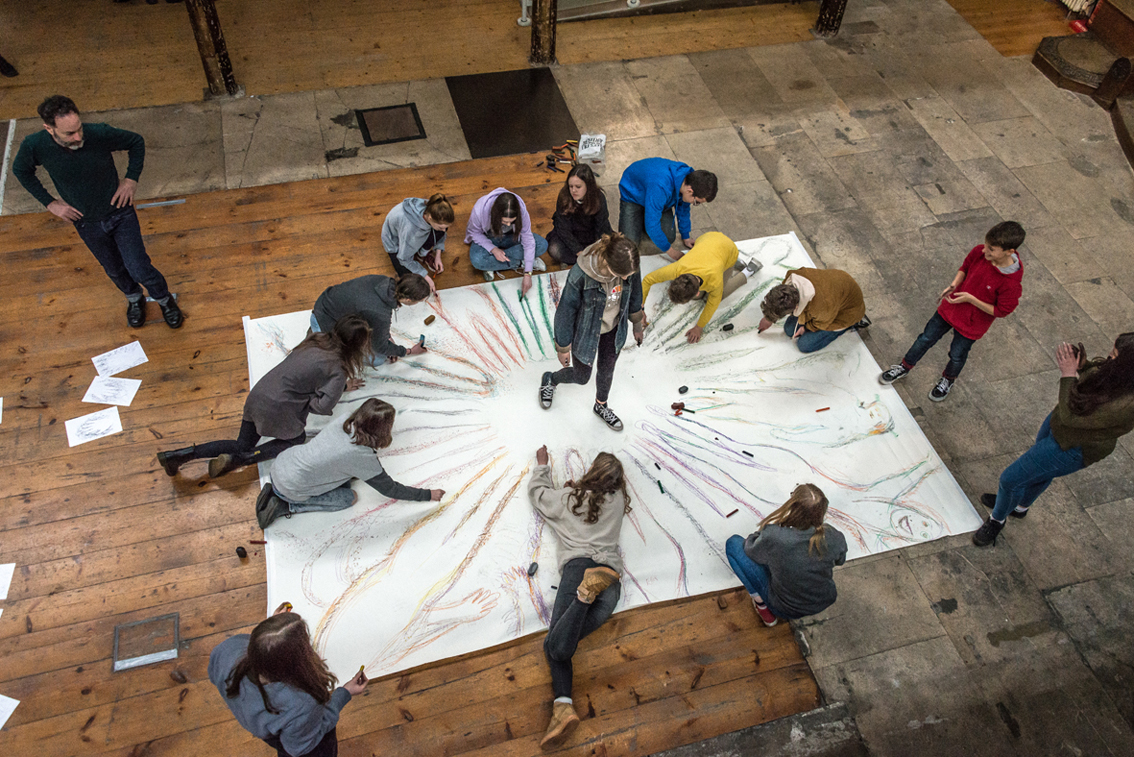 Workshop 2 (12:00-13:30) with The enAball
Please note that there are only five spaces available in this workshop and they are for wheelchair users only.
The enAball is a portable and adaptable painting device that allows wheelchair users to express themselves creatively through the medium of art. The enAball, which works in a similar way to a large ball-point pen, is attached to the students wheelchair and a canvas is layed down on the floor. The students' movements are directly translated from the wheelchair to the canvas below, allowing them to paint independently, while having a removable paint cavity to allow for easy colour changing, maintenance, and cleaning.
The award-winning invention was developed by The Process, a group of artists and product design students from the University of Brighton in collaboration with Sussex MS Center and REMAP charity. They believe that everyone has the right to participate in art and in culture, not only as a basic human right, but so they can experience the empowerment and various health benefits it offers.
The presentation and workshop will focus on movement, disability, and facilitating creative expression through precise and autonomous mark making with an unusual drawing tool. The students start by free painting to get them used to the device, before progressing to a more directed activity such as basic portrait drawing, before finally collaborating on a large, shared canvas.
https://www.theprocess.design/enaball
Workshop 3 (14:00-15:30) with Nelly Lewis
Imagination is a great Painter - Discover the magic of mime and the power of drawing in an empty space; Learn how to turn the invisible visible, dream images on an empty canvas, imagination is a great painter!
In this workshop, we will have fun learning basic mime techniques that will allow participants to master mime numbers such as – The wall, playing with an imagery ball and much more. We will explore the trace of our movements in space and celebrate together the joy of colour, movement, and drawing.
This workshop will appeal to all ages including children (6+) and family audiences.
Nelly Lewis is an award-winning mime artist based in Brighton, UK. She works with the stage language she developed since 2004 - Butomima, which is a hybrid of mime and butoh, a language that is all about transformation, imitation, and truth. Lewis mission is to bring her audience into a calm state where they can experience a catharsis. Nelly Lewis taking forward the amazing language of mime and opens new possibilities to contact with adults and children without words.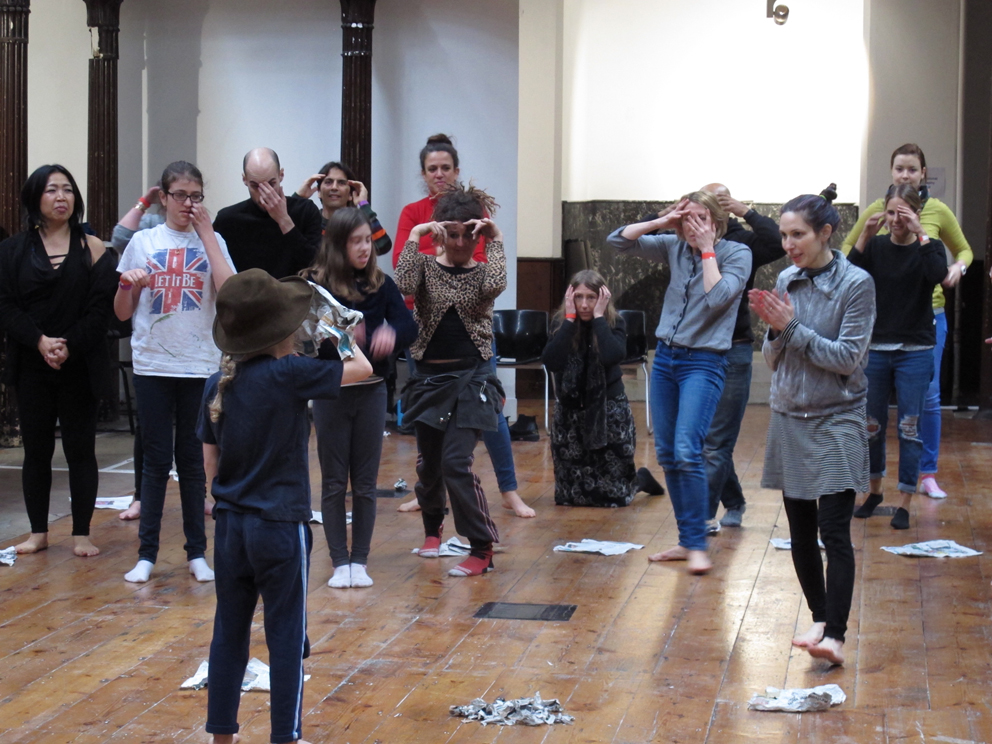 Workshop 4 (16:00-17:30) with Xelís De Toro
Sounding lines - This workshop is a development of the performance Uncommon Language, which uses text, voice and sounds to encourage the public to participate in making marks and drawing
In this workshop we will be working with voice, tools and/or instruments, loop pedals, and movements exploring their features and how we can translate them into marks, drawing and texture onto paper; in the final part of the workshop, we will be working together to create a collaborative piece.
This workshop is about breaking the borders between arts and disciplines striving for new forms of expression and creativity.
This workshop will appeal to all ages including children (6+) and family audiences.
Xelís de Toro is a multi-awarded Galician writer and a performer based in the UK. He has performed internationally in a variety of settings: galleries, art festivals and universities. He uses voice, text, sound and body movement. He also performs regularly with experimental and improvisation music bands.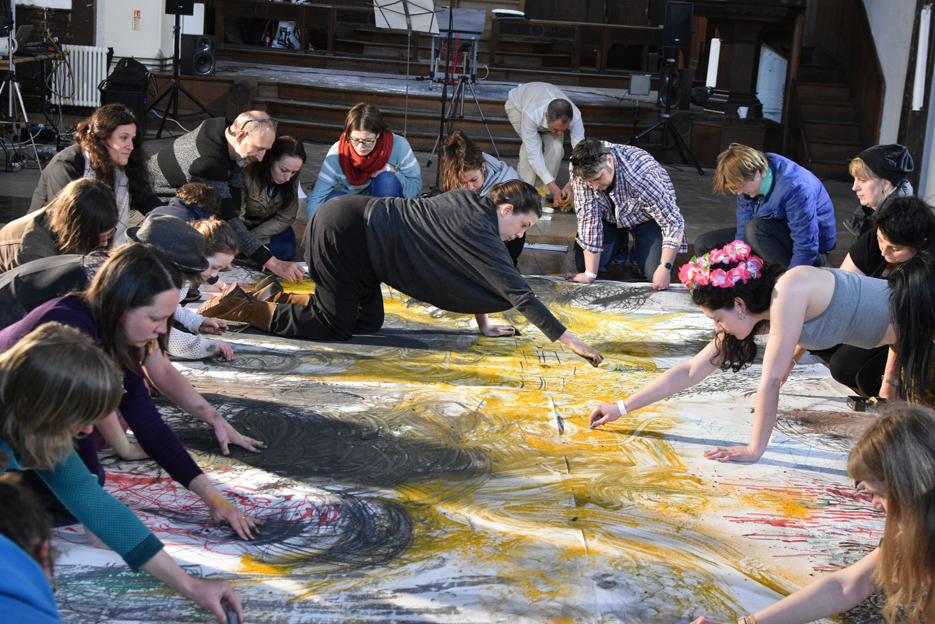 _____________________________________________________
FAQs
What is drawing performance?
Drawing performance is a stream of performance art in which artists create their artwork in front of a live audience while communicating with the viewers. Mark making in drawing performance is often a result of powerful physical gesture and body movement connecting elements of line, movement, space and time. This exciting art form often combines art, theatre and dance in a vibrant and dynamic way.
Drawing performance is gathering a larger fan base in the UK and its art is becoming more widely collected worldwide.
Are there ID requirements or an age limit to enter the event?
The exciting workshops appeal to art lovers, drawing fans and students. All workshops are suitable for children and adults, and for those with some drawing/dance experience.
What are my transport/parking options getting to the event?
By train: All trains to Brighton station.
By bus: All buses (14, 14C and 27) to Dyke Rd and to the Booth Museum of Natural History.
There are no on-site parking facilities near Exeter Street Hall but there are pay and display bays in the residential streets surrounding the hall.
What can/can't I bring to the event?
There is no need to bring materials for drawing. Materials for all workshops will be provided. No professional cameras please, but photos can be taken with mobile phones.
Is my registration/ticket transferrable?
Yes
Where can I contact the organiser with any questions?
websit: www.drawtoperform.com
email: drawtoperform@icloud.com
Organiser of Draw to Perform - Day of Alternative Drawing Workshops
Draw to Perform is an international community for Drawing Performance. Since 2013 Draw to Perform organizing international symposiums and festivals, work with and support emerging and established artists, hold various events, collaborations with art institutions, and run educational workshops.