Description
DRAW TO PERFORM3 - A Two Day International Festival of Drawing Performance
Saturday & Sunday, 30-31 July 10am-10pm at the Crows Nest Gallery
near Portobello Market, London.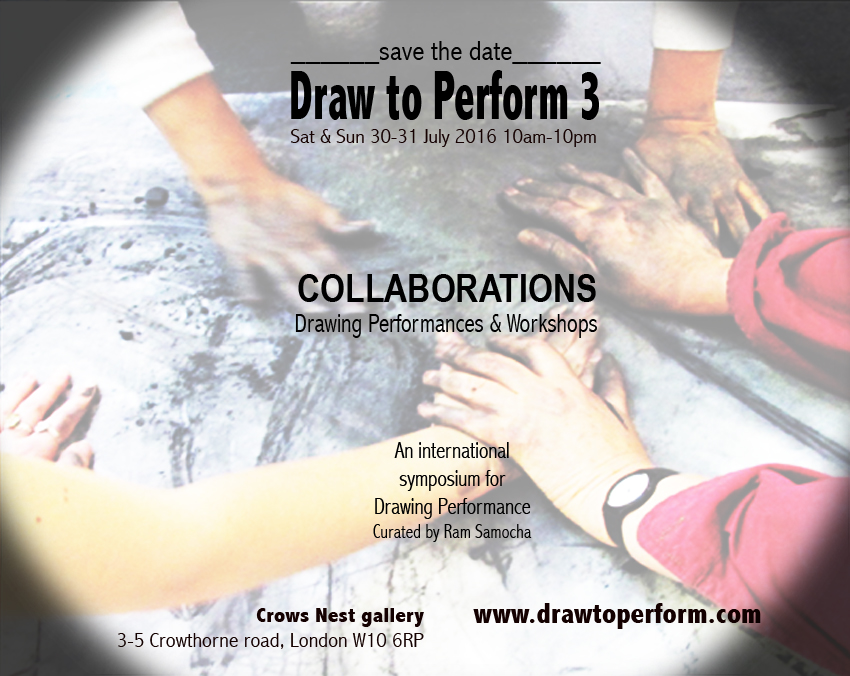 DRAW TO PERFORM3 - Day 2: Day of Workshops
Sunday, 31 July 2016 from 10:00 to 22:00
Day Two of Draw to Perform will include bookable workshops provided by international and local artists and performers.
The workshops will explore drawing as performance and strategies for forming a dialog between drawing, process and performance. Participants will draw live, share and discuss their outcomes and ideas. Workshops will target different groups and issues in drawing and performance and will allow the general public the opportunity to experience an art form first hand, work with and be tutored by some of the leading artists in their field. There's no experience required to join the workshops and all abilities are welcomed.
Drawing materials will be provided for all workshops.
- Book your tickets online now and save money -
---
Schedule:
Workshop 1 (10:00-12:00) with Ram Samocha (Israel/UK)
Draw to Perform curator Ram Samocha will be focusing, in this workshop, on the process of drawing from white to black and from black to color; from abstraction to figurative, and from scribble to writing.
Workshop 2 (13:00-14:30) with Saranjit Birdi (UK)
Trained as an architect and dancer, Saranjit Birdi's drawing practice explores the instrumentation of the whole body as an unfolding. This workshop will focus on physical limitations and boundaries: drawing with different parts of our anatomy, such as feet and elbow.
Workshop 3 (15:00-17:00) with Vera Martins (Brazil)
Brazilian artist Vera Martins has developed a unique drawing technique where she draws on large surfaces with a brush-whip made out of canvas strings. Her workshops allow interactive participation and are usually energetic and appeal to all ages.
Workshop 4 (16:00-18:00) with Lezli Rubin-Kunda (Canada/Israel)
Urban Drawing Interventions - How can we use drawing and marking to interact with the urban environment? In this workshop, we will discuss the possibilities for engaging with our immediate surroundings and the uses of drawing, beyond or apart from graffiti, in creating site-specific works.
We will explore the neighborhood of Crows Nest Gallery, finding marking materials and surfaces to work with, and gathering ideas. We will then create temporary site-specific drawing works, individually or in collaboration with each other or in participation with locals.
Workshop 5 (17:30-19:00) with Greig Burgoyne (UK)
Space, Limits, Body, Markmaking, Rules Play - Through accumulation, duration & endurance our gestures make spaces. In this workshop we will explore the role of markmaking as a means to both generate and test the limits of what 'our space' may be. Combining a logic verging on absurd, the making of our activated space maybe at odds with others who will be seeking to do the same. Can we negotiate or will we compete?
Workshop 6 (19:30-21:30) with Emma Fält (Finland)
The workshop is a journey through loneliness. The group will create collaborative drawing by using Ink, brushes and sticks, leaving traces of their movement and sounds on paper.
These acts of drawing propose ways to study contact with other and self. The workshop ponders the limits of ones physical body. It explores the space between energy and emotion, where the words have disappeared or not yet born.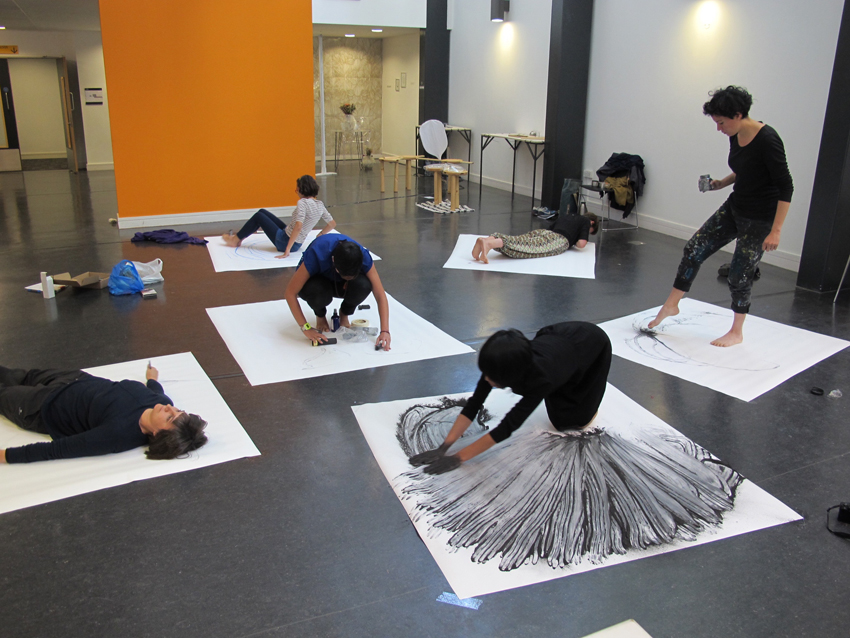 Ram Samocha's workshop. Goldsmiths University, London 2015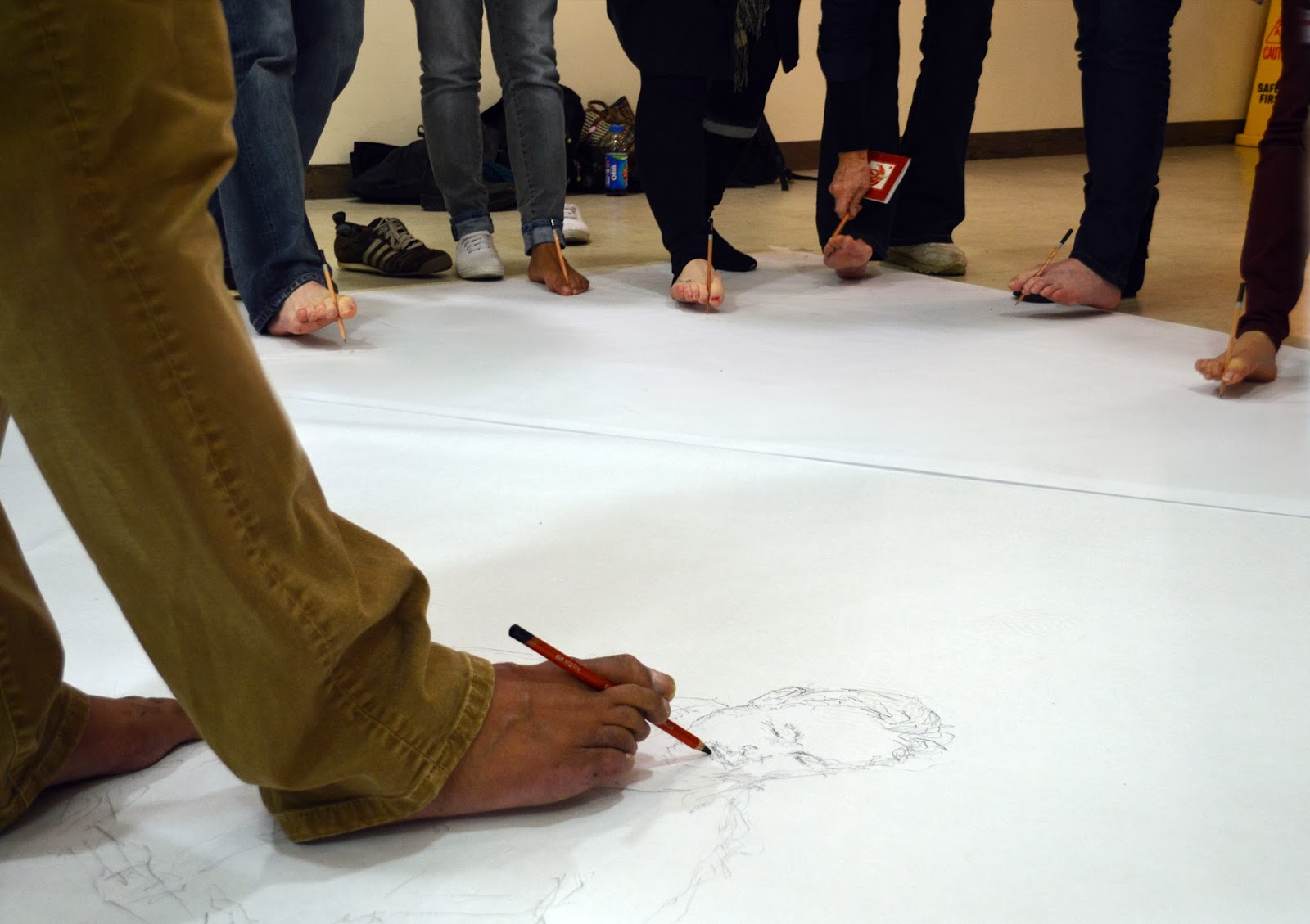 Saranjit Birdi's workshop. Department of Art, Metropolitan College, Birmingham 2014

Vera Martins' workshop. CEU Paz Center, São Paulo 2016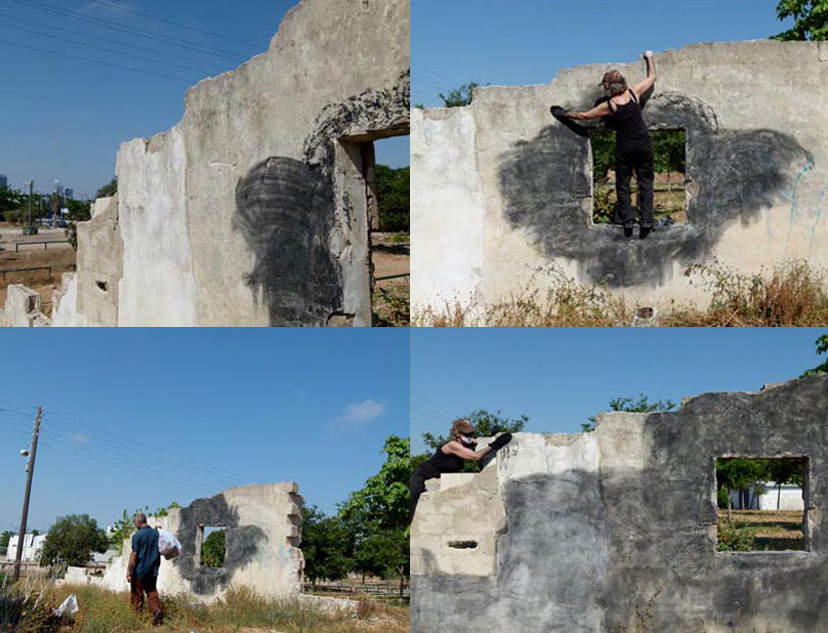 Lezli Rubin-Kunda, Jaffa Walls (Remnants of a Place), Tel Aviv-Jaffa, Israel 2011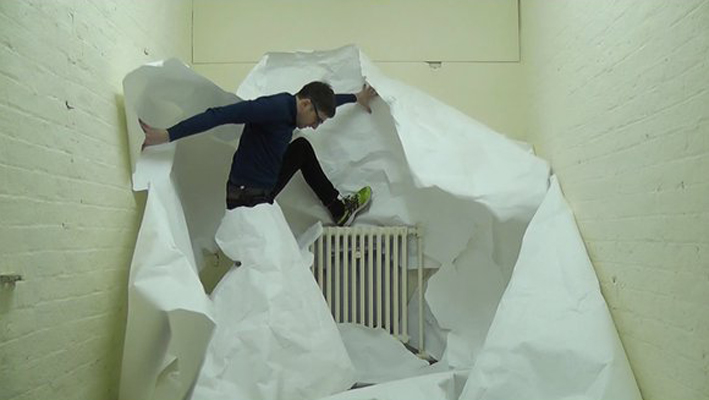 Greig Burgoyne, Bad drawing/paper cell, Scarborough Prison Drawing Project 2016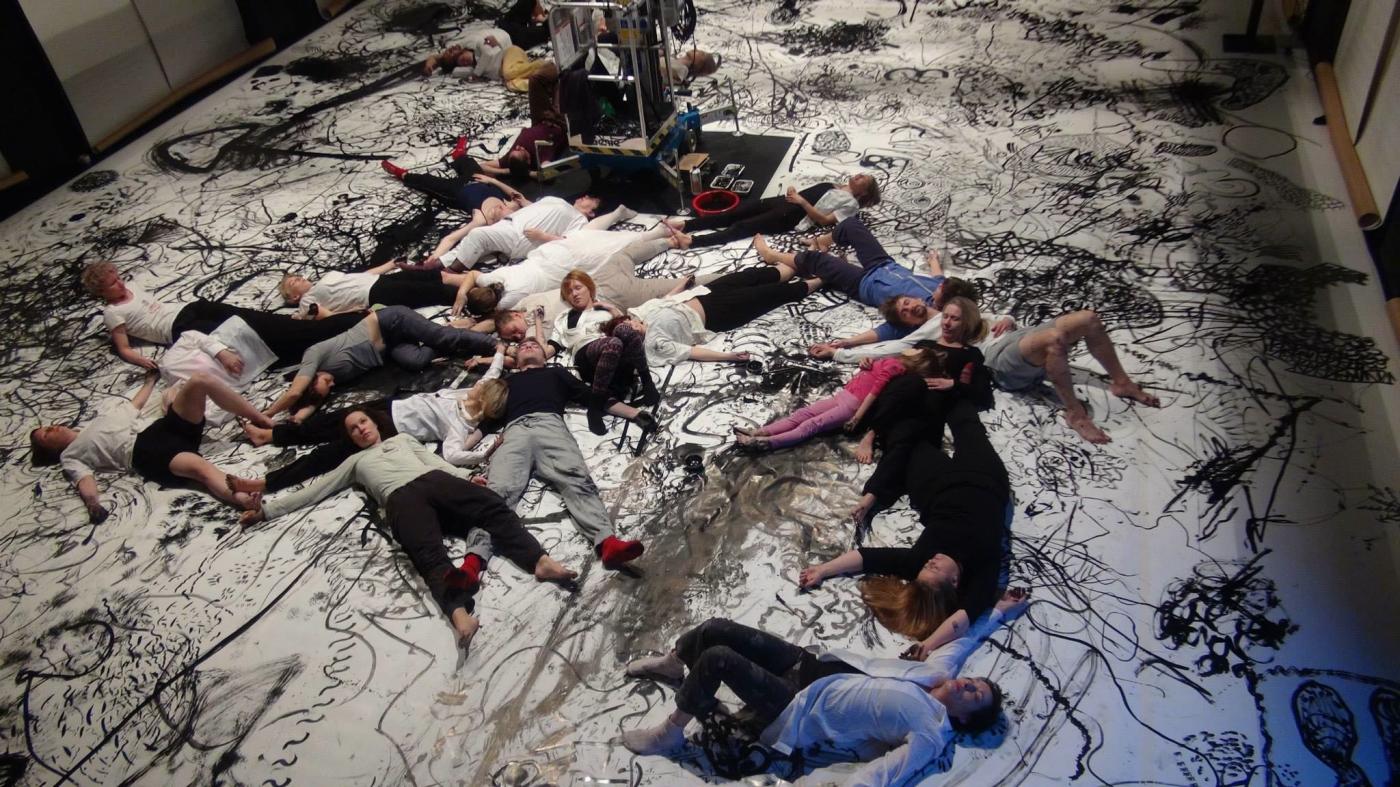 Emma Fält's workshop, The Regional Dance Center of Eastern Finland 2014
FAQs
What is drawing performance?
Drawing performance is a stream of performance art in which artists create their artwork in front of a live audience while communicating with the viewers. Mark making in drawing performance is often a result of powerful physical gesture and body movement connecting elements of line, movement, space and time. This exciting art form often combines art, theatre and dance in a vibrant and dynamic way.
Drawing performance is gathering a larger fan base in the UK and its art is becoming more widely collected worldwide. The exciting performances appeal to art lovers, drawing fans and students as well as families (children are often encouraged to participate in the performances).
Are there ID requirements or an age limit to enter the event?
There is no age restriction.
What are my transport/parking options getting to the event?
By tube: Latimer Road
By bus: 316, 295
Public parking available in the area
What can/can't I bring to the event?
There is no need to bring materials for drawing. Materials for all workshops will be provided. No professional cameras please, but photos can be taken with mobile phones.
Is my registration/ticket transferrable?
Yes
Where can I contact the organiser with any questions?
websit: www.drawtoperform.com email: drawtoperform@icloud.com
Where can I buy ticket for the Live Drawing Performances?
https://www.eventbrite.co.uk/e/draw-to-perform3-day-1-live-performances-tickets-26300148452
Supported by Artcore [International]

Emma Fält's visit to Draw to Perform3 is supported by Frame Finland in 2016
---