UK watercolour artist, Mike Willdridge, will give you confidence in rendering people with minimal antatomical detail
About this event
Mike says: "During the session we'll paint several figures: singularly, in groups, walking, working etc . All the paintings will be simple studies with a minimum of anatomical detail and I have several useful tips to help you draw and paint figures more confidently. We'll be using pencil (soft), pens (one soluble black and the other permanent black) and watercolours. You can use either one or more sheets of watercolour paper or a sketchbook - it doesn't matter. During the session I'll be demonstrating and allowing you time to work alongside me. Although I'll be selecting only a few of the source images, I'd like you to print out/have available all of them because I don't know yet which will be my chosen subjects. Feel free to make further drawings, after the session. We'd love you to then send to Lois some of your work to be displayed in an online gallery. "
Some of Mike's photos are shown below - you will have access to more once you register for the session.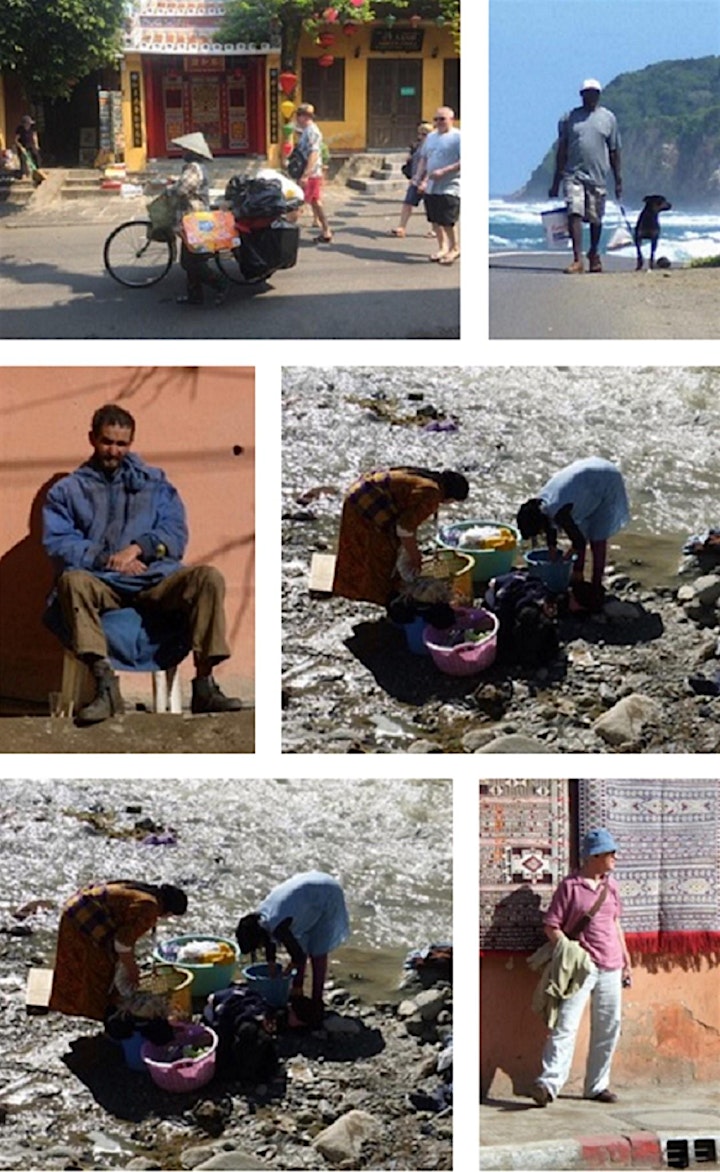 Unlike many online painting programmes, Mike's will not expect you to 'look over his shoulder' for a long demonstration, and perhaps be allowed to ask the odd question or two. No, you will be painting along at more or less the same time, trying out the watercolour techniques that Mike has shown you, step-by-step. He will demonstrate some basic techniques for only a few minutes before you start painting the same subject at home. Then, after you have had your turn, Mike will move onto the next part of the process. Lois Breckon from The Watermill at Posara will be on hand during the session to feed your questions. The session will last a couple of hours.
When you register for the session you will be asked for a donation. Some people ask how much this should be. Our answer? "Think how much you would spend on an afternoon or evening's entertainment, whether at the cinema or theatre , or even for a lunch out with friends." Our Zoom painting demonstrations do take quite a bit of time in preparation and administration and your support is very much appreciated. With your generosity we can plan and run further sessions and, more importantly, provide a regular meeting place for creativity, camaraderie and fun. We hope that you enjoy the international, online painting community that we have created.
When you register you will be provided with with two links. The first is the Zoom link for you to join the session. The second link is where you will find all Mike's source photos, and a list of equipment and colours for your palette.
After the event, you are invited to email us with your painting to add to the gallery. In addition, we will send you a link to a video that will enable to you revisit Mike's step-by-step teaching.
When you have painted with Mike online, why not join him for real at the Watermill in Tuscany Italy next summer? We would love to welcome you to the Watermill. You can find more details of Mike's week-long courses, 28 August to 4 September, and 4 to 11 September, here.
Mike Willdridge is very experienced in a variety of painting and drawing media as well as printmaking. After many years teaching adults in Devon, he now lives and works in West Dorset. He restricts his teaching to an annual visit to the Watermill, demonstrations to local art groups and, recently, online sessions in conjunction with the Watermill.
In his own work Mike is continually trying to move towards 'abstraction' and usually works in a quick, loose style. He is an energetic and enthusiastic teacher who often encourages his students to be bold/take chances. He is particularly keen on all forms of drawing and constantly uses a sketchbook.
Mike first qualified and worked as a Graphic Designer before joining the Army and serving in many countries. More than 30 years ago he left the army to become an art teacher and was the Head of Art at two independent schools in England before taking early retirement to teach adults and paint in Devon. He has exhibited at the Mall and Llewellyn Alexander Galleries (London), at several galleries in Devon and from his own studios in both Devon and Dorset.
You can find out more about Mike and his work from his website.
Below is an example of a previous online session with Mike Willdridge, painting figures on a beach.