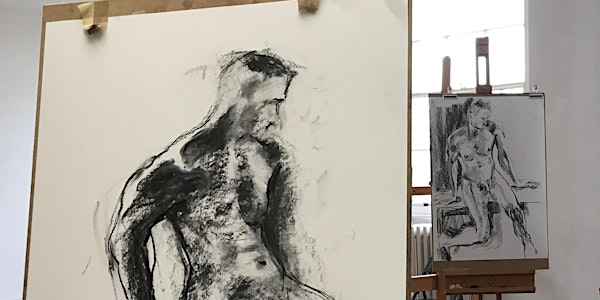 Multiple Dates
Drawing from Life with Rossen Daskalov of The Royal Drawing School
This Drawing Session is specifically for students and will focus on drawing the human figure in space
About this event
This Drawing Session - Drawing from Life with Rossen Daskalov of The Royal Drawing School - is part of an events and engagement programme accompanying the Trinity Buoy Wharf Drawing Prize 2019 exhibition while it is on show at Trinity Buoy Wharf in London from 18 January to 1 February 2020. The exhibition is open daily from 11am to 4pm and is free to see.
The Life Drawing Session is led by Rossen Daskalov from The Royal Drawing School. It focusses on drawing the human form in space and is specifically for students aged over 18.
Rossen Daskalov studied in an art school in Sofia, Bulgaria and later graduated with a degree in Fine Art from Central Saint Martins in London. In 2003 he was accepted as a Drawing Year student at The Prince's Drawing School (now the Royal Drawing School). His work has been exhibited in national competitions including the BP Portrait Award in 2001, the Jerwood Drawing Prize in 2004 and Barbican Art Thrust in 2010. In 2012 he won a public art commission from Southwark Council to create a permanent sculptural bench for Camberwell Green in South London. He lives and works in London and currently teaches at the Royal Drawing School.
Rossen Daskalov on drawing: Visual signals alert our consciousness and guide the realisation of our impulse and its response. A simple line carries vitality and a quick sketch recharges with freshness and curiosity the way I see the world. The reality that emerges through drawing is deeper and helps me to grasp and imagine any fleeting sensation. In the process of studying form, thoughts and feelings are embodied in a concrete dimension that uncovers a whole spectrum of meaning. Drawing is an act of sharing, a communion with light, it allows one to perceive a live source and to transmit life back into it.
This Drawing Session is suitable for students aged 18 and over of all levels of experience in drawing.
For information about Trinity Buoy Wharf, directions and facilities on site, please see: http://www.trinitybuoywharf.com
For information about the Trinity Buoy Wharf Drawing Prize please see: http://trinitybuoywharfdrawingprize.drawingprojects.uk
Organiser of Drawing from Life with Rossen Daskalov of The Royal Drawing School
Drawing Projects UK was created in 2009 to develop and promote research initiatives in drawing, including the Jerwood Drawing Prize project, now known as the Trinity Buoy Wharf Drawing Prize. In 2015, a centre for drawing and contemporary art at Bridge House in Trowbridge, Wiltshire was established and the remit of Drawing Projects UK expanded to form a drawing network and community through a range of complementary activities. With a project space, exhibition space, workspaces for artists, designers, creative and cultural enterprises, bookable meeting rooms and cafe, Drawing Projects UK is a unique creative and cultural hub, and is conveniently located adjacent to Trowbridge railway station.