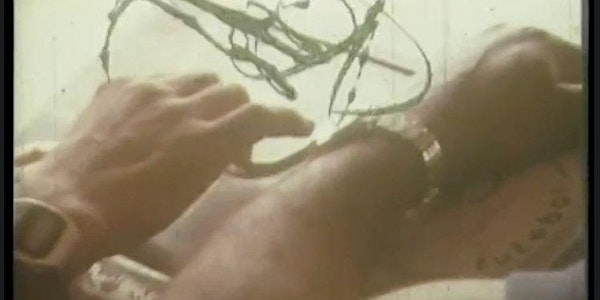 Drawing on film - What do we do when we draw?
Location
Roland Levinsky Building
Plymouth University
Drake Circus
Plymouth
PL4 8AA
Description
Drawing seems to be a very natural and universal activity from very early in our development even until the end drawing seems to be something that follows us through life. But what do we do when we draw? Although we often try to make likenesses of things that we see and admire others who can draw well the fact that we may not be good at drawing does not stop us when we need to make an image to explain something, make a plan, or apply cosmetics to our faces or doodle to amuse ourselves.
In these two workshops we will do some things together that might offer ideas about what happens when we draw.
In this second workshop on Friday we will see what happens when we draw in on film and project it. What happens when what we draw is transformed by a machine to become a fleeting image – is this still our mark? When we understand what changes in projection can we develop a skill so that we have some control over the experience of the viewer? This workshop is run by Jacqui Knight and Sue Denham, with technical support by Guy Edmonds and Rupert Allen.

This workshop is part of the series "What do we do when we draw?". In the previous "episode" on Thursday we will explore what happens when we involve our body and mind in the drawing process. In the first part we will try to make linear models of what we touch in plastic materials (it might be a little bit messy!) and then we will explore automatic drawing (with a dog as a model) - more or less drawing without thinking.
At the end we hope that we will have isolated some of the things that we do when we draw – process, perception and reflection - in a way that liberates the idea of drawing from making something that looks like something else.
You can also follow this event on facebook.