Description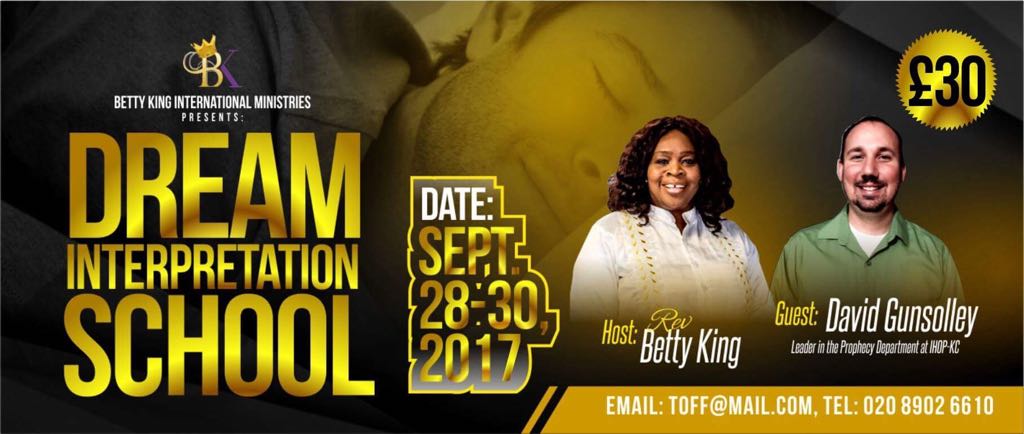 BKIM presents 'Dream Interpretation School' with David Gunsolley
We are excited and thrilled to announce that we will be hosting David Gunsolley in the UK from Thursday 28th to Saturday 30th September 2017.
David Gunsolley is a leader in the Prophecy Department at IHOP, KC (International House Of Prayer). He teaches on dreams, prophecy, friendship with the Lord, encounters, and visions.
This event promises to be both unique and heartfelt in the presence of the Lord. It will be a time of encounter, worship and equipping as David teaches us how hear, interpret and understand with depth the ways in which God communicates to us through dreams and visions, both to guide us and to draw us into closer intimacy with Himself.
Prepare yourselves and hearts and come with your dreams. These three days will change your life and you will not leave there the same!
Venue:
Truth Vine Church
33-35 Wembley Hill Road
Wembley
London
HA9 8AS
Time:
Thursday 28th September - 6.30pm to 10pm
(Doors open at 6pm)
Friday 29th September - 6.30pm to 10pm
(Doors open at 6pm)
Saturday 30th September - 10am to 5pm
(Doors open at 9am)
Price of Event:
£30 for 3 days
Otherwise £10 per day on the door
For any further queries please contact us at:
Email: toff@mail.com
Tel no: 0208 9026610
www.bettykingministries.org