Share, listen and connect with citizens of Bath, and explore the lived realities of the climate & ecological crisis in the city.
About this Event
Hosted by Good for Nothing founder, Dan Burgess, our gathering is a virtual space to:
➕ share and listen to personal stories of the climate & ecological crisis here in Bath
➕ connect with fellow citizens
➕ discover local climate action
➕ surface new ideas of how we can address this global issue on a local level
Whether you come to share or to listen - all are welcome.
Share your story
Speak, sing, read a poem. Share your feelings, fears, insights, ideas.
It's your mic. Your space. Your story. (4 mins max)
And your story may include:
🎤 How does it feel to live here in Bath?
🎤 What excites you?
🎤 What scares you?
🎤 What makes you hopeful?
🎤 What have you experienced here in Bath?
🎤 Who's doing great work?
🎤 What are the changes you want to see?
Listen
When we listen and hear different personal stories being shared we can learn together as a community. If you come to listen, rather than share, you are just as welcome.
The space
At each gathering, we aim to create a safe, regenerative space for all. Hate speech of any kind has no place here, please only share what you feel comfortable sharing, always share with kindness, empathy and respect. Refrain from mentioning names of individuals without their consent, and avoid intentionally offending others.
Dream Space online gatherings
This online gathering is one of three being held in November to explore the defining issues of our time: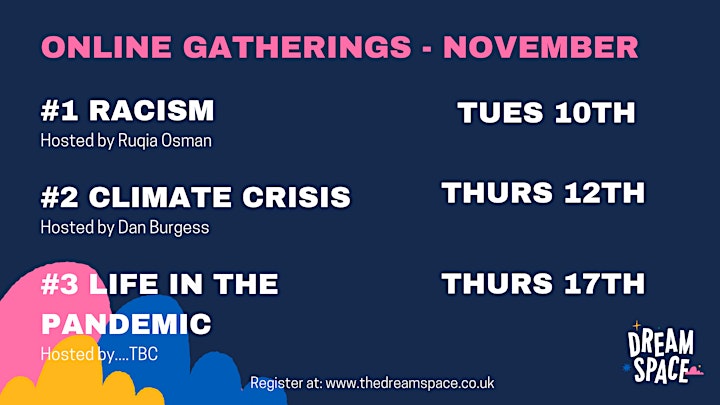 About Dream Space
Dream Space is a creative and experimental community-led project conceived and convened by Good for Nothing, Wild Labs and supported by The National Lottery Community Fund through their Emerging Futures initiative. We are seeking to amplify voices from our city's communities around the defining issues of our time: racism, the climate & ecological crisis, and the inequalities revealed through Covid-19, while also unearthing ideas for shaping the future of our city.
What happens to my story?
We want every voice to be heard.
All stories told will be creatively documented and shared widely across the city via a new film, podcast and print medium for Bath. Find out more here
Join the conversation on Instagram, Twitter and Facebook
#DreamSpaceBath #EmergingFutures #GoodforNothing
About the host
Dan Burgess is a creative strategist, catalyst, activist, co-designer and guide with deep experience of harnessing creativity and collaboration for positive social, ecological and climate action. He works across multiple sectors from the grassroots, arts, activism, conservation, NGO to global brands. He's a co-founder of Good for Nothing, Co-Pilot of Wild Labs and hosts The SpaceShip Earth podcast. He regularly writes, talks and serves as a learning guide exploring brand activism, participation culture, deepening our relationship with the natural world and creative experimentation in uncertain times. He lives in Bath with his partner and children