Dreamcatcher Making Workshop (ages 6+) CREATIVE CLUB
Description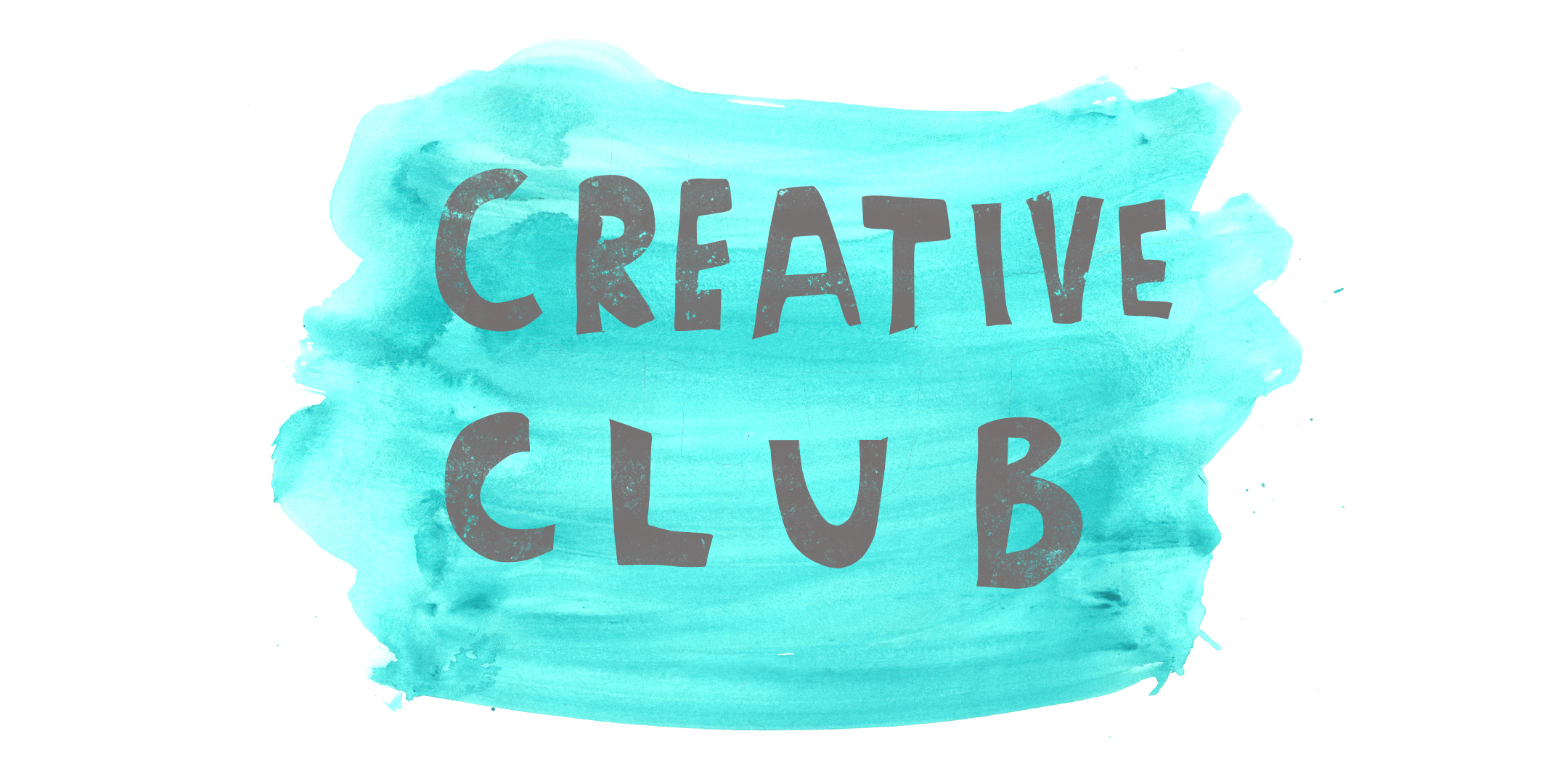 Want to learn how to make your very own dreamcatcher? Here's the workshop for you! All materials are supplied, and you'll learn how to weave and decorate your very own Native American dream catcher.
When a dream catcher is hung above your bed, it catches your dreams. The good dreams slip through the web but the bad ones are caught, and destroyed when the sun shines on them in the morning.
Break up the long summer holidays with a crafty afternoon. All materials are included, the venue is wheelchair and pram accessible, and we're right in the centre of town so you can go and treat yourself to a coffee while we get messy and make stuff!
This workshop has limited spaces, so book early to avoid disappointment.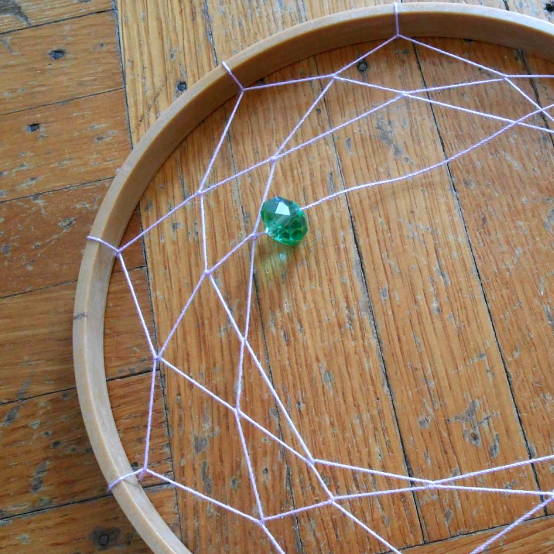 Other CREATIVE CLUB Summer Workshops - ages 6-12 (Silver Street, Berwick)
Friday 4th August - 3:30pm - Crown Making Workshop (1.5hrs)
Friday 11th August - 3:30pm - Paper Pom Pom Workshop (1.5hrs)
Friday 18th August - 3:30pm - Modern Calligraphy for Kids (1.5hrs)
Friday 25th August - 3:30pm - Make your own Dreamcatcher (1.5hrs)
Making & Moving Summer Workshops - ages 4-10 (East Ord Village Hall)
Wednesday 26th July - 1:30pm - Painting, Bugs and the Garden (2hrs)
Wednesday 2nd August - 1:30pm - Unicorns!!! (2hrs)
Wednesday 9th August - 1:30pm - Print Making (2hrs)

Wednesday 16th August - 1:30pm - Collage Making (2hrs)
Wednesday 23rd August - 1:30pm - Animal Masks and THE JUNGLE (2hrs)
What's Included?

2 hours of safe, fun age-appropriate creative play.
a snack
all art materials
lots of beautiful new art for the fridge/to show off to visiting relatives


Your child needs to bring:
a drink (at snack time we offer biscuits, but feel free to pack a snack if your child has allergies/sensitivities)
a big imagination
old clothes suitable for painting in! Sometimes it gets messy :)
As you can imagine, our sessions are VERY popular and spaces are limited so book now!
Don't just take our word for it. Here's what other parents had to say about previous Making and Moving sessions: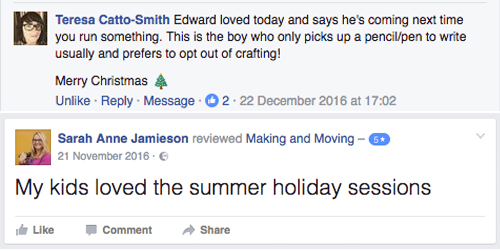 Making and Moving is run by Katie Chappell.
"I'm an illustrator and designer who grew up in Berwick and has recently returned after working as a nanny in Italy and Germany for a few years. I'm currently studying at Edinburgh College of Art. You can see some of my work here: www.katiechappell.com"

The Small Print
**********************************************************
YOUNGER CHILDREN
CREATIVE CLUB workshops involve some tricky techniques and sometimes dangerous tools. For this reason, we feel that children over the age of 6 will enjoy these sessions more. Children under the age of 6 must be accompanied by a paying adult.
MESSY CLOTHES
Workshops can get messsy! All of the paint and glue we use is washable, but old clothes are best, just in case :)
SAFETY
Children will be checked in and out with a register, confirming who will pick them up before you leave. Please wait at the front door until the end of the session so we can check children in and out efficiently. Katie is DBS checked and has over 10 years of experience working with children. No child will be allowed to attend workshops if they have not filled in an information/permissions form. We want everyone to be safe and happy! (You'll fill in all those details when you buy your ticket/check out.)
**Our CREATIVE CLUB workshops are all available to be booked as a birthday party. Email katiedraws.hello@gmail.com for more information.**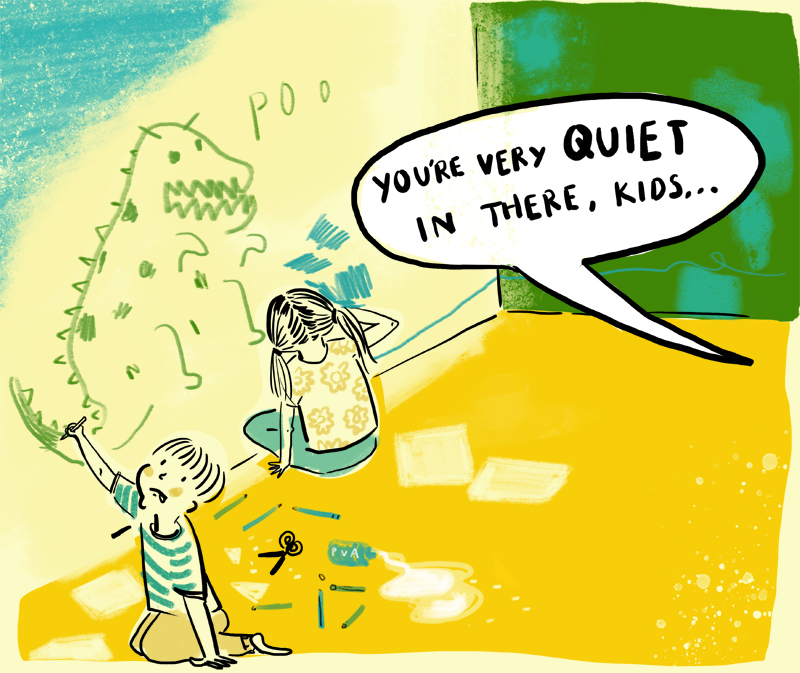 (Keep your creative geniuses out of mischief this summer)