Register Free! Donate £10 via Swansea Building Society Account tbc. Receive #DressForNHS Quiz Pack, Dress Up and have family fun, May 7th!
About this event
NHS are Super Heroes! We want to help in some small way to alleviate the financial burden! Introbiz Swansea & West Wales in Association with Swansea Building Society invite you to #DressForNHS and donate to make a difference!
Families are invited to register Free and then get joining instructions to pay £10 per household directly to the designated Swansea Building Society Account.
EVENT OVERVIEW:
Clap For NHS: 8pm
Family Quiz Time: 8:15pm
Where: In Your Home
You will:
▪︎ Dress to Impress: Dress up as your favourite Super hero or Dress to Impress
▪︎ Have food of choice, drinks and decorate in theme of choice
▪︎ Host a family Quiz Night using with the #DressForNHS Quiz Pack. These will be forwarded to each participating household. You may Zoom others or just play together.
▪︎ Upload photos and videos to social media and the designated #DressForNHS Facebook page.
▪︎ Send a photo of your Quiz winner with their full name to be entered into a prize draw after the event.
▪︎ Pay £10 per household to participate. All proceeds go to the National Health Service.
ALL PROCEEDS GO TO THE NHS. Funds received and distributed solely by Swansea Building Society, Craddock Street, Swansea.
_______________________
WHY #DressForNHS?
Motivated by the desire to be a part of the answer to the difficult circumstances the region is facing, Franchise Director Bernie Davies says, "The advent of Covid-19 poses an almost insurmountable challenge to the United Kingdom and in particular to our NHS…we want to help." Jane Parker Branch Manager of Swansea Building Society, Craddock Street, Swansea explains, "Bernie and I are not by any means naive enough to think we can change the way things are at the moment, but we believe we can make a difference in our region, in some small way." Billions of pounds have been allocated across the board for social welfare support but the NHS is buckling under the weight of this virus stricken country on its shoulders. Insufficient medical facilities, diminishing medical equipment and a beleaguered medical team, are some of the many challenges our NHS faces.
THE INSPIRATION BEHIND DRESS FOR NHS
Bernie was inspired by her daughter's birthday party on April 6th. The family had a Zoom birthday Quiz night. Bernie's son in hospital in Cardiff, other siblings in London, Jamaica and Neath all had the chance to celebrate Barri-Allison's birthday. In the end, she said it was the best birthday she has had in many years. Bernie was inspired to use this experience to help other families to have a similar occasion and simultaneously honour and financially support the NHS. "Our NHS staff are super heroes," Bernie's husband Mark Davies said... "We would like to reinforce this by hosting a FUND RAISING EVENT in the form of a night where every household in our region stops, eat together, play together and #DressForNHS!"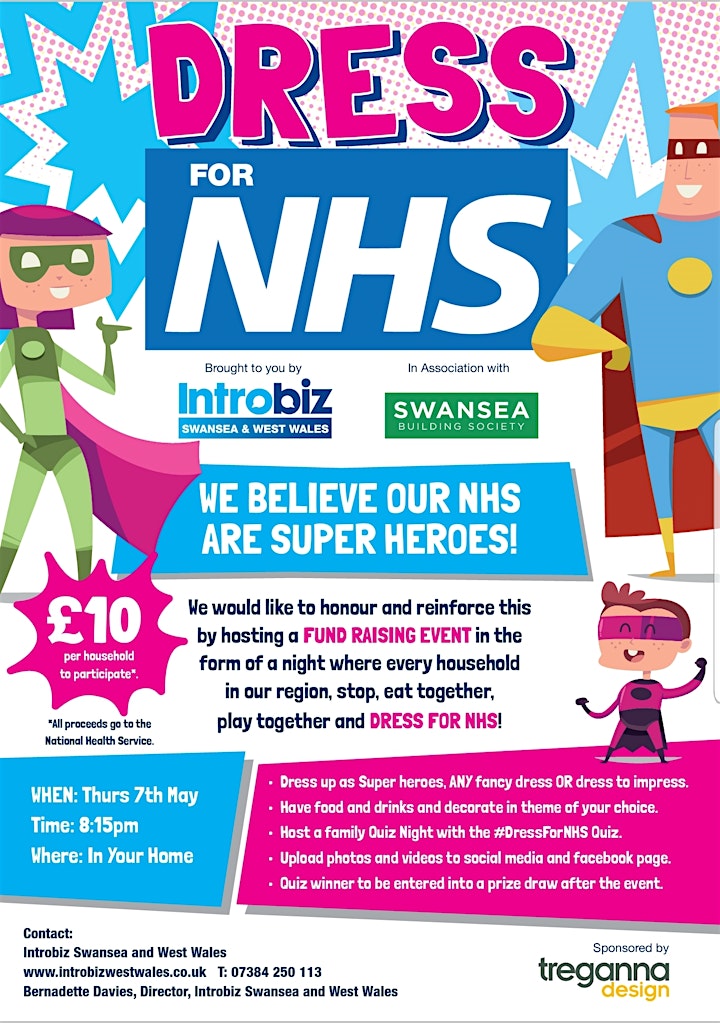 Organizer of Dress for NHS
Here at Introbiz Swansea & West Wales we offer a wide range of networking opportunities for members and guests. We work hard to inspire businesses to be their best and not to give up on their vision. This aim has never been truer or more important than in recent times. We took our networking online in March this year and haven't looked back.
Come and try the Introbiz business networking experience – Why not visit our networking diary to see our upcoming events in Swansea and West Wales.