DrinkIES – "Capacitação para o Investimento Social"

Thursday, 30 March 2017 from 19:00 to 21:00 (WEST)
Event Details
DrinkIES – "Capacitação para o Investimento Social" | com Helena Loureiro
A próxima oportunidade de encontro entre a Rede IES-SBS acontece no Porto, dia 30 de março! Em formato "drink after work", convidamos a juntarem-se a nós pelas 19h00, no Café Moustache, para um fim de dia descontraído e informativo, à conversa com a Helena Ribeiro – Ativadora da Região Norte do Portugal Inovação Social! que nos vai falar sobre a "Capacitação para o Investimento Social".
A inscrição é gratuita!
A todos os interessados, sugerimos que comecem a preparar as vossas preciosas questões para colocar à Helena e que tragam muita vontade de aprender e trocar ideias em mais um momento de convívio :)
Até breve,
IES-Social Business School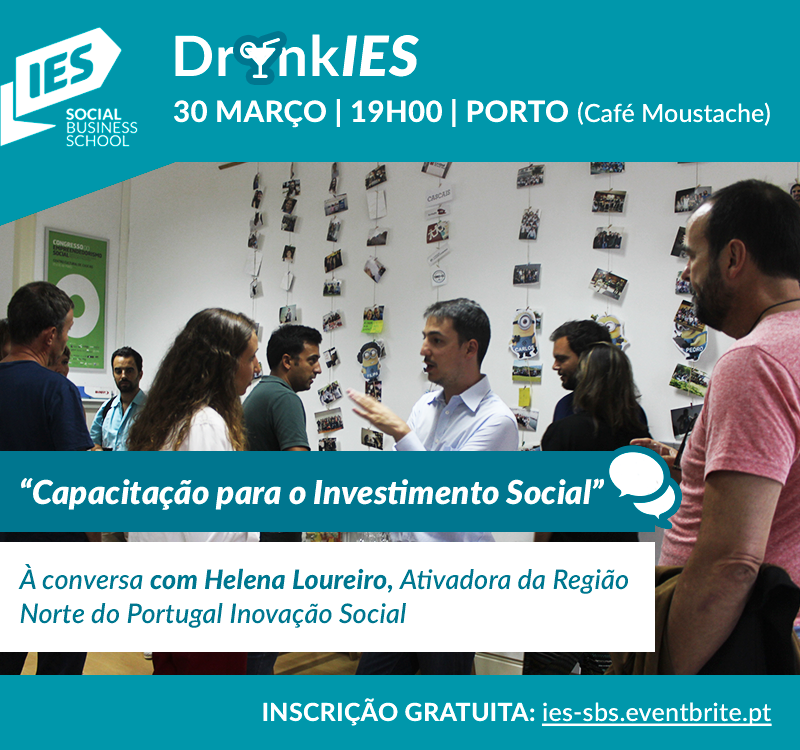 When & Where

Moustache
104 Praça de Carlos Alberto
4050-158 Porto
Portugal


Thursday, 30 March 2017 from 19:00 to 21:00 (WEST)
Add to my calendar
Organiser
O IES-Social Business School é a primeira escola de negócios focada na Inovação e Empreendedorismo Social.
Como ponto de partida para um caminho dedicado à inovação social na criação de soluções de negócio sustentáveis, oferecemos um portefólio de formação, investigação e consultoria que dá resposta a empreendedores sociais, organizações sociais, setor público, empresas, fundações e universidades, apostando na excelência e numa forte rede de parceiros para inspirar, formar, apoiar e ligar organizações e pessoas, de todos os setores de uma economia convergente.
Missão: Inspirar e Capacitar para um mundo melhor, através do Empreendedorismo Social
Visão: Ser a referência do Empreendedorismo Social para o mundo lusófono, promovendo a inovação, o conhecimento, a aprendizagem e o impacto social