Worcester's 'Drive-in Cinema' event screening 6 family friendly films across 3 days at Worcester's Sixways Stadium.
About this event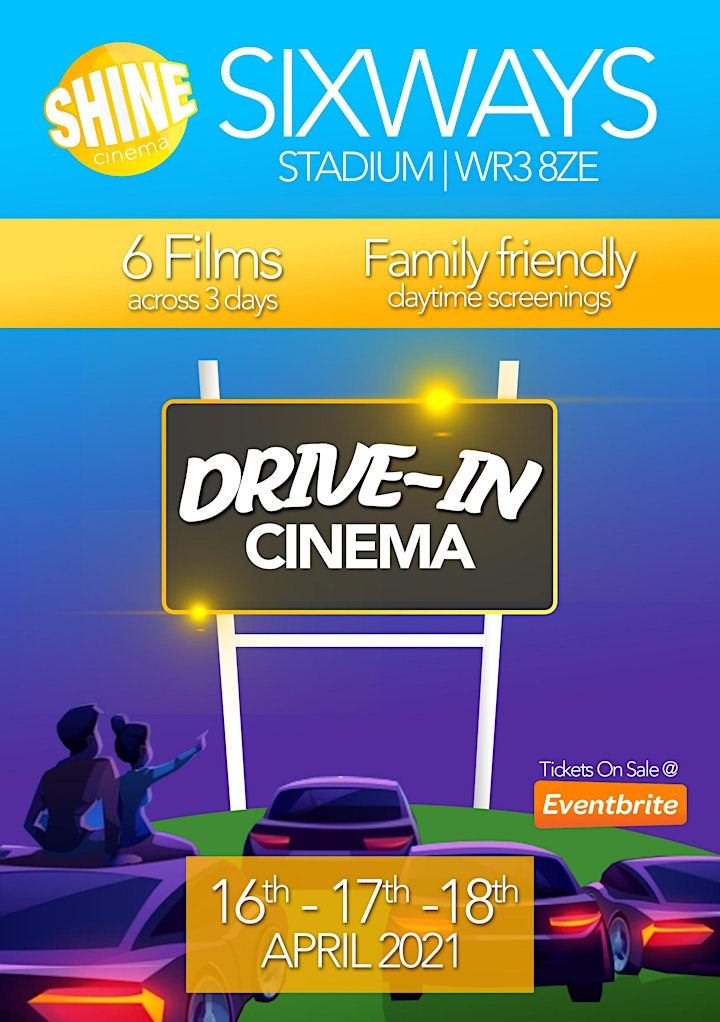 GREAT NEWS! Drive-in events can start from April 12th 2021 inline with the government's Covid-19 roadmap.
Looking for something to do this Easter break? Experience a taste of American style drive-in from the comfort and safety of your own car at our drive-in cinema event.
Our large day safe LED video screen will ensure all films can be screened on time with no delay waiting for darkness and allows family friendly daytime screenings.
Audio will be beamed directly to your very own in-car speaker providing guaranteed audio whatever the age of your car.
BOOKING TICKETS IS ESSENTIAL - NOT AVAILABLE ON THE DOOR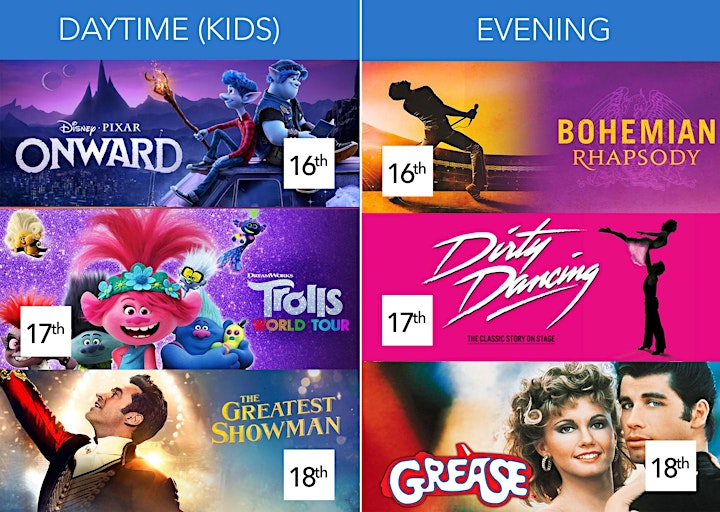 6 film screenings across a 3 day weekend
FILMS:
Onward (2020 | U) - Child friendly | Daytime screening
Friday 16th April 2021 - 2:30pm afternoon start
Bohemian Rhapsody (2018 | 12) - Evening screening
Friday 16th April 2021 - 7:30pm evening start
------------------------------
Trolls World Tour (2020 | U) - Child friendly | Daytime screening
Saturday 17th April 2021 - 2:30pm afternoon start
Dirty Dancing (1987 | 12) - Classic film | Evening screening
Saturday 17th April 2021 - 7:30pm evening start
--------------------------------
The Greatest Showman (2017 | PG) - Child friendly | Daytime screening
Sunday 18th April 2021 - 1pm afternoon start
Grease (1987 | PG) - Drive-in classic film | Evening screening
Sunday 18th April 2021 - 6pm evening start
Advertised film times are the time the films will start. Gates open 1 hour before advertised start time. Films will start promptly.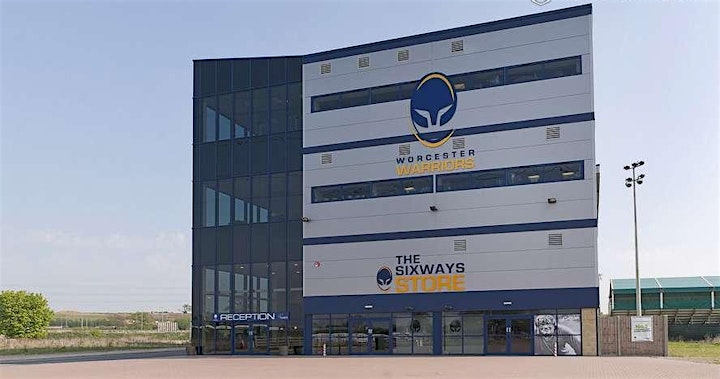 THE VENUE:
Shine Cinema and Sixways Stadium have teamed up to bring you Worcester's only drive-in cinema experience.
Positioned just off junction 6 of the M5, Worcester. Sixways is ideally located to host this amazing event with easy access and drive-in facilities.
Please note due to operational limitations hot & cold food / drink will not be available to purchase at this venue. Please feel free to bring your own goodies.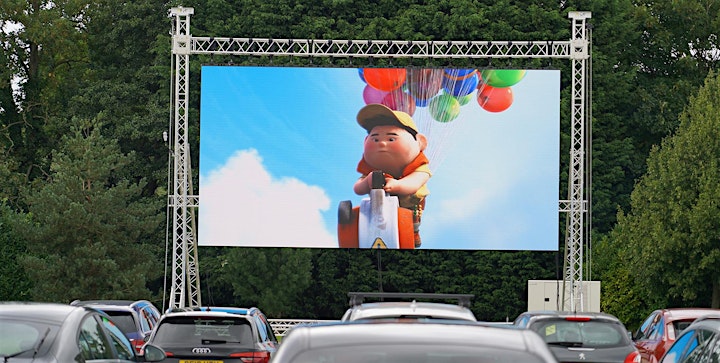 TICKETS:
This event is pre-book only to enable contactless payment. Tickets will NOT be available to purchase on the gate.
We have worked hard to make this one of the UK's most affordable drive-in cinema events whiles not sacrificing on quality.
Standard Ticket = £25
Entry for 1 vehicle into the standard enclosure (Row 4 back from screen, onward)
Gold Circle Ticket = £35
Entry for 1 vehicle into the gold circle enclosure ensuring you are in the front 3 rows (Row 1 to 3)
*Advertised ticket prices excludes Eventbrite booking fee
LIMITED TICKETS AVAILABLE - Our drive-in screenings are limited to 80 cars per screening. Book today to secure your ticket.
Tickets are sold per car. For Adults we recommend 2 persons per car (works out £12.50 per adult excluding booking fee) or 1 adult and 2/3 children (£6.25 per person excluding booking fee). One being an adult with a full driving license of course!
WHAT'S INCLUDED IN TICKET PRICE?
Entry for 1 permitted vehicle to chosen film screening
In-car audio system to pick up film audio in the comfort of your own vehicle (allocated on arrival)
IMPORTANT INFORMATION (YOU AGREE TO THE FOLLOWING TERMS WHEN BOOKING)
To ensure everyone has a great view you need declare the type of vehicle you will be attending in . If you wish to attend in a SUV, 4x4 or Camper we will allocate you a parking space which will be to either side of the designated zone (Left or right of screen). Please note we can not cater for minibuses or vehicles with more than 5 occupancy due to fire safety.
Standard Car = Max height 1.55 meters (155 cm)
SUV or 4x4 = 1.55 meter or greater (155 cm +)
Camper = 2.2 meters or greater (220 cm +)
Please make selection from the drop down box on completion of booking.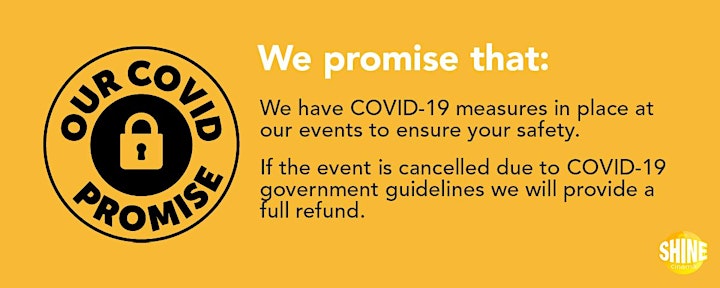 COVID-19 POLICY
This event has been setup to try and allow our customers to enjoy events in a safe environment with minimal risks associated with Covid-19 based on government guidelines.
Rules
This event is a 'Drive-in Cinema'. All attendees are encouraged to stay in their vehicles. If you choose to sit outside of your vehicle you must sit to the right (Drivers side). Due to the layout of the event we can not guarantee your view of the screen from outside your car.
All vehicles will have a minimum 2m space between them to allow safe passage between vehicles if you need to exit your vehicle for one of the permitted purposes. (See below)
You will be directed to your car parking space on entry. We will guide you to the most suitable location based on your vehicle type and height. We reserve the right to park larger / taller vehicles to the rear or side of the site to ensure the best possible viewing experience for the majority of attendees.
Vehicle engines must remain off at all times to reduce noise and pollution
Convertibles- Please do not sit above your car, remain in your seats
Toilets will be available however should only be used when essential.
You will be provided with a in-car speaker system. This will be sanitized and cleaned before being provided. You MUST return the equipment on exit of the event. We reserve the right to charge for any lost or damaged equipment .
Permitted reasons to leave your vehicle:
Use of toilets (please only use these facilities if essential)
If directed to by a member of our team
Encase of an emergency such as car fire or medical.
The above rules are subject to change to follow current guidelines on the date of the event. Some restrictions maybe lifted or increased to meet government guidelines.
Hygiene Measures
All our staff will be wearing the appropriate PPE to reduce the risk of spreading the virus. PPE will be sanitized or replaced as required between each screening in accordance with government guidelines.
Toilets will be available onsite to adhere to standard health and safety requirements. These facilities however should only be used when essential. The facilities will be regularly cleaned and additional sanitizers / hand-wash will be available for increased hygiene.
TERMS & CONDITIONS:
The event will go-ahead in all weather conditions unless Wind or Lightning stops the event on safety-grounds. If the event is 'Canceled' a full refund will be provided. Tickets are non-refundable unless the event is canceled.
If you or any of your household display symptoms of Covid-19 you MUST NOT ATTEND the event. Please contact us as soon as possible before the event to notify us and we will arrange a full refund.
-----------------------------------
GET INVOLVED:
If you would like to advertise on the BIG screen or be involved with this event please e-mail Info@ShineCinema.co.uk
----------------------------------
Media: All images used are of our actual screens in-use and subject to copyright. Some images used are of our screens used by our clients and not at our own events.