Description
Dreams don't come true because it's difficult to stick to our own plans.
DrivenWoman is a supportive network for women who want to lead a bigger life.
Imagine if you actually achieved what you always wanted. Launched that business, wrote that novel, made that career change, lived a bigger life – how amazing would that be?
DrivenWoman is a members' network that helps women define their own success, become accountable to their goals and make dreams happen. We get together once a month to create positive habits and put plans into action, one small step at a time.
This is where networking meets life coaching, but this time your coaches are other women sharing their journey. The really powerful thing about going through the shared experience of LifeWorking is that it impacts directly on your positivity and belief in your own potential. Instead of the sense of isolation you may have felt before, you will be inspired by the stories of other participants and will soon notice that the obstacles you thought were unique to you are universal to most women.
The monthly Lifeworking exercises help you expand your awareness about what you really want in life, set better and more meaningful goals and create those valuable 'aha' moments that set you on a faster path to success.
There aren't any other forums like this where women support each other in such a safe and honest environment. It's a community that encourages women to believe anything is possible if you are ready to put work into it!
Join our Lifeworking
™
Workshop where you will:
- Articulate what you want to achieve – what does your 'bigger life' look like?
- Set your long-term goal and short-term tasks, and break them down into tangible, achievable action points you can tackle
- Share and hear stories of other like-minded women. Be inspired by the stories of other participants and notice that the obstacles you thought were unique to you are universal to most women.
- Get a sense of clarity of your journey ahead, be it to start your own business, take your career to the next level or simply to become more comfortable in your own skin.
There is no commitment to join DrivenWoman afterwards. Just come along.
That's what DrivenWoman is all about. Encouraging everyone to make things happen!
Group Leaders

Cecilia Mankinde
Cecilia is a Group Leader for DrivenWoman in London, Islington/Old Street. She is a marketing professional who helps design valuable services for customers. She loves experiencing the world and its many treasures and believes we can all live wholesome lives that fully reflect our interests and values. She is passionate about helping women be the bravest version of themselves by taking steps to create a life they love whilst having a tremendous impact on those around them. She blogs and shares her experiences and thoughts on living intentionally and achieving our heart centred goals.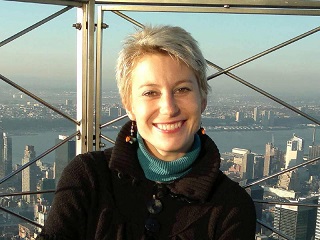 Tereza
Matysova
Tereza is a certified Group Leader for Driven Woman in London, Islington/Old Street. She spent 13 years as a journalist, newsreader and radio and TV broadcaster with Czech TV and radio. Her childhood dream was always to live in London, so six years ago she divorced her husband, packed up all her possessions and a somewhat startled cat (Meowglish) into her friend's car and drove across Europe. She was both terrified and excited but always thinks dreams are there for a reason so why not follow them?
She then met John, and they happily and unwisely adopted a second cat called Johnson, and bought and renovated a house (and discovered cats don't like builders, wellies or wet plaster).
Between all of this she trained to be a coach, set up a Media Consultancy business which covers PR, media training and life and business coaching and managed to kill some of John's plants. He now feeds the cats.
She also provides regular TV and radio reports about British politics and has written a series of children's books. She is a walking example of how fighting for your dreams and making them come true is both achievable and rewarding. But, like many people, when she initially shared her dreams with others they did not sound real to her, or others told her how she couldn't achieve them rather than how she could.
It took her years to pluck up the courage to pack up that cat and set off with her friend in his car, and she wishes she had known then what she knows now about taking charge of her life and being the woman that she wanted to be.
And that's what Driven Woman is all about. Not cats or emaciated plants. But people working together, sharing their skills and ideas and helping each other to live their lives with a genuine and real purpose. It is incredibly motivating to work together and help other women overcome their challenges, follow their dreams and be the people they want to be. Tereza loves watching them make their dreams come true, because dreams are actually here to be made true. One small step at a time!
For more information please visit our website at www.driven-woman.com
Read more about our thoughts and how Lifeworking is changing lives on our blog at drivenwoman.co.uk/blog/
Follow us on Twitter twitter.com/DrivenWomanNetw
Like us on Facebook www.facebook.com/drivenwomannetwork
Or follow us on Instagram www.instagram.com/drivenwomannetw/
Women - Success - Events - Womens Events - Entrepreneurs - Career Events - London