DrivenWoman - 'The Daring Way' Weekend

Saturday, 16 September 2017 at 09:15

-

Sunday, 17 September 2017 at 16:00 (BST)
Event Details
The Daring Way™ is a highly experiential methodology based on the research of Brené Brown. It has been developed to help individuals learn how to show up, be seen, and live braver lives. We will get to grips with how fear is holding you back, and help you develop greater resilience so that you can step into the arena and 'dare greatly'.
During the process we explore topics such as vulnerability, courage and worthiness. We examine the thoughts, emotions, and behaviors that are holding us back and we identify the new choices and practices that will move us toward more authentic and wholehearted living. The primary focus is on developing resilience skills and daily practices that transform the way we live and lead.
Dr. Brené Brown Ph.D. LMSW is a research professor at the University of Houston Graduate College of Social Work. She has spent the past twelve years studying vulnerability, courage, worthiness, and shame. She is the author of two #1 New York Times bestsellers; Daring Greatly: How the Courage to Be Vulnerable Transforms the Way We Live, Love, Parent, and Lead (2012), and The Gifts of Imperfection (2010).
Further information is available at www.thedaringway.com
The course will be led by Roxanne Hobbs who describes herself as on a mission to transform business via the inclusivity of women.  Roxanne works with women to help them uncover their authentic leadership voice and make a difference within organisations. She believes the corporate world would benefit from more inclusive leadership, and works to address that via coaching and consultancy.   Roxanne is a certified coach (CPCC ACC) who lives in Hackney with her husband, two young boys and a crazy puggle.   She received her coaching accreditation from the internationally renowned Coaches Training Institute (CTI) - the first and largest in-person training school in the world, and the first organisation to be accredited by the International Coach Federation (ICF).  She is also a certified Daring Way facilitator candidate.  In her previous existence, she worked for 12 years in the media industry reaching Managing Partner level at a top 10 agency.  Find out more www.roxannehobbs.com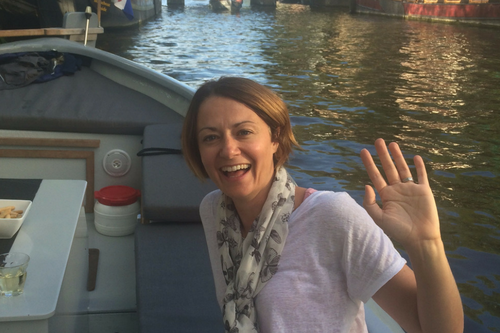 Follow Roxanne on Twitter
All DrivenWoman workshops aim to give participants practical knowledge, real 'penny drop' moments, they can apply into their everyday life starting the next day. Invest into a great inspirational day with other like-minded women and take a braver approach.
When & Where

The Soho Collective
12 Moor Street
W1D 5NG London
United Kingdom


Saturday, 16 September 2017 at 09:15

-

Sunday, 17 September 2017 at 16:00 (BST)
Add to my calendar
Organiser
DrivenWoman
DrivenWoman is a members' network that helps women define their own success,
become accountable to their goals and make dreams happen. We get together once
a month to create positive habits and put plans into action, one small step at a time.
We do this by sharing our progress and inspiring each other. This method of
'LifeWorking' creates accountability, removes fear of failure and builds a strong
sense of commitment. 
Dreams don't just happen, but you can make them happen!
After only a couple of months members notice a tangible change in their lives -
"DrivenWoman has been a life-changing experience for me. I previously worked in
male-dominated industries, with barely any women in leadership roles to aspire to. I
was fairly disillusioned about what I could achieve in business as a woman.
But DrivenWoman has encouraged me to think differently, to challenge myself and
to be brave. I no longer compare myself to others or aspire to be someone else, I
aim to be the best, most authentic version of me and to truly value what I bring to
the table. That belief in myself, and brand me, is paying dividends in terms of client
work.
So not only is my business thriving, but I also have the advantage of being
surrounded by a wonderful network of supportive women from all different
backgrounds and perspectives who are my personal cheerleaders. When I'm having
tough times, they help lift me up and when I'm on a roll they inspire me to push
myself further." Natalie Davison, Founder of PR agency Swell Communications
"When I joined DrivenWoman I thought I was signing up for a monthly opportunity to
network and interact with like-minded women, but what I didn't know was that I was
embarking on a transformational journey so gentle that it has changed me without
me fully realising. Only after 9 months I was able to look back and see how much I
had travelled, first and foremost as a woman and secondly as a professional.
There is some magic that happens when we get together to offer each other a
supportive space where a story can be told – both the act of listening and being
listened opens up doors for opportunities within oneself and new routes for one's
journey appear. With DrivenWoman, I got what I signed up for. And so much
more." Francesca Lando, Designer
DrivenWoman LifeWorking™ groups operate in many major cities around the world
including London, Helsinki, Zurich, Bern, Luzern and Sydney. If you are interested in
starting LifeWorking™ groups where you are, please register your interest here: https://drivenwoman.co.uk/driven-woman-careers/
DrivenWoman - 'The Daring Way' Weekend