CXCentric Conversation: Driving Growth in the Hospitality Sector through Exceptional Experiences. An interactive & international discussion.
About this event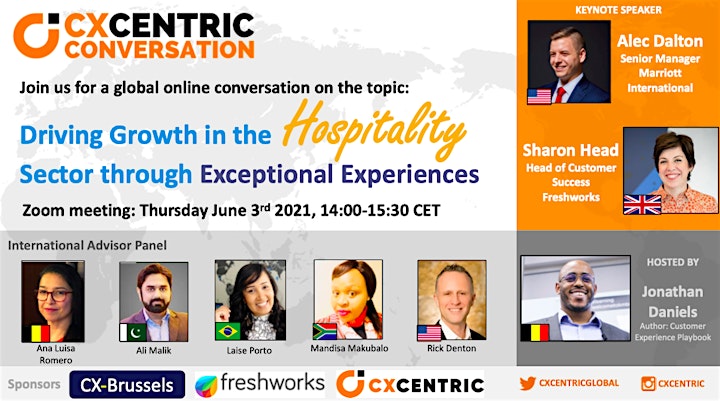 https://us02web.zoom.us/j/86237217003?pwd=OE9BN1ZSeWp5dTF6eTc2UHFtNVFiUT09
The Hospitality Industry has been one of the hardest hit during the pandemic. Many organisations have struggled to stay a float. However there are some organisations that have managed to bounce back, and already have their hotels fully booked over the next 4-5 months.
Speaking to leaders of successful organisations in the Hospitality Sector, we have noticed a clear trend - they all take their Guest Experience very seriously.
In this CX Centric Conversation we begin with a keynote from Alec Dalton, Senior Quality Manager at Marriott International. We will learn about the strategies and tactics they use to grow their business through customer experience.
We will then break up into groups to explore the challenges in the Hospitality Sector, the future of hospitality, and brainstorm solutions together.
These events are hosted by Jonathan Daniels, Director of CX Centric and author of The Customer Experience Playbook.
And Sponsored by Freshworks and CX Brussels.
Keynote Speakers:
Alec Dalton, Senior Manager, Marriott International.
Sharon Head, Head of Customer Success, Freshworks
As usual we have curated panel members representing each continent including:
Ana Luisa Romero - Belgium, Europe
Ali Malik- Pakistan, Asia
Rick Denton, USA, North America
Laise Porto - Brazil, South America
Mandisa Makubalo - South Africa, Africa
By registering for this event you consent to our Privacy Policy.