Dubai Properties Show - EMAAR Mega Roadshow London - 30th & 31st March 2019
About this Event
Meet EMAAR, world-class developer from Dubai and its top platinum broker AEON & TRISL in London on 30th & 31st March 2019 with a diverse range of projects on display and thousands of properties to choose from. Perfect place to find fantastic property and discuss future investment plans with leading real estate investment experts and agents. Amazing Post Handover exclusive payment plans to meet your investment needs.
Learn more about investing & living in Dubai and what it has to offer you both personally and professionally. Find the right financial consultant for your needs and discover what property would suit you best, from budget apartments to luxurious villas to beach front & Dubai downtown properties and more, offering you the highest returns on investment.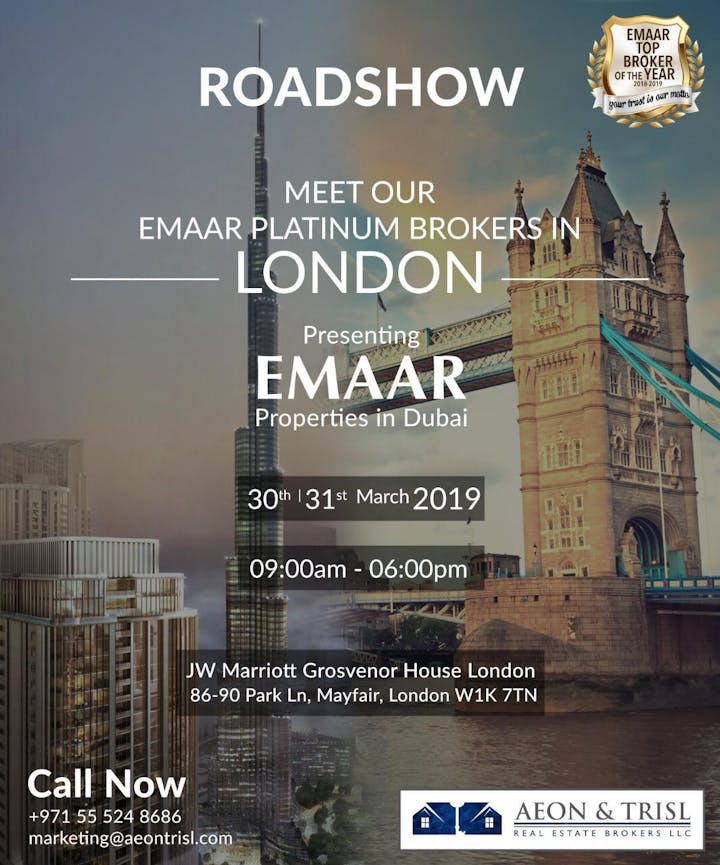 London being a solid platform for UAE Property Developers to present their latest projects, which come in line with the Dubai's Expo 2020 of becoming a tourism and business hub.
United Arab Emirates (UAE) stands as a strong nation built on the foundations of security, hope and economic strength. The UAE's safe political status and consistent economic growth have been the key factors for attracting international property investments to the country.