Dublin Moving to Portugal Show & Seminars - 21st April 2020
Description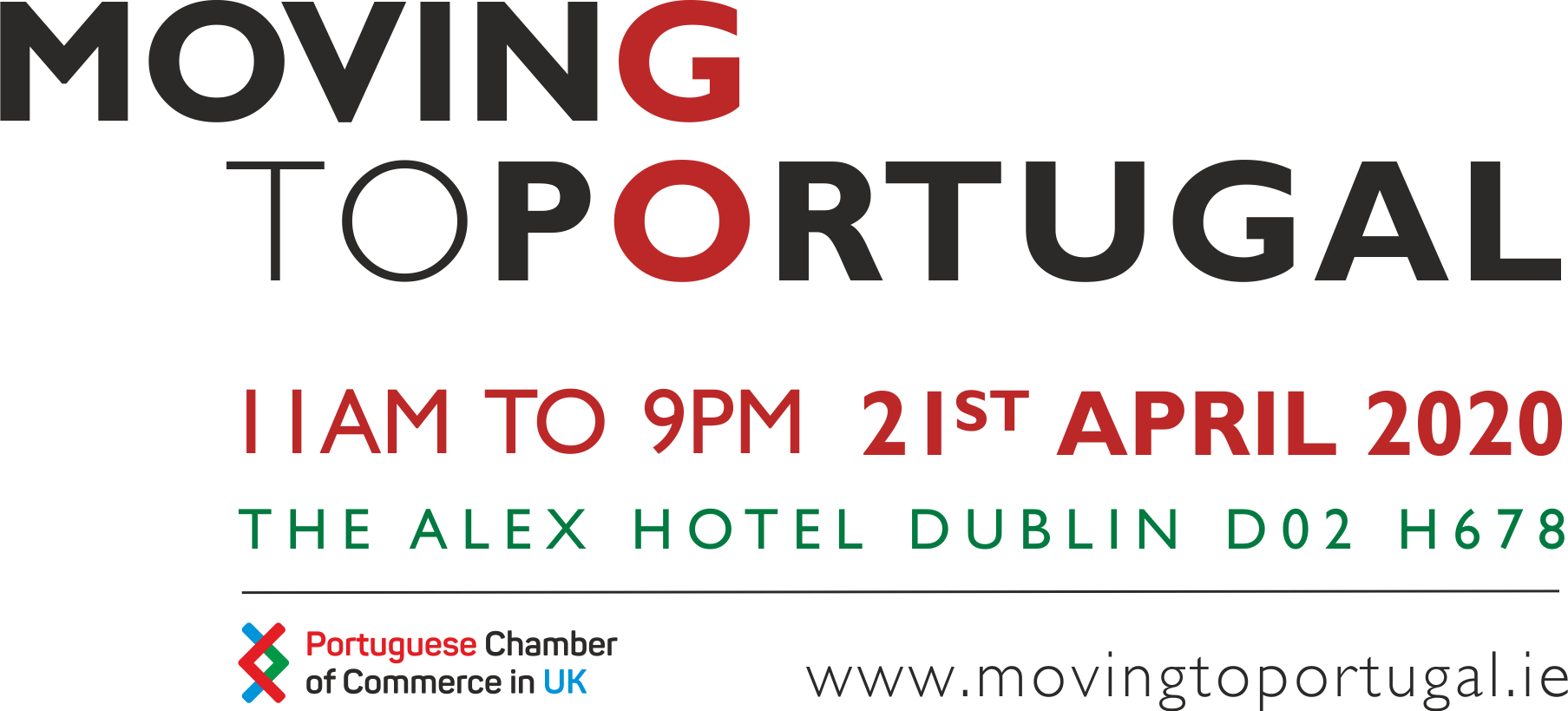 The next Moving to Portugal Show & Seminars will take place on
at the The Orient Suite, The Alex Hotel, 41-47 Fenian St, Dublin D02 H678
Seminars start at 11.30am, 3pm and 6.30pm. The event will open at 11am and close at 9pm.
---
The Moving to Portugal Show & Seminars are designed to answer all the questions you may have about how to organise your move to Portugal, - whether you intend to run your business from there, invest there, retire there or simply spend several months a year there to escape the Irish climate.
Alongside the seminars some carefully chosen members of the Chamber will also be exhibiting, giving visitors the opportunity to ask questions about any potential move to Portugal.
Exhibitors will include estate agents from the Algarve and all the other regions of Portugal so visitors can see the different property options available, as well as representatives from some of Portugal's best established resorts and golf courses.
Confirmed exhibitors include: Cerro Novo Algarve Properties; Fine & Country Algarve; Ombria Resort; Kronos Homes; Quinta do Lago; Troia Resort; United Investments; Vilamoura World; BlackTower Finantial Management; Blevins Franks; Abacus Gibraltar
On the day, the doors will open at 11am and close at 9pm. The first seminar begins at 11.30am and will last approx. one hour. The seminar will then be repeated at 3pm and 6.30pm. The seminars are free to attend but due to their popularity it is necessary to reserve your place in advance.
For more information on Seminars click here and for Speakers click here.

Within each seminar there will be several short (15 minute) presentations from Irish specialists on the following subjects:
the legal aspects of buying a property in Portugal

how to plan your legal and financial affairs in advance of the move

how to structure mortgage finance and pensions

how Portugal's Non Habitual Residence (NHR) tax programme works

aspects of healthcare, residency and later living in Portugal
Alongside the exhibitors, staff from all the companies presenting at the seminars will be present throughout the day on their stands to answer your questions and to talk in private with you.
Come along and meet us all, try some Portuguese wine, and plan your move towards a sunnier lifestyle!
---
From the golf courses, beaches and restaurants in the Algarve to the vineyards and culture of Porto, Lisbon and the north, there is a home and way of life in Portugal to suit everyone.
Moreover, Irish nationals moving to Portugal can now benefit from Portugal's very favourable 'non-habitual residence' tax rules during their first ten years in Portugal.
About the Seminars
Our seminars focus on some of the practical aspects Irish nationals should consider ahead of a move such as:
Where should I move to?
What do I need to be aware of when buying property?
How does the Portuguese health system work?
How do the 'non habitual residence' tax rules work and would I qualify?
How will I be taxed?
For more information contact us at info@portuguese-chamber.org.uk or call us on 0044 207 201 6638.
Supported by the Ireland Portugal Business Network