Description
BELOTERO® Lips Masterclass
This event and registration page is intended for Healthcare Professionals registered and based in the United Kingdom
This is a Merz Pharma UK Ltd initiated and funded educational meeting.
---

Our Vision at Merz is to become the world's most Admired, Trusted and Innovative Company in Aesthetics. Education continues to be a key part of how we aim to deliver against our Vision – that is why we have partnered with experts in our brands to deliver a series of BELOTERO® Lips masterclasses. The objective of these educational meetings is to help you expand your scientific and practical knowledge on the use of BELOTERO® Lips to deliver optimum clinical outcomes for your patients.
---
MASTERCLASSES

AGENDA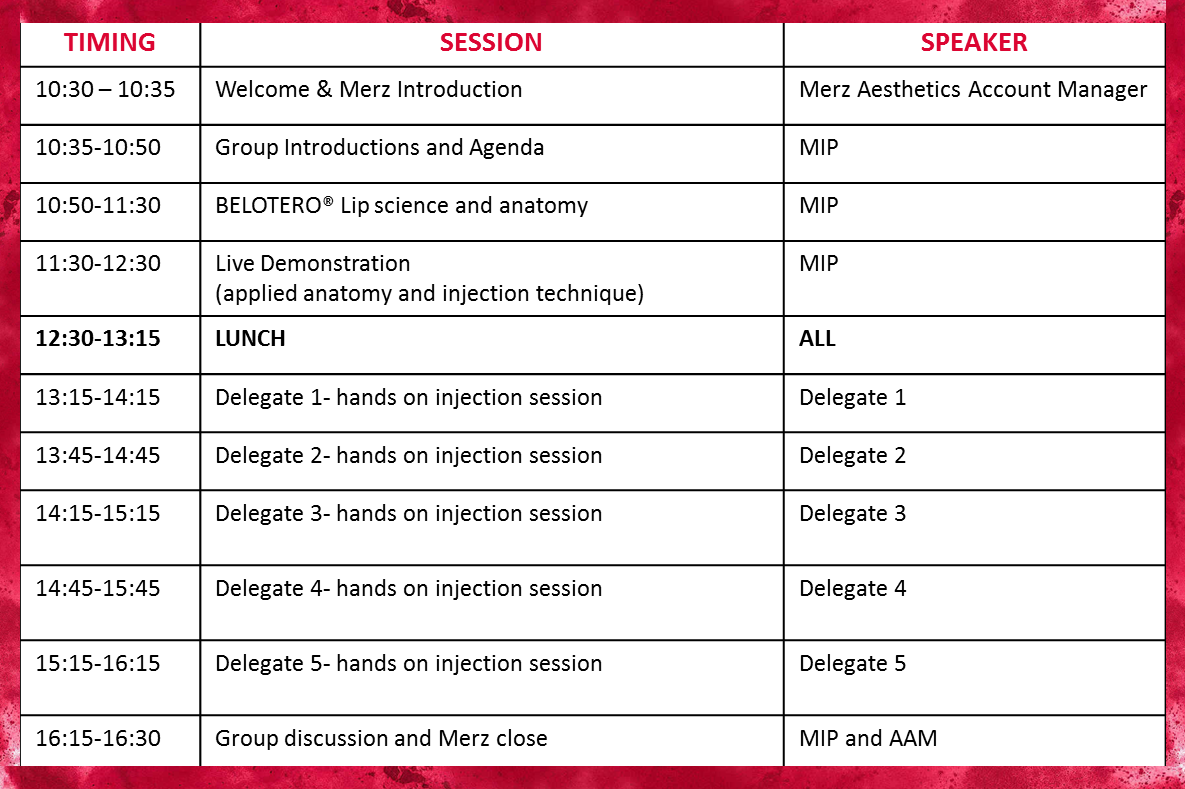 For information about how Merz handles personal information, please see our Global General Data Protection Information Notice at https://merz.com/app/uploads/2019/06/Fair-Information-Notice_Merz.pdf

For further information on our Privacy Policy, please visit www.merz-aesthetics.co.uk/privacy-policy or contact us at dataprotectionUK@merz.com
Adverse events should be reported. Reporting forms and information for United Kingdom can be found at www.mhra.gov.uk/yellowcard. Reporting forms and information for Republic of Ireland can be found at https://www.hpra.ie/homepage/about-us/report-an-issue/mdiur. Adverse events should also be reported to Merz Pharma UK Ltd by email to UKdrugsafety@merz.com or on +44 (0) 333 200 4143.
Merz Pharma UK Ltd, 260 Centennial Park, Elstree Hill South, Elstree, Hertfordshire, WD6 3SR, www.merz-aesthetics.co.uk
M-BEL-UKI-0586 Date of Preparation August 2019