Description
Be fanatical about due diligence, try to obtain & confirm every bit of information you can. - F.Gallinelli
In today's challenging business environment, it is crucial for any growing company to know the basics of due diligence to understand the essentials in assessing valuation, investor relations or partners.

Due diligence identifies problems early and can help you establish the true value of your business, and with the right information, you can contribute to the terms of your contact agreements.
Due diligence should empower you to negotiate the best terms for your firm.
Join us for this exquisite event to learn the A to Z of due diligence and find out what investors are really looking for in entrepreneurs!
Companies you'll meet: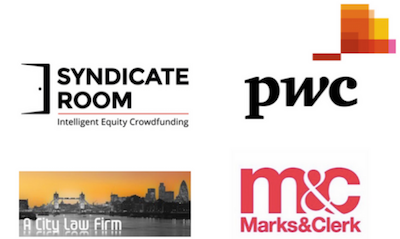 Speakers:
Oliver Hammond | Investment Analyst at SyndicateRoom
SyndicateRoom connects ambitious investors with the country's most trailblazing companies. Started in 2013, SyndicateRoom has rapidly grown to have more than 100 high-growth businesses in its portfolio. By relentlessly focusing on the interests of private investors, SyndicateRoom has developed a trusted reputation and has been recognised as Best Investment Platform at the Growth Investor Awards two years running.
Paul Lantsbury | Senior Finance Partner at PwC
PricewaterhouseCoopers is a multinational professional services network headquartered in London, United Kingdom. It is the second largest professional services firm in the world, and it is one of the Big Four Auditors, along with Deloitte, EY, and KPMG. Vault Accounting 50 has ranked PwC as the most prestigious accounting firm in the world for seven consecutive years, as well as the top firm to work for in North America for three consecutive years.
Karen Holden | Managing Director at A City Law Firm
A City Law Firm is a leading entrepreneur firm of regulated solicitors based in the heart of the City of London. Awarded Innovative Law Firm 2016, they pride themselves as those that think outside the box. ACLF acts for high-net worth individuals as well as entrepreneurs in sectors such as media, TV, technology, fashion and finance and start-up businesses that aim to seek and secure investment. They offer an all-encompassing legal and growth package that sees clients staying with us for years.
Thomas Prock | Patent Attorney Partner at Marks&Clerk
Marks & Clerk is recognised as one of the world's leading specialists in intellectual property. A global network with over 800 people worldwide, it advises clients in a full range of sectors in all aspects of intellectual property – patents, trade marks, designs and copyright. This includes worldwide protection, portfolio management, strategic advice, commercial advice, licensing, enforcement, due diligence, litigation, IP valuation and design consultancy.
Agenda:
•5.30-6.00pm Arrival & Registration
•6.00-6.10pm Welcome from BFS
•6.10-7.30pm Presentations
•7.30-7.50pm Panel Q&A
•7.50-8.00pm Closing remarks
•8.00-9.00pm Networking with Drinks
Organiser:
Arina Osiannaya, The Business Funding Show: The only place where you can meet top-finance providers on a regular basis.
Sponsors:

Host:
Wework is a platform for creators. They provide you with everything you need to create your life's work. They're growing our community in London with new spaces opening up throughout the city, get in touch to learn more.
https://www.wework.com/locations/london/soho-london
***WeWork security request***
WeWork has requested that all attendees provide us with:
- Full name
- Email, and
- Company name
Note: You may not be allowed into the building if you do not provide the above RSVP
We appreciate your cooperation in updating your RSVP to be an accurate representation of whether you will attend.
TICKETS TO THIS EVENT ARE NON-REFUNDABLE.