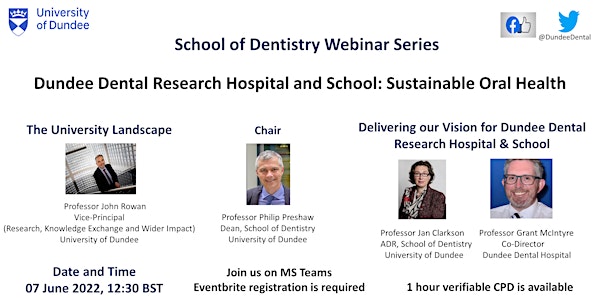 Dundee Dental Research Hospital and School: Sustainable Oral Health
A free online event organised by the School of Dentistry, University of Dundee, UK as part of the monthly webinar series.
About this event
About the Event
Chair: Professor Philip Preshaw, Dean, School of Dentistry, University of Dundee, Scotland, UK
Title: The University Landscape
Speaker: Professor John Rowan
John is Vice-Principal (Research, Knowledge Exchange and Wider Impact) in the University of Dundee. He is responsible for the overall research strategy of the University, along with growing vibrant relationships bridging the University and diverse partners in Industry, Government and the wider public. These relationships ensure that the superb research in the University achieves its highest potential in innovation and impact throughout society, consistent with our core value of Transforming Lives.
John is a Professor of Physical Geography, with particular expertise in the study of environmental change. His systems-based work on the impacts of climate and land use change - manifested by issues like soil erosion, flooding and biodiversity impacts - has a strong policy focus. His international collaborations extend across multiple countries, e.g., current projects in India, Zimbabwe, Bangladesh and Turkey. He also has a strong national profile and serves in an advisory capacity to the Scottish Government's Centres of Expertise in Climate Change (CXC) and Centre for Research on Water (CREW).
John has been at the University of Dundee since 1998. He was Founding Director of the Centre for Environmental Change and Human Resilience (CECHR), a strategic and highly successful partnership with the James Hutton Institute, established to tackle interdisciplinary challenges around food, water, energy and health security. He was the inaugural Dean of the new School of Social Sciences created through restructuring in 2015.
Aims and Objectives: To comment on the recent Research Excellence Framework (REF) 2021 results and the potential impact that the Research Hospital and School could have, highlighting the importance of environmental sustainability.
Title: Delivering our vision for Dundee Dental Research Hospital and School
Speakers:
Professor Jan Clarkson
Jan Clarkson is Professor of Clinical Effectiveness and Consultant in Paediatric Dentistry at the University of Dundee, Associate Dean and Director of the Scottish Dental Clinical Effectiveness Programme NHS Education for Scotland, and Joint Co-Ordinating Editor of Cochrane Oral Health University of Manchester. Her research focuses on the production, synthesis and implementation of evidence to improve routine dental healthcare. She is Chief Investigator on NIHR funded randomised controlled trials in dental primary care totalling £20M that investigate dental interventions for prevention and treatment. As joint co-ordinating editor of Cochrane oral health she manages the production of global priority reviews ensuring efficient updates with emerging new evidence. She leads the production of Scottish Dental Clinical Effectiveness Programme (SDCEP) guidance for dentistry which is widely used beyond the UK and is the only dental guidance with NICE accreditation. The findings of her research have informed policy in service and education and led to changes clinical practice.
Professor Grant McIntyre:
Grant McIntyre is an NHS Consultant & Honorary Professor in Orthodontics in Dundee. Grant has clinical, teaching and research interests that focus on the management of facial deformity and cleft lip & palate, the effectiveness of orthodontic treatment and 3D imaging of the dent facial complex. Grant has been working as part of a large team of people in Dundee Dental Hospital & School to bring the research dental hospital project to life and will tell the story of the development of the Dundee Dental Research Hospital & School.
Aims:
To inform participants about the proposed benefits of a research hospital, the importance of patient & public involvement in design and how our research dental hospital will help in the transformation of oral health locally and globally.
Learning objectives:
1. Understand how research and education can improve population and oral health.
2. Understand sustainable oral health.
3. Describe how research can be embedded within service delivery.
Development outcomes
This CPD course meets the criteria for the GDC (General Dental Council)'s development outcomes C.