EHD to Arbroath for a Smokie!
About this event
NUMBERS ARE LIMITED FOR THIS RIDE DUE TO CURRENT RESTRICTIONS.
PLEASE CANCEL YOUR TICKET IF YOU CANNOT ATTEND
START AT THE DEALERSHIP RIDE STARTS 10.00 AM THEN UP THE EAST COAST TO ARBROATH
ACROSS TO FORFAR FOR A BRIDIE AND FUEL STOP , THEN BACK TO THE DEALERSHIP AT EDINBURGH.
Ride approx 170 miles.
https://maps.harley-davidson.com/share/rides/lYxt4nEvV
Lead - Craig Stewart
Road Captain - Jean-Anne McKinnell
Note: Please bring your order confirmation to the ride - either a paper copy or on a mobile device.
If you do not have this you may not be allowed to participate in the ride.
You Must be registered for this event or you cannot attend. Please do NOT "just turn up" on the day or you may be turned away.
Eventbrite will be used to manage registration and if anyone becomes unwell after, the chapter can then notify those who were on the same ride, or rides within the last few days etc. The Chapter must demonstrate a duty of care to both our Road Crew, but also to those members who are joining us.
We also ask that you conduct yourselves in line with Government Guidelines, and be prepared by bringing with you Hand sanitizer, face coverings etc.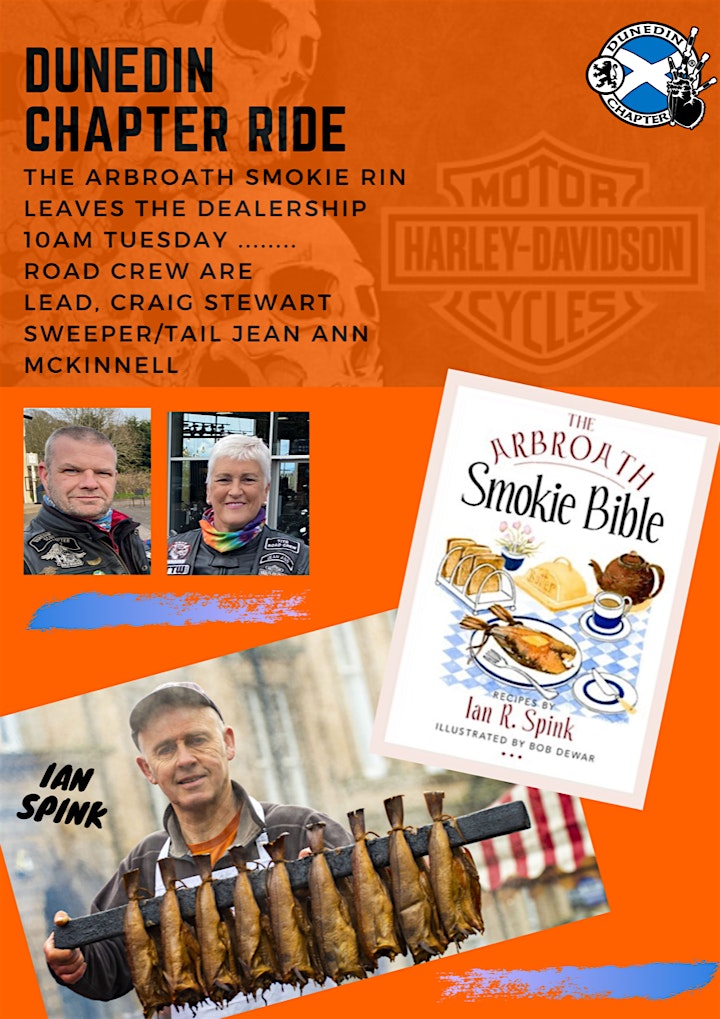 Organiser of Dunedin - Chapter Ride - The Arbroath Smokie Run