About this Event
Good day chaps. We have two men that are up for the chop in the coming months so it's only fitting these giants get a huge send off!!!
Ronan and Declan have been around the block together and have decided to tie the knot to their respective partners-before they do they have one final junket left in them 🤣.
The line up is epic, a joint stag with only the finest selection of men. Each individual hand picked to celebrate the great friends and brothers these guys are.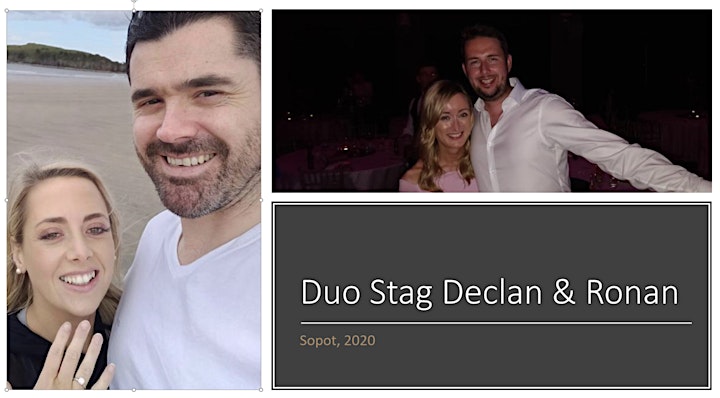 10 Stag Do Rules
First rule of the stag do is, you do not talk about the stag do.
Second rule of the stag do is, you DO NOT talk about the stag do.
No taking photos that could ever incriminate another stag.
What happens on the stag do should never be posted on Facebook.
Break any rules and you must face a forfeit. No exceptions!
Above all else, the weekend is about the two grooms. Worship them!
Avoiding your round is a cardinal sin. You WILL be punished, Polish style.
Stay focused, forget the pretty barmaid, this is a GUYS weekend.
Travel light, any man found with straighteners will be exposed.
A mirror tax will be in operation for any excessive preening.
No Dogs allowed Joe.