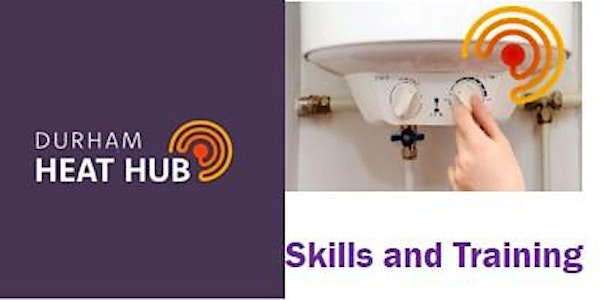 Durham Heat Hub Seminar Series - Skills and Training for Netzero
Durham Heat Hub Webinar: Skills and Training for netzero
About this event
The recent Skills for Jobs White paper aims to deliver a Lifetime Skills Guarantee and sets out a blueprint for a post-16 education system that will ensure everyone, no matter where they live or their background, can gain the skills they need to progress in work at any stage of their lives.
With the Government committed to achieving net-zero emissions by 2050, the UK must deploy a range of technologies, including carbon capture and hydrogen, to decarbonise the industrial and energy sectors. Existing energy sectors will be encouraged to radically change their practices and technologies and old skills will be replaced with greener approaches, requiring an understanding of new technologies, service options and digital approaches. The heating and cooling industry will play a critical role in hitting our climate change targets.
Are we ready? and what do we need to do to prepare and prosper from the green revolution. Are these reforms bold enough and how will they support the UK aims of Net Zero 2050?
Our six speakers from across the Heat and Energy sector explore the current challenges in meeting the skills and training needs for Net Zero and provide their views on what else is needed to ensure a green, fair and equitable transition for all.
Please join us to hear from the sector leaders and discuss what we all need to do now to engage
Chaired by Dr Barbara Vest, OBE, Special Adviser, Energy UK
Our Speakers include:
Kim Smith - College Hub Facilitator, North East LEP
Peter Anderberg - Founder, The Heat Academy
Sarah Dhanda - Head of Strategic Partnerships, Enginuity
Kelly Greer - Head of Research, Association for Decentralised Energy
Ian Gaskill, Head of School Technology, New College, Durham
Professor Douglas Halliday - Director, Centre for Doctoral Training in Energy and Global Challenge Research .
Following this webinar, we will produce a Briefing note, summarising the main discussion points and capturing any recommendations for future investment and initiatives.
We look forward to welcoming you along.