Location
Tyneside Cinema
10 Pilgrim Street
Newcastle upon Tyne
NE1 6QG
United Kingdom
Refund policy
Refunds up to 7 days before event
Sales Have Ended
Ticket sales have ended
Sorry, we're all sold out :( You can find out about others in the series here: https://generator.org.uk/events/
Description
Digital Union is proud to present its #DUSocial series, a dedicated series of high quality masterclasses curated to help give you deeper insight into the world of social media.
Working with industry experts from our extensive network, the #DUSocial series is designed with marketing professionals in mind, and will provide practical advice and key takeaways that you can implement into your social media strategies immediately after each session.
Over the course of 2019, we will be bringing you deep dives into content creation, platforms, strategy, advertising, video, and much more.
It's time to #DUSocial properly!
Our first masterclass sees the return of creative technologist and journalist, Christian Payne, aka @Documentally to the region.
If you're still thinking audience or customer over network, then you may never get to know what they really need. Let us consider how your content can resonate with your network, how it can make them feel something. Join us to explore story shapes and content creation tools, tips and tricks, as we enable you to turn your ideas into projects you are passionate about. Snipers target, we sow seeds. Now where shall we plant?
Key Takeaways from this session:
Give you the tools to find creative ideas when you need them.
Show you different story shapes for your online spaces.
Help you develop your narrative strategy.
Show you the tools available to create engaging multimedia stories in-house.
Help you think of the your networks more as a community and not just your audience
Enable you to develop online shared experiences.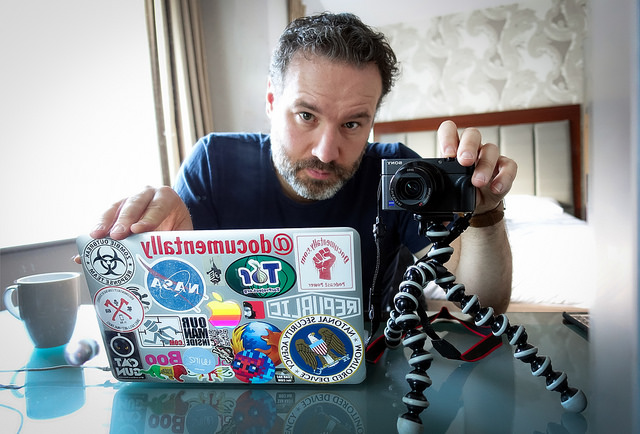 Christian Payne specialises in creative technology and communications. Working with multimedia creation, social media documenting and amplification. Christian runs coaching sessions, workshops and also consults internationally. Working with news agencies, political parties, The United Nations, the arts and corporate sector.
​Using mobile devices to document his surroundings, Christian captures and shares stories and interactions in real time.
​As well as giving workshops he talks on social technology and topics relating to effective use of social media. Photojournalism, public relationships, video, podcasting, creative instigation or anything involving networked media.
"Christian is a force of nature. Think lightning, thunder, fire and plate tectonics all rolled into one. His mastery of the digital space is awesome. He inspires through his storytelling, creativity, energy and ubiquitous presence. I am sure he is cloned because I cannot otherwise account for his prodigious hard work in support of better communication."
"Christian is a passionate creative person who aims to produce excellence - and succeeds. He has more wizardry and gadgetry than anyone else I know AND he loves to share his enthusiasm. A great communicator who is sure to inspire those who hear him speak."
Check out our other #DUSocial events:
28/02/19: LinkedIn
28/03/19: Podcasting
You can read our #NEquality Code of Conduct for all events here.