Interested in how to become a Doctor, and what it is like to be a medical student? Then come along and speak to current Medical Students.
About this event
Dundee's Widening Access to Medical School Society (DWAMSS) wants to make sure that every person thinking of applying to study medicine has someone to ask about what it is really like, regardless of their background. We are therefore running regular fortnightly events where multiple medical students will be live online to answer any questions you may have about applying to or studying medicine, and what it is like being a doctor!
DWAMSS committee comes from many different backgrounds and we have students from every year of the medical school. We are all enthusiastic about inspiring students to think about a career as a doctor and, for those who already know that is what you want to do, we hope to aid pupils reach their ambition. Parents, guardians and teachers are also welcome!
The event is very informal with no set agenda or structure. Throughout the two hours, a handful of medical students will be online. You are able to drop-in and out throughout the two-hours and ask any questions you may have; questions can either be asked via the comments, or by switching on your camera and audio and having a conversation with us - but no pressure!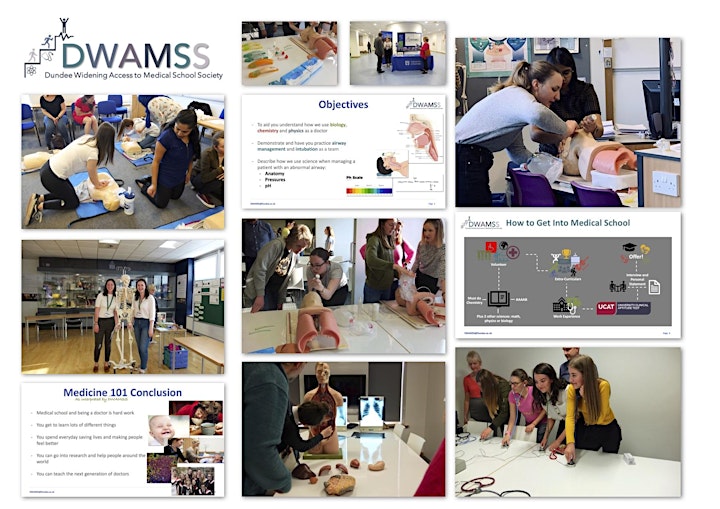 Each event is limited to 45-persons as so we can answer everyone's questions. But not to worry! We will be running this event at a minimum of every two-weeks. For those who get a spot, an email will be sent to you just before the event with a Teams link which allows you to join the event. NOTE: email may go into your junk folder!
DWAMSS actively works to support diversity and equality, and we want all to feel welcomed and safe during our events. Therefore, persons submitting any comments or using any language which the medical students on the night deem to be offensive or going against our beliefs of diversity and equality will result in the person being removed and, depending on the seriousness of their comments, reported to their schools. It is also important that attendees do not attempt to contact each other privately during the session and only use then general chat which is moderated by the hosts, this is to ensure the saftey of all of the attendees.
DWAMSS sincerely looks forward to welcoming you all and we cannot wait to meet you all, our potential future colleagues.
Best Wishes,
DWAMSS Committee