Description
New Dynamic Courage of Intention Group

Starting in Axminster Devon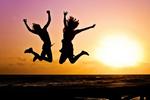 I am so inspired by the new information, techniques and results coming out of the metaphysical, scientific, healing and therapeutic communities at the moment.
When you read the science behind the dramatic Peace Intention experiments that Lynne McTaggart has undertaken which she reports in her book The Power of Eight; and when you understand the principles that Dr Joe Dispenza and Deepak Chopra are teaching and reporting then you begin to understand what is possible for human beings. The results seem to be truly MIRACULOUS until you understand that the techniques and processes are available to us all and can be learnt.

I have been using these processes and techniques for many years in the hundreds of empowerment courses, groups and workshops that I have run so successfully without consciously understanding why they have always been so popular. I don't mean to blow my own trumpet however my COURAGE TO SING franchise was a market leader at its height; my healing groups have always done really well; my choirs were amazingly successful and any time I have brought groups of people together I have seen positive results. Please go to my testimonial page on my web site to bear this out.http://www.lorrayndepeyer.com/testimonials/
The initial motivator for me was wanting change in my own life. Growing up I was left with a big chunk of stuff to unravel and understand before I could start to enjoy my life. Of all the hundreds of workshops, classes, therapies, groups and spiritual practices I attended for my own growth and well-being; the well facilitated group process has proved to be one of the single most powerful and dynamic healing processes leading to positive, quantifiable change in my own life.

I can't emphasize enough the apparent miracles of improvement in health, relationships, financial circumstances, mood and well-being I have seen from people coming together in small groups and applying the principles of sharing healing and support. It doesn't matter if you have never done anything like this before, I will be guiding us on the way with the tools, processes and techniques taken from spirituality, metaphysic, healing and psychology that I have developed myself over many years of practice and of leading hundreds of empowerment groups.

All sessions will include a meditation or mindfulness exercise and they will be facilitated rather than taught groups.
Please contact me at welcome@lorrayndepeyer.com for full details if you wish to attend.