Description
!!! Come join me for the Dynamic Duo Workshop and a hands on day of Photography, Photoshop and Creativity !!!
In this full day Workshop I'll take you through the whole process from setting up the lighting to the final print to create Unique Character Portraits, Beauty Portraits, Themed Composites and more...
Don't delay, book your ticket NOW and let's have some fun with Photography & Photoshop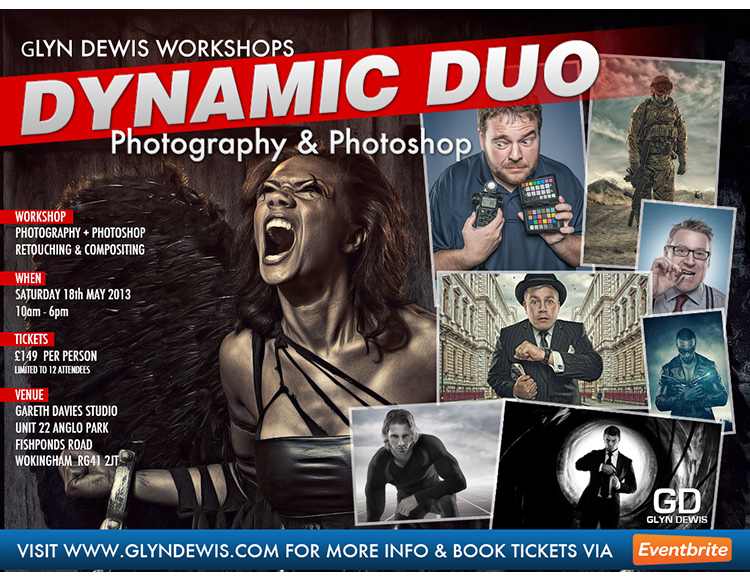 Once we've taken the time to get it right 'in camera' we'll move onto the really fun part...the editing, covering a whole range of techniques that will leave you armed with all you need to create your own unique, creative images:
RAW Conversions
Cleaning up your images (Dust spots etc...)
Tidying Up
Eyes (Brightening, add contrast, colour and sharpening)
Skin Retouching
Creating Texture/Adding Details
Using Textures
Dodging and Burning
Cut Outs (Getting the most out of Photoshop's Refine Edge Command + Extracting using Channels for those using earlier versions of Photoshop)
Compositing Tips, Tricks and Techniques
Adding in the Background Elements
Quickly adding in Coloured Backgrounds
Lighting Effects
Creating 'The Look'
Special Effects and lots more :)
Location:
Gareth Davies Studio
Unit 22
Anglo Park
Fishponds Road
Wokingham
Berkshire
RG41 2JT
Studio Website: www.gareth-davies.com
Tickets:
This is very much a 'hands on' workshop so spaces are limited to a maximum of 12 attendees.
Tickets cost £149 each
*All Attendees will receive my psd files showing every single editing step in Photoshop covered during the day and more!
*Feel free to bring along a laptop to work along with the editing
*We'll cover techniques relevant for users of Photoshop CS2 and newer
SOCIAL EVENT/GATHERING
As well as a workshop this is intended to be a fun social event so rather than shooting off afterwards, why not join us for a bite to eat (curry etc...) and a drink :)
• • •
Don't delay, book your ticket NOW and let's have some fun with Photography & Photoshop
See you there :)
Some feedback from previous Workshop Attendees:
•Been on an amazing photoshop workshop run by the talented Glyn Dewis with the outstanding model Dave Clayton :0) ~ Lee Ramsden
•Just home from the best photoshop / retouching workshop ever. Very slick and professional a credit to Glyn and superb facilities at the studio ~ Graeme Clark
•Glyn, brilliant Character Portrait Workshop mate, really enjoyed it. Dave Clayton did a fantastic job as the model and a cracking studio. Cheers guys - had a great day ~ Steve Bryson
•Thanks Glyn for a great day yesterday. Was good to meet everyone. Loved the curry ~ Colette Wilks
•Thanks guys, had a great afternoon,was good to meet you both! Learnt a load of cool tricks, and enjoyed it!! ~ James Hole