Location
Civic Centre
Barras Bridge
Newcastle upon Tyne
NE1 8QH
United Kingdom
Join us for the most highly anticipated IT and Tech awards in the North East!
About this event

Now in its EIGHTH year, the Dynamites in association with Invest Newcastle, North of Tyne Combined Authority and NTCA Good Work Pledge, are the North East's most highly anticipated IT and Tech awards. The awards allow us to showcase the region's hotbed of talent and shine a spotlight on North East organisations.
We are delighted to confirm that this year's ceremony will take place as a face to face event. We are looking forward to welcoming you all back in one room to celebrate our region's tech stars.
Join us for:
Drinks reception – a chance to socialise and network around the bar
Dinner – a three course meal
Award presentations – what you've all been waiting for!
Chance for companies to build profile and national status and join Dynamo's growing network
An evening of celebration and reflection of the region's tech sector
CATEGORIES FOR 2021
The Dynamites are a fantastic way to recognise hard work. They allow us all the opportunity to celebrate successes and share this with the tech community in the region as well as wider networks. Our 2021 categories are:
Best Use of Data (sponsored by BJSS)
Equality, Diversity & Inclusion (sponsored by Fueled)
Growth Explosion (sponsored by LDC)
Innovator of the Year (sponsored by Sage)
Project of the Year (Corporate) (sponsored by Saggezza)
Project of the Year (Not for Profit / Public Sector) (sponsored by Red Hat)
Rising Star, in memory of Nate Sterling (sponsored by University of Sunderland)
Skills Developer (sponsored by Gateshead College)
Tech for Good (sponsored by tombola)
Tech Champion (sponsored by Invest Newcastle, NTCA, Good Work Pledge)
SHORTLIST IS NOW CONFIRMED
THE PEOPLE'S CHOICE AWARD
Back again for 2021! Dynamo's award for this year's Dynamites…..the 'People's Choice' award.
We want you to have your say and so we have opened up all 37 shortlisted entries to a public vote. We want to know who stands out for you and who you think is a worthy winner of this award!
The winner will be announced on the night!
To view the entry synopsis from all finalists, event and ticket info – click here.
VOTING CLOSES: 5.00PM, FRIDAY 15TH OCTOBER 2021.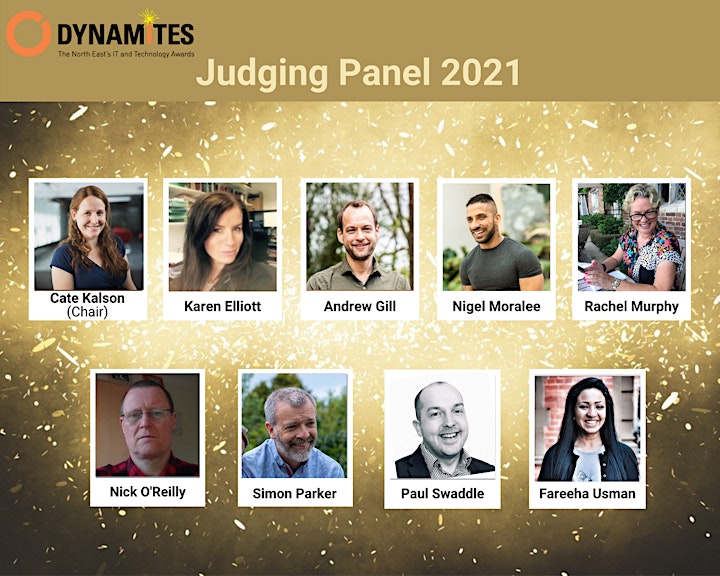 We are thrilled to announce that Cate Kalson, Director at Oliver Wyman and Dynamo Advisory Board member will be our 'Chair of Judges' for 2021. Cate will be joined on the panel by:
Karen Elliott - Senior Lecturer/Associate Professor, Newcastle University
Andrew Gill - Northern Regional Head, Waterstons
Nigel Moralee - Diversity, Equity and Inclusion Program Manager, Sage
Rachel Murphy - CEO, Difrent
Nick O'Reilly - Chief Technology Officer, NHS Business Services Authority
Simon Parker - IS Director, Home Group
Paul Swaddle - Head of Technical Solutions, NBS
Fareeha Usman - Founder Being Woman and EDI Innovation Manager at Dynamo North East
Representatives from the category sponsors will also be joining the panel for their respective categories. 
"The Dynamites Awards have become an important date in the tech sector's calendar - this year more so than ever before as we're going to be able to formally recognise the significant contribution and innovation that has happened in the sector over the extraordinary past 12 months.
"We as the judging panel are looking forward to receiving a bumper crop of entries. They're the perfect opportunity to celebrate and amplify the excellent work being done at so many tech companies in the north east.
"Last year's virtual version of Dynamites was great fun given the constraints, but it will be brilliant to have everyone in the same room again." Cate Kalson, chair of the judging panel
DYNAMITES 21 SPONSORS & SUPPORTERS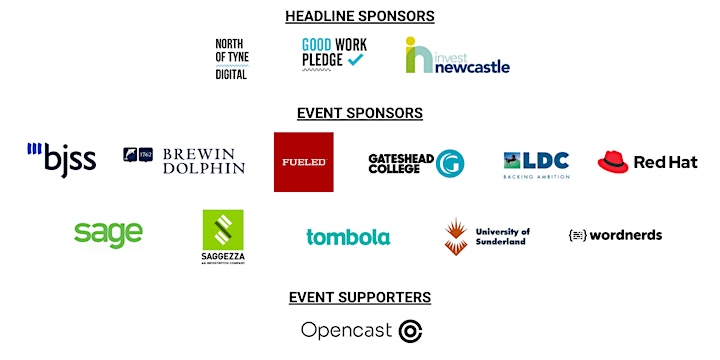 If you are interested in sponsorship opportunities, please contact Clare Nicholson on 07748 597837 or email clare.nicholson@dynamonortheast.co.uk
#dynamites21
PLEASE NOTE: The maximum number of tickets per person/organisation may be restricted should there be any changes to the current COVID-19 guidelines.
Cancellation policy:
Once your booking has been made, for cancellations made in writing by email to clare.nicholson@dynamonortheast.co.uk, the terms are as follows:
25% admin charge if cancelled by 23rd September 2021
50% admin charge if cancelled by 20th October 2021
100% admin charge if cancelled on or after 21st October 2021
The format of this event is subject to change to keep in line with COVID -19 guidelines.