Dynamo 21 will focus on how the region has excelled & united to overcome the challenges that the current COVID-19 pandemic has presented us.
About this Event
Dynamo 21, supported by Headline Partner Sage, will be held online on 17 June 2021.
The annual Dynamo conference will showcase the IT and tech sector in the North East. The conference attracts delegates from the region's leading and growing IT and software companies, local councils, specialist professional services, universities / colleges and other related industries to help shape the IT and tech sector in the region.
We are delighted to welcome back Charlie Charlton, BBC Radio presenter and Senior Broadcast Journalist as our event compere for the third year.
WHAT TO EXPECT
Plenary speakers - including NHS Digital
Curated sessions led by Dynamo Member organisations
Presentations and workshops by leading IT thinkers
Curated panels
Diverse range of speakers
Networking opportunities
Virtual Expo Booth
Mix of live and pre-recorded content
Chat to fellow delegates in real time
'Reflect & Digest' sessions (following the breakout sessions)
Replay of all sessions post event
'2020 changed the way we work in ways we never expected, 2021 heralds a new future where Tech is a fundamental driver for recovery and enabling businesses of all sizes to redefine themselves and how they work. Dynamo 21 will help us learn from our shared experiences as a region, to create inspiration and spark innovation for our Tech enabled economy.' Lindsay Phillips, Executive Vice President, Sage Product Delivery (Headline Partner)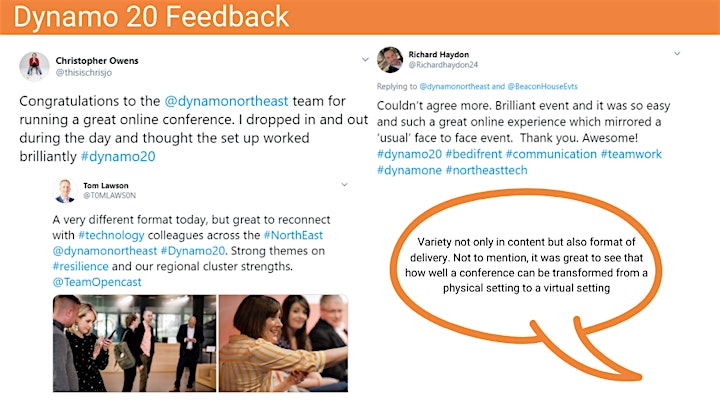 CALL FOR PAPERS
Once again, we invited our Dynamo members to be part of the day by curating and delivering breakout sessions for our audience.  Full programme to be announced soon!
Full event information available on the Dynamo 21 webpage
DYNAMO 21 EVENT PARTNERS:

EVENT PARTNER OPPORTUNITIES
We have various packages available including Virtual Room Partner, Digital Programme and Virtual Expo Booths. Please contact clare.nicholson@dynamonortheast.co.uk to request a pack.
DYNAMO 20 HIGHLIGHT VIDEO
This event is open for all to attend. If you are interested in becoming a Dynamo North East member and would like further details, please email info@dynamonortheast.co.uk or JOIN HERE.
Cancellation policy (paid tickets):
If you cancel your ticket on or before 3rd May 2021 you will receive a 50% refund.
Cancellations made after 3rd May 2021 will not receive a refund.
Replacement delegates are welcome. Please contact clare.nicholson@dynamonortheast.co.uk to advise of any name changes.