About this Event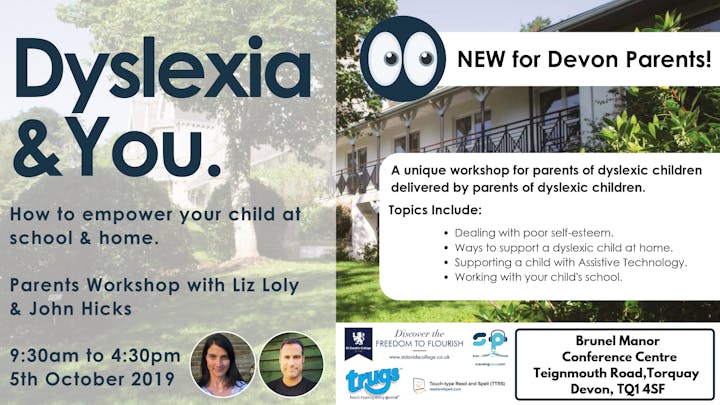 A unique workshop for parents of dyslexic children, delivered by parents of dyslexic children.
Topics include:
Addressing poor self-esteem
Ways to support a dyslexic child at home
Use of assistive technology
Working with your child's school
The two main speakers for 'Dyslexia and You' are John Hicks and Liz Loly.
John Hicks, 'Dyslexia Blogger' is a parent, an assistive technology advocate and works with neurodiverse clients to help develop their self-esteem, confidence and motivation.
John knows that children with dyslexia can be helped to reach their potential if parents and teachers of those children can be inspired and informed about the strengths and weaknesses that comes from having dyslexia.
Liz Loly is a qualified teacher and parent to a delightfully dyslexic son. With a background in communications, which began when working on the London 2012 Olympic bid, Liz now works as a Communications and Education Consultant.
Liz is personally and professionally dedicated to (some may say, obsessed with) sharing knowledge of dyslexia, and enabling everyone the opportunity and strategies to reach their own full potential.
In addition to the talks, you will have a chance to see and use dyslexia-related resources and tools courtesy of event sponsors and exhibitors; meet other parents and enjoy a hot lunch in a beautiful setting.
A big thanks to 'Dyslexia and You' event sponsors St David's College, trugs, Touch-Type Read and Spell and Scanning Pens.
#DyslexiaAndYou