Dyslexia - How I SUCCESSFULLY teach reading, writing and spellings
If you are stuck with how to teach your dyslexic child/students how to read, write and spell then this webinar is perfect for you!
About this event
A NOT TO BE MISSED WORKSHOP!
In my humble opinion, there are a few key skills that are absolute MUST HAVES when it comes to supporting students with dyslexia.
One of the must haves is having the right attitude and of course desire to really get the best outcome for your child/students!
But THE ONE that trumps all of the above for me is:
Making it FUN!
(Really making learning fun for the student)
So - why is the fun factor so important?
Because, quite simply, it's the foundation of ALL SUPPORT!
Think about it...
Every time you teach your students/child, it needs to be engaging, fun and interactive!
So yes - the effectiveness of your teaching support really comes down to your mastery of this one fundamental skill.
The problem is with a large amount of parents, teachers and other professionals this can often be tricky! Trying to juggle learning with fun!
But I get it...
I know that supporting students with dyslexia can be confusing, overwhelming and at times frustrating…especially if your child/students has a weak working memory and or slow processing skills!
So, here's the good news…
On Wed 1st Dec at 7pm where II'm hosting my super popular 2 hour LIVE 'Masterclass '
-Where I'm going to reveal my step-by-step system/strategy in showing you how to SUCCESSFULLY teach your child/students with literacy difficulties how to read, write and spell!
We'll cover these key topics:
1. Crash course in Dyslexia
I'll start by giving you a quick fast track no messing knowledge on what dyslexia is all about!
● What it is?
● What it feels like?
● Some stats and facts!
2. What exactly is Multi-sensory learning?
Then, I'll walk you through the anatomy of this amazing way of teaching students and even provide you with a demo lesson! This will give you a proven structure to follow so you'll KNOW if I can do it, you can do it too!
3. I will show you two resources that I use for EVERY lesson which I would not be without and show you how you can create weekly resources that will help enhance your students learning. I will model in real time how quickly you can create fun games and activities that you can use over and over again.
4. There will be time for Q and A with me where you get to ask me anything at all that will help you with your support/lessons/teaching.
5. This is super exciting there is even BONUS content which is so secretive I can't actually let you know here..you will need to sign up to find out about this – BUT I can tell you – YOU will NOT Be Disappointed!
I have taught students with dyslexia for over 20 years and very successfully too, with my students returning again and again each term. My very long waiting list speaks for itself!
'Paloma - your expertise and pace of a workshop is amazing. I was totally hooked from start to finish. I know I can start to properly support my students in helping them to be where they should be with your easy to use strategies! Thanks so much!'. P. Dixon. March 2021
'What an informative workshop! Where did 2 hours go. I am so impressed with your passion and experience it really shows how much you want to support kids with dyslexia. I loved the freebie resource. I shall be booking more of your webinars...' J. McCarthy. May 2021
What do you need to do now?
1) Clear your diary for 120 minutes on Wed 1st Dec
2) Register for your place via EventBrite!
3) Make sure you show up on time. The LIVE experience is way better.
4) Zoom link will be provided when you sign up
PLEASE NOTE THIS IS A NON-REFUNDABLE COURSE. RECORDINGS ARE AVAILABLE for up to 14 days after the event.
I can't wait to support you on your journey for helping your child/students and showing you that if I can do it…anyone can!
See you on Wed 1st!
From Paloma Forde – Founder of Screening4Dyslexia.
See Less
Wellness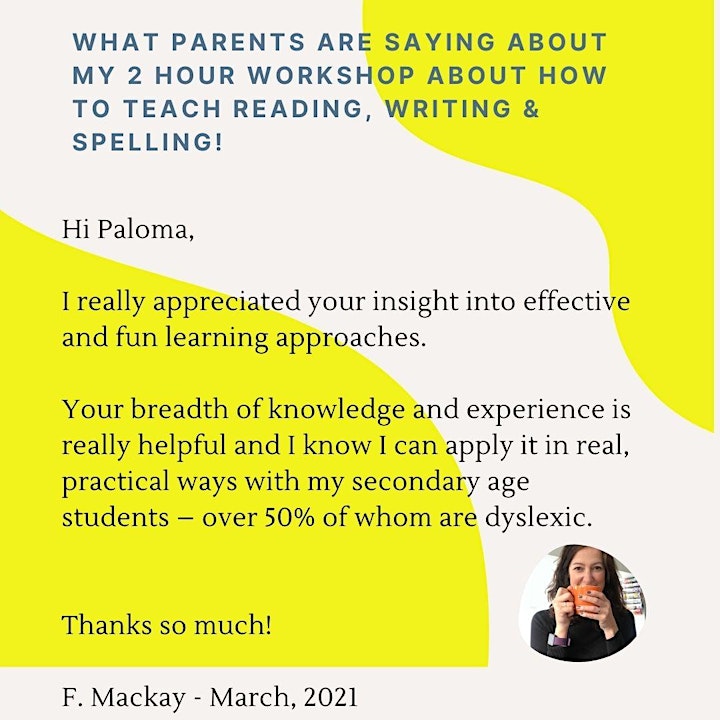 Date and time
Location
Refund policy
Organiser of Dyslexia - How I SUCCESSFULLY teach reading, writing and spellings