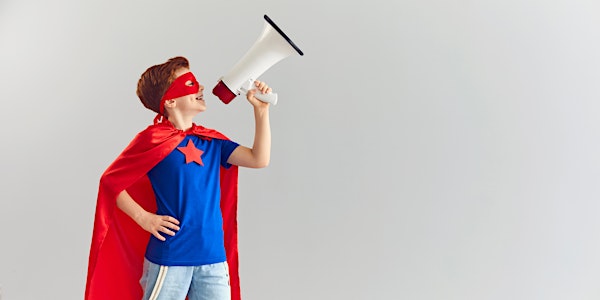 Dyslexia is my superpower - inclusivity for invisible differences
In this FREE webinar, Stephanie Davies explores what it really means for organisations to be inclusive, so everyone feels part of the team.
About this event
Inclusivity is a word we hear a lot. But how inclusive are we if we can't see differences? Do they all need to be spelled out (pardon the pun) for us to be inclusive?
The world is made up of people who are different. Thinking differently, as well as different identities, attitudes and appearances are some of the most beautiful aspects of the human condition.
Wouldn't the world be dull if we were all the same?
Some differences we see, others we don't. People's beliefs about who they are, their religion, disability etc. can sometimes be visible, but sometimes not. Inclusivity is important but so is celebrating difference, being proud of who you are, want to be and want to identify as.
But what happens when that difference is not as visible? Or what if you make a mistake in how you address a situation or person? Does that mean you're not diverse?
We're living in a time where diversity matters and are more aware than ever of behaviours and language that seek to treat people with respect and impartiality. Just because some differences are invisible doesn't make them any less important.
We still have a long way to go for real inclusivity. Processes and systems alone get in the way where we don't even realise. Language is so endemic in how we address situations it can unintentionally offend.
This is where conversations matter. We need to get to a place where we can have open, honest ones to help us all move forward. As a dyslexic, I've been on the sharp end of emails telling me how unprofessional I am because of my inaccurate spelling. In response, I've added a note in my email signature to let people know I have dyslexia, therefore pointing out my difference.
I'm also open to talking to people about what's helpful and what's not. I'm also okay when people tell me I've got a word or spelling wrong, as long as it's with good intentions. Communication is the only way forward. Opening up conversations and not shutting them down is vital, as is accepting we might make mistakes along the way. But that's because we're all learning. So, let's learn together by talking.
In 'Dyslexia is my superpower', our FREE online webinar with Stephanie Davies, we'll explore:
How to open up conversations and be inclusive even with invisible differences
Why we have to check our belief systems and think carefully before reacting and responding
What it means to be curious with good intent
Why context is everything, helping us do the right things to be inclusive
So why not come along? Everyone is welcome - as long as you're not the person responsible for the algorithm that puts squiggly red lines on my Word docs.