Discover your E-Colors to learn more about your personality and how to understand and communicate with others.
About this event
What is E-Colors? E-Colors is a personality diversity indicator that Hillmont Associates Ltd, Bamboo Events Ltd and The Health & Happiness Coach; Mark Wilkinson are delighted to introduce to the UK.
E-Colors divides the brain into four major personality types:
The Doer
The Socialiser
The Thinker
The Relator
While everyone has all 4 colours within them, after completing their Personality Diversity Indictor / PDI (in the form of an online questionnaire), usually two top E-Color combinations are revealed.
Who is this event open to? This event is open to those who have already discovered their E-Colors and paid for their Premium Report which will describe your specific personality style with surprising accuracy.
Usually $49.99, you can use HILLMONTPREMIUM at checkout to receive a 20% discount to $39.99 (approx. £28 GBP). Discover your E-Colors now at: https://www.equilibria.com/PDI-home.
On providing a copy of your Premium Report, your registration to attend the FREE event will be approved.
What will I learn? By joining this FREE event you will gain a greater self-awareness, an increased emotional intelligence and will be able to identify your strengths and potential limiters.
By understanding your strengths and potential limiters, you will be able to respond rather than react to different situations by using a tool we call Personal Intervention.
You will also gain a clear understanding of how other E-Colors think and prefer to communicate. E-Colors will have a positive effect on your career and working relationships, and in your personal life with friends and family by applying it to everyday life. E-Colors is an invaluable business and life tool.
Highly suitable in the self development world, E-Colors has the power to change your life. It has also saved lives in the health and safety industry, particularly in high risk environments! E-Colors is also ideal for corporate organisations in giving teams a common understanding and appreciation of each other. Teams (from any industry) learn how to work effectively, increase productivity and appreciate each others working styles and strengths. E-Colors is so straightforward to understand and immediately implement that it has been used in education with children as young as 7 years old. Never has there been such a tool with as much reach as E-Colors.
Tell me more about the 2.5hour session? The E-Colors Awareness Event will be held on Zoom from 10am - 12:30pm and is FREE to attend.
For individuals the event will give you a deeper awareness of the tool and the information provided in the Premium Report supporting your own self development. It is a fun, interactive session with breakout sessions too so you can learn from people who think and communication just like you, and also understand other E-Colors more.
For corporations or companies the Awareness Event give you the opportunity to understand the discovery process, key benefits of E-Colors and the support it can provide before introducing it to your entire organisation.
After the Awareness Event we also invite attendees to join a private E-Colors Facebook Group to carry on conversations and learnings.
Oh... and why do we spell E-Colors this way? E-Colors was initially designed in the USA and is a highly successful personality tool used in health and safety, building corporate teams, Education and in Sport throughout America, South Africa, Australia and Singapore.
We're extremely confident you'll see the power of E-Colors. For more information or any questions please contact emma@hillmontassociates.com.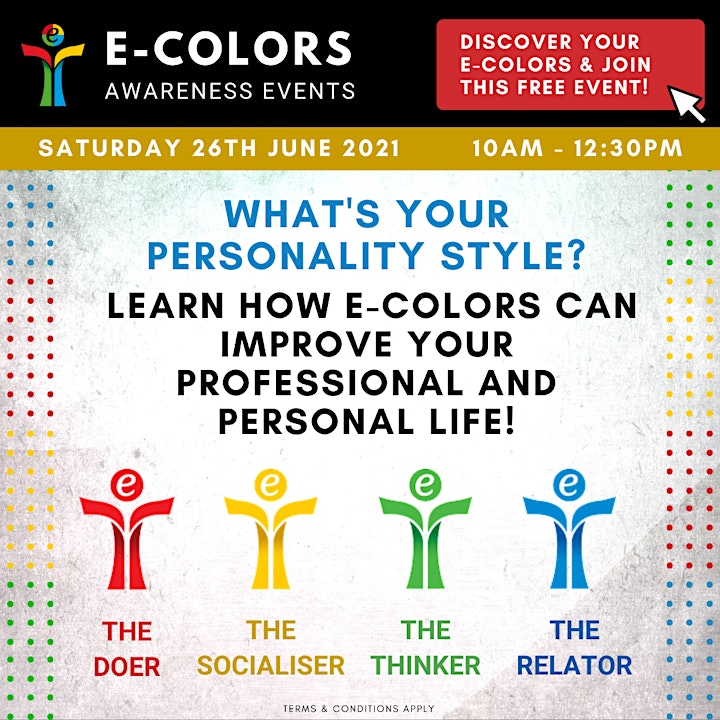 Organiser of E-Colors Awareness Online Event