E-commerce Forum 2015

Thursday, 5 March 2015 from 09:15 to 17:15 (GMT)
Event Details
E-COMMERCE BEST PRACTICE: GUIDANCE, INSIGHTS, CASE STUDIES & STATISTICS
FOR NICHE ONLINE RETAILERS
Online retailing is at an all time high: UK online sales exceed £100 billion in 2014 - that's over 24% of all retail. Many are enjoying growth rates in excess of 25% (against 2014 average growth of 14%), so smaller businesses need to be smarter than ever to compete and expand.
Niche brands need to work increasingly harder to acquire & retain customers against tough competition from global giants. Simply having a "nice website" is not enough: the winners must differentiate, add value & offer better service to survive.
To help you keep in touch with best practice e-commerce and industry trends, we would like to invite you to the E-commerce Forum (now in its 6th year), organised by DotMailer, Nosto, Peer1 & Screen Pages. It is a rare & focused opportunity for you to hear from a number of industry specialists & businesses and find out what works and what doesn't in the e-commerce world in 2015 - tailored specifically to the interests and issues that face niche brands and retailers selling online.
What will you hear?
The forum will concentrate on marketing, sales & service from an e-commerce best practice perspective - in particular how to increase sales, conversions and improve customer service. Key topics will include search, mobile, usability, content & email marketing & personalisation –backed by the latest advice, statistics & trends.
Who should attend?
For business owners, senior managers & marketers responsible for e-commerce in the retail, wholesale, mail order & direct sectors (both B2C  & B2B), this event will help you understand:
- Latest industry trends and what the UK's leading e-retailers are doing
- Vital statistics in the online world
- Best practices and approaches in e-commerce
- What works (& what doesn't) in terms of online marketing
- Lessons from case studies & war stories from like-minded companies
- Successes (and failures) from panel discussions with experts & practitioners
And, of course, there will be plenty of opportunity for networking with your peers over food, drinks and refreshments (breakfast, buffet lunch, tea & coffee).
Speakers at the event will include:
- David Lloyd, who has led Google's e-commerce initiatives and strategies in a number of sectors including fashion, will discuss latest online technology & consumer trends, and effective business stategies to compete in 2015
- Gary McDonald, head of marketing at Donald Russell, the leading online butcher, will describe how the company plans, executes and measures its various marketing activities 
- Chris Ward, MD and founder of Christopher Ward, the British-designed Swiss-made watch company, will share how his business was founded and grew rapidly from a start-up to an established leader in the watch industry
- Dave Chaffey, the bestselling author, commentator & editor of Digital Marketing advice site SmartInsights.com, will share the latest best practices to help e-commerce businesses compete through digital marketing
- Skip Fidura, Client Services Director of dotMailer, the email marketing provider, will reveal current best practice for automated, targeted, personalised email marketing programmes
- Isaac Moshe, Marketing Director at Nosto, the personalised recommendation solution, will explain how personalising e-commerce increases conversions and average order values
- Russell Simmonds, head of e-commerce at Peer1 Hosting, will present how why optimised technology is vital for e-commerce: what's required to create & support an infrastructure that delivers performance, reliability & security for increased sales
 - Jenny Homer, EMEA Magento partners manager at eBay, the fastest growing e-commerce software company, will set out how developments in e-commerce software can support online growth
- Matt Trimmer, managing director of ivantage, the digital & online marketing training services company, will discuss search engine optimisation best practice, strategies & futures
 - Roger Willcocks, director at Screen Pages, the leading e-commerce agency, will share learnings and best practice from over 300 niche retailers over the past 10 years
- A panel of merchants will also discuss best practice, useful tips, what works and what doesn't based on their hard experience of e-commerce
Further industry experts & speakers will be announced shortly.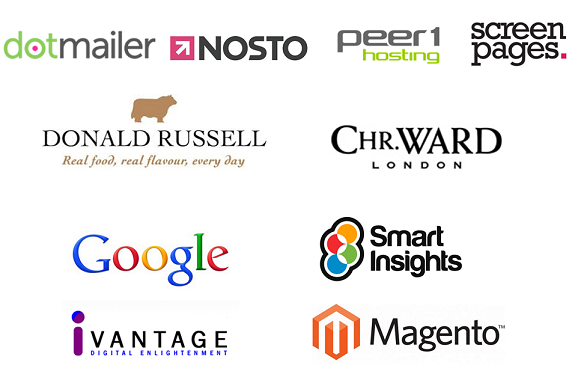 When & Where

Millbank Media Centre
Millbank Tower
21 - 24 Millbank
SW1P 4QP London
United Kingdom


Thursday, 5 March 2015 from 09:15 to 17:15 (GMT)
Add to my calendar