EAA Lecture and Workshop - 26th Oct 2016

Wednesday, 26 October 2016 from 15:30 to 19:30 (BST)
Event Details
Ian Ritchie Lecture 
with
Vision for Edinburgh Workshop

Professor Ian Ritchie CBE RA Hon FRIAS

With contributions from associated professional bodies including:
Willy Roe CBE - Chair of British Council Scotland, John Bury - Head of Planning and Transport for City of Edinburgh Council, Brian Lang - Chair to Board of Trustees of Edinburgh World Heritage, Gareth Wardell - Writer and Filmmaker and Reg Gove - Lightfolio Ltd, Lighting Designer (TBC)
------
In the first of a series of new lectures and workshops the EAA welcomes Ian Ritchie, an architect whose international practice has undertaken the master-planning of cities, national museums and realised monuments. Ian will address the City as a manifestation of collective and individual memory and forgetting - from skyline to plinth - and explore the idea of designing the future within the context of a contemporary complex, intellectual and economically driven city.
The aim of Ian's lecture is that architects will come to a greater awareness of their true importance to society. And consequently make an effort to better understand society and its evolution, and so be in a position to intelligently anticipate future social, spatial and infrastructure challenges.
Following Ian Ritchie's lecture there will be contributions from local consultants and groups leading on to a workshop which will look at Edinburgh at large, and what we can collectively contribute and change to make a better future.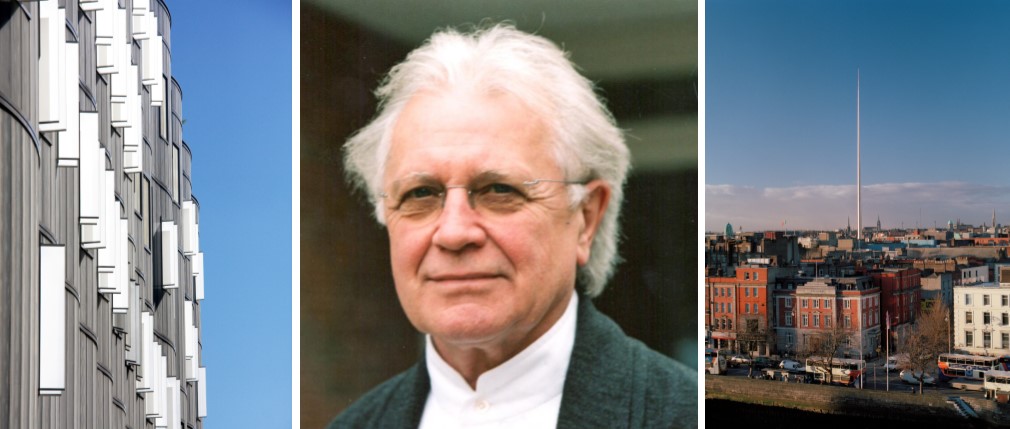 SWC louvres, Ian Ritchie, Spire of Dublin City
(c) Ian Ritchie Architects Ltd

Date: Wednesday 26th October 2016
Time: 3.30pm - 7.30pm
Registration from 3pm
Venue: Edinburgh Centre for Carbon Innovation,
High School Yards, Edinburgh, EH1 1LZ
Cost: £20 Members, £10 Students, £30 Non Members
Price includes Tea/Coffee and fresh Scones
Message from Gloria Lo - EAA CPD Convener
In celebrating James Craig New Town 250th anniversary. we ask ourselves what are we, the current generation, going to leave the next century? Are we planning a better future? Or are we just muddling along?
We need all to put our thoughts together coherently, and in working together, make a Vision for Edinburgh, so that we can look forwards towards a better planned and designed future, a sustainable future that takes care of our culture and heritage of many directions. This forum the EAA is leading the way for, asks that we put our professional knowledge to good use, make partnerships across the city with all other related professions and colleagues, and make our input heard and put into action.
To that end, the next three events, 26 October, 23 November and 22 February will each have an eminent speaker and consultants to inspire and discuss all our ideas and thoughts in workshop format, put all of it on the table for a collation into a coherent strategy or charrette that can be submitted to the City of Edinburgh Council. I have tied up with the City of Edinburgh Council Chief Executive office to feed directly into their City Vision, and with the good will of Planning Transportation and all other departments of the Council, the efforts and input of our workshops will not be just talk, but put into action.
Ian Ritchie is not only knowledgeable but also witty and great speaker, who will no doubt spark off ideas, and propel us into a very interesting workshop session joined by those who are equally high standing, in calibre of thought and in professional capacity of different disciplines.
Please do therefore join us, it is a CPD worth taking time out of work for, not only do we hope to learn from eminent speakers, each other, as well as across the professions with planners, architects, engineers, landscape architects, lighting designers, heritage consultants, sculptors, artists, film makers... it will shape our future as well as for the generations after us.
 ------
Prof. Ian Ritchie CBE RA Hon FRIAS
Ian Ritchie is director of Ian Ritchie Architects Ltd, Royal Academician and elected member of the Akademie der Künste. He was a founder of the Commission for Architecture & the Built Environment (CABE). He is the Special Visiting Professor of Architecture Liverpool University; and a Governor of the RSC. He advises The Ove Arup Foundation, Dean of Architecture at the University of Greenwich, and the Backstage Trust, and formerly the Director of the Centre for Urban Science and Progress NYU, and the President of Columbia University on the Manhattanville masterplan.
He has chaired many international juries including RIAS Doolan Award and RIBA Stirling Prize. His practice has received more than 60 major national and international awards and shortlisted for the RIBA Stirling Prize on four occasions, and for the European Mies van der Rohe Prize.
Working throughout Europe, current projects under construction include Covent Garden housing, an opera theatre at the Royal Academy of Music, theatre in Stratford/Avon for the RSC, and heritage-commercial development in Malta. He has written several books, and Ian's art is held in several international galleries and museums.

-------
Bookings are made through Eventbrite, all fees have been included in the final total advertised. Cancellations notified to the EAA before the event can opt either to name a substitute attendee or to be credited the entry fee against a future event. There will be no refunds for non-attendance. If an event is cancelled paid bookings will be offered the option of a full refund or free place at a future event. Please contact mail@eaa.org.uk if you have any questions.
When & Where

Edinburgh Centre for Carbon Innovation
High School Yards
EH1 1LZ Edinburgh
United Kingdom


Wednesday, 26 October 2016 from 15:30 to 19:30 (BST)
Add to my calendar
Organiser
Edinburgh Architectural Association
The Edinburgh Architectural Association's mission is to create an approachable nucleus of architects and student architects to meet and hold events to stimulate thought and discussion and to share common aspirations. We aim to form links with other construction and arts-related bodies and to promote our skills and expertise to the public.

EAA Objectives
*To advance within the Chapter's sphere of influence the cause of good Architecture and by uniting all members of the Profession to provide for the community the highest standard of Architectural service.
*To uphold within the Chapter area the objects set out in the Charter of the Royal Incorporation of Architects in Scotland.
*To exercise within the Chapter area the powers and duties of a branch of the Royal Institute of British Architects.
Registered Charity SCO01369
EAA Lecture and Workshop - 26th Oct 2016