Description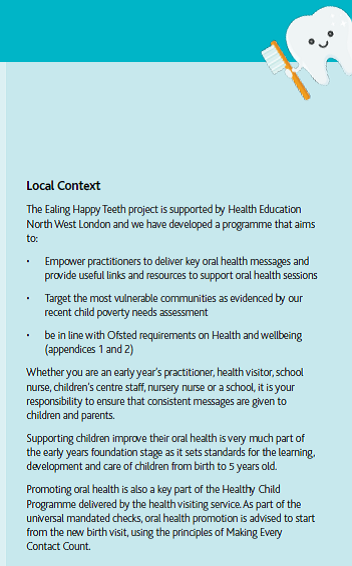 Practical training in oral health promotion for children and early years
This is free training for anyone working with under 5's in Ealing. Multiple dates are available.
The aim is to build your confidence and knowledge in promoting children's oral health using the techniques of Making Every Contact Count.
You will gain:
Knowledge and understanding of oral health promotion, specifically:
The importance of oral health promotion to your role and the core business of your organisation,
Local signposting options and the key oral health messages,
Good oral health behaviour and how poor oral health is preventable
Competence and confidence in starting a conversation about oral health with carers / families and children
Knowledge and understanding of behaviour change theory
Competence and confidence in delivering oral health behaviour change interventions
If you can't make any of the dates here please email blanen@ealing.gov.uk to receive alerts when new dates are added. There will be plenty more dates added over the next few months. Also email if you'd like to discuss in-house training for you team.
For 'Core Making Every Contact Count training' enabling you to develop confidence and confidence in asking and responding about smoking, alcohol, physical activity, healthy eating and mental wellbeing, go to
https://making-every-contact-count-ealing.eventbrite.co.uk
For more information contact Nell Blane on 02088255683 or email blanen@ealing.gov.uk