Join us every Wednesday at 12 pm for your community mental health check-in with S.T.E.P.S from EACH Counselling and Support.
About this event
Stress and mental health problems have never been more important than now, and the challenges they present never more acute than in the wake of the Covid-19 pandemic. These new challenges are of major concern for organisations as well as individuals, in the light of growing evidence of their effects in the age of the pandemic.
S.T.E.P.S. presents Ealing's Weekly Mental Health Check-ins. Every Wednesday we will be hosting an open discussion led by our very own service users/volunteers to uncover what mental health is, how we can support ourselves and others, where we can access help, and how we can transform our mental health into a super weapon.
This session will be held in person at EACH Counselling and Support every Wednesday from 12 pm - 1 pm.
EACH Counselling and Support, Vine House,1-2 Factory Yard, London W7 3UG
Can't make it in person? Don't worry you can join via Zoom.
S.T.E.P.S' volunteers will be holding an open discussion for Ealing residents aged 18+.
What is S.T.E.P.S?
S.T.E.P.S is an EACH Counselling and Support project funded by the London Borough of Ealing. Our project S.T.E.P.S supports people and communities in Ealing to build resilience and to improve their mental health and well-being through integrated schedule of community information and signposting, education, and specialised support.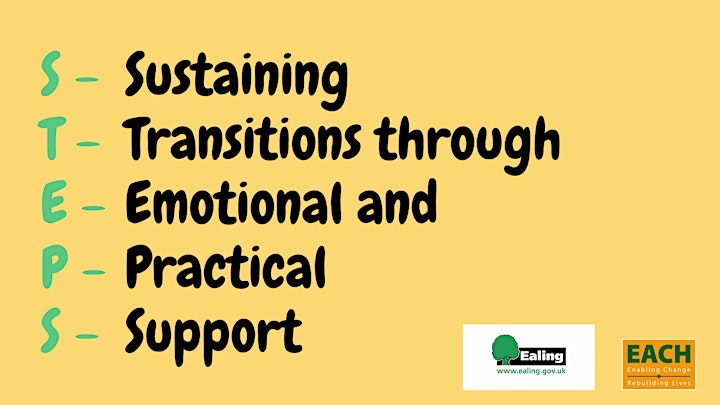 Organiser of Ealing Weekly Mental Health Check-ins with S.T.E.P.S