Description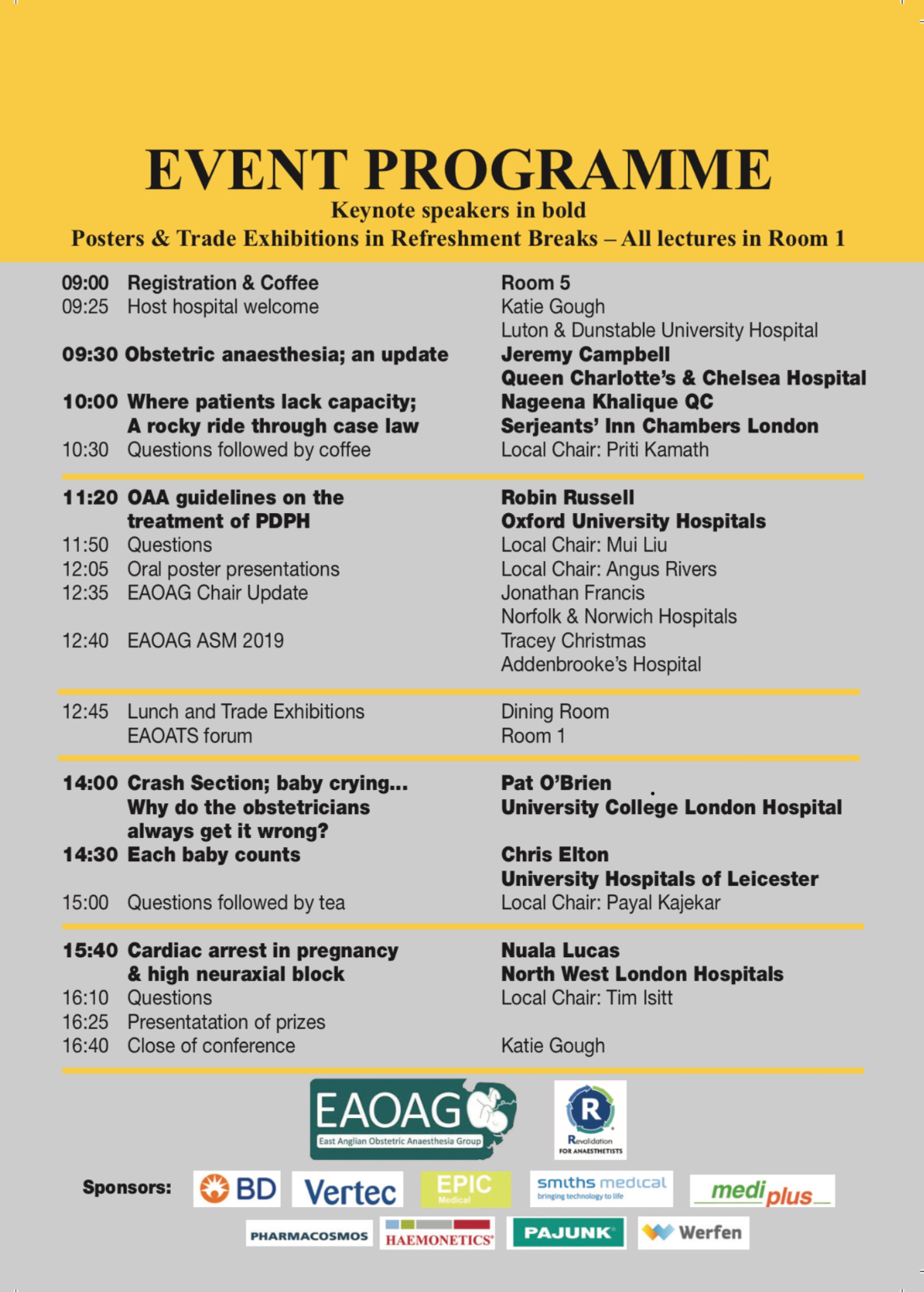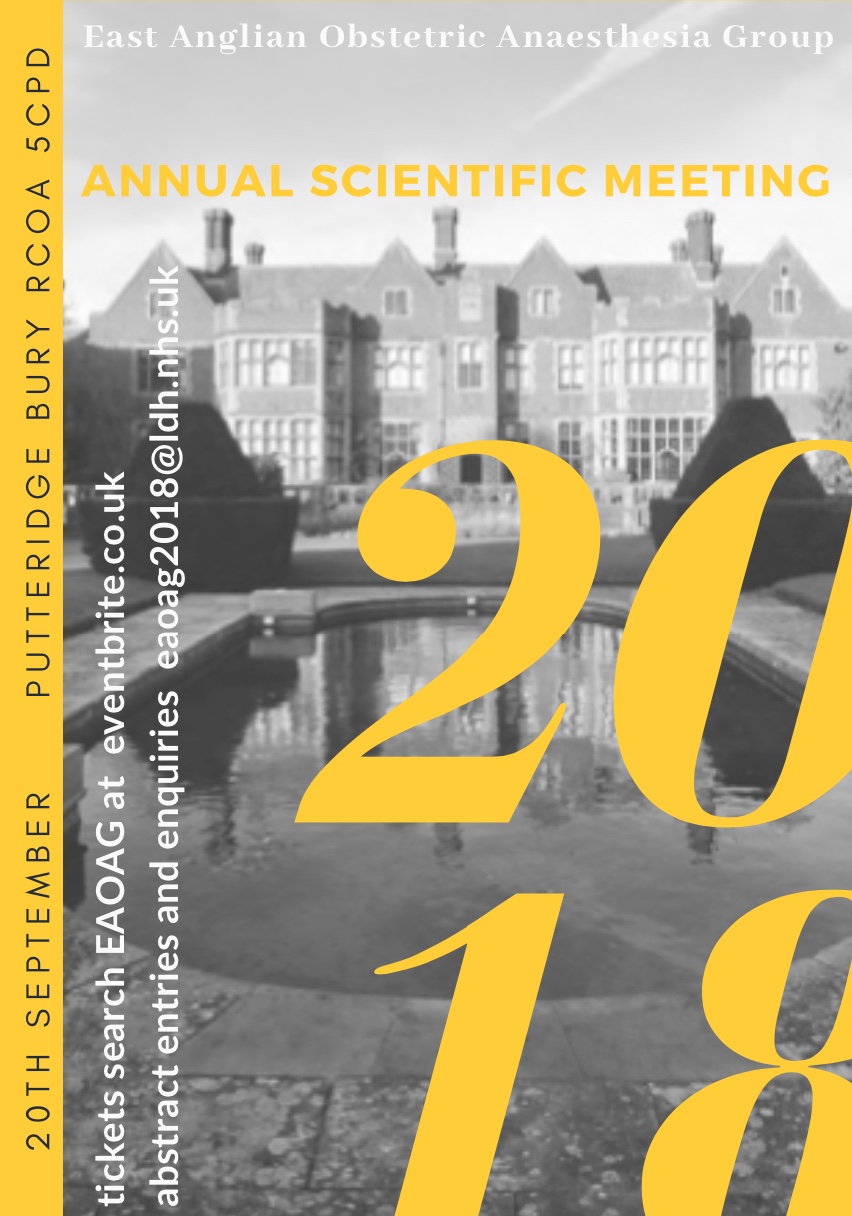 The ever popular East Anglian Obstetric Anaesthesia Group Annual Scientific Meeting is back for 2018. We hope you will join us for an informative day of keynote lectures in obstetric anaesthesia, trainee oral and poster presentations and trade exhibitions.
This year we will be hosting the event in the beautiful setting of Putteridge Bury, a neo-Elizabethan Manor House and home to the University of Bedfordshire and Putteridge Bury conference centre. Putteridge Bury is set in 500 acres of beautiful countryside. For those driving it is conveniently located just 6 miles from the M1 and benefits from ample free parking on the site itself. For those who prefer to take advantage of the ready public transport links into Luton, the conference centre is less than 6 miles from the town centre and airport and can be accessed easily using taxis.
Venue: https://www.beds.ac.uk/putteridgebury
Travel: https://www.beds.ac.uk/contactus/directions
---
Instructions for submission of abstracts for poster and oral presentation at the forthcoming EAOAG Annual Scientific Meeting on the 20th September 2018.
The EAOAG invite the submission of abstracts for the Annual Scientific Meeting being held at Putteridge Bury near Luton on the 20th September 2018. We encourage the submission of all projects that will be of benefit to the care of mothers and babies.
Research
Audit
Service Evaluation
Quality Improvement
Please see the link to the OAA instructions (given at the end of this document) regarding project categories and importantly advice given regarding peer-review and approval of work by an ethics committee, audit committee or hospital Caldecott Guardian (or equivalent).
Deadline now extended to 31st August 2018.
Please note that abstracts of a high enough standard may be accepted before the closing date and the sooner an abstract is submitted, the longer you will have to prepare your poster presentation for the conference.
If the abstract is also selected for oral presentation the author(s) will be informed soon after the closing date.
Authors accepting an offer of poster presentation will be required to attend the conference (at least one author per poster) and will need to purchase a delegate place.

Registration via Eventbrite.co.uk search: EAOAG or use link:
https://www.eventbrite.com/e/eaoag-annual-scientific-meeting-2018-tickets-46009165653
Authors will be responsible for preparing and displaying their poster (hard copy) on the day. Instructions for the format etc will be provided with the offer of acceptance.
The abstract must be presented in type written English in a plain black font (e.g.: Cambria body, times new roman), size 10.
The maximum word count must be no greater than 500 excluding tables and legends.
A table OR a figure may be included. Please consider that complicated figures with small annotations will not reproduce well.
Keep it simple and avoid complicated formatting.
Please ensure that all the authors listed are aware and consent to the submission and that all have checked the abstract for errors.
Research studies require ethical approval.
Case reports require patient consent.
Standard headings are required e.g.: Introduction, Case Report, Discussion, References or Introduction, Methods, Results, Discussion, References depending on the type of project.
Up to three references are allowed. Please present the references in the format conforming to the International Journal of Obstetric Anaesthesia. Include only the first 3 authors of a reference, adding "et al" if there are more.
Please see the following links to the OAA abstract submission instructions as a guide to assist you with your submission. Examples of different types of abstracts are given.
http://www.oaa-anaes.ac.uk/ui/content/content.aspx?ID=355
http://www.oaa-anaes.ac.uk/ui/content/content.aspx?ID=356