Eargates / Eyegates

Saturday, October 6, 2012 from 8:30 PM to 9:15 PM (PDT)
Event Details
Both evening performances are now booked out.
During the day (10am-5pm) the normally-gated Chapel will be open to visitors, allowing them to explore the space whilst the recorded version of Eargates plays quietly over a multi-channel system.  
//// EARGATES/EYEGATES
Eargates/Eyegates is a live collaborative audio-visual performance by Jake Williams and Nick Roberts in Abney Park Chapel, Stoke Newington on 6th October 2012.  With a bespoke performance setup (including a turntable used as a controller) electronic musician and sound artist Jake Williams will manipulate his field recordings of London churches into an extended version of his psychoacoustic soundscape, Eargates. This will be accompanied by projections created and controlled by visual artist Nick Roberts.
 //// ABOUT EARGATES
http://soundcloud.com/jakeone/eargates
Eargates is a sound piece made from recordings of 7 church services around London. It explores varied forms of Christian rituals, from the intimate to the grandiose, their effects and meaning, and the spaces in which they occur, all from the perspective of a non-believer.
 Appropriating, subverting and even at times transcending the source material, Eargates is not intended as a statement or critique of religion. Rather, it aims to capture both the beauty of the sonic experience and snatches of the emotions evoked by the rituals themselves (detached from the theological meanings attached to them). These feelings range from calm, meditative reflection to unease, joy to melancholy, awkwardness to cathartic release.
 Eargates uses the traditional editing techniques of musique concrète evoke the sonic geographies of modern urban worship in an abstract rather than documentary form. Loops of singing, chanting, organ, room tones and preaching slowly evolve and are layered over each other in rounds, with no recording ever heard alone, creating an intensely evocative soundscape.
 Haunting snatches of looped choirs from 5-200 voices, preaching and organ drones recall Gavin Bryars' minimalist classic Jesus' Blood Never Failed Me Yet, as well as artists such as Spiritualized, Demdike Stare and Williams Burrough's Dead City Radio.
//// ABNEY PARK CHAPEL, STOKE NEWINGTON
The performance will take place in the disused gothic chapel hidden away in the middle of the beautiful Abney Park Cemetery.  Built in the distinctive and controversial 'Dissenting Gothic' style, the architect (William Hosking) sought to adopt gothic styles from around the world and remove them from their traditional 'high church' associations.  Anyone, church-going or not, could be buried in the cemetery, making it the perfect venue for a project which explores non-believers' relationship with worship.
 //// BIO // JAKE WILLIAMS
Jake has worked with many aspects of electronic music over the last 10 years, writing / producing for Warp Records, Lo Recordings, !K7 and Process amongst others, toured extensively as part of live bands and a DJ, lectured on Ableton Live and has written music and sound design for television and award winning short films.
 He has recently completed a Masters at Goldsmiths University, focusing on electroacoustic composition, performance and installation based around ideas of ritual and internal vs. external sound experience.  Recent performances and exhibitions of his work have included the Southbank Centre, NTS Radio, SonicCueB and the Sho-Zyg exhibition at St James Church, New Cross (which he is also co-curating).
 //// BIO // NICK ROBERTS
Nick Roberts has regularly exhibited in London and elsewhere, including an outdoor sculpture exhibition at the Grove Hotel, Hertfordshire in 2010, and featured in a show in Tel Aviv in 2007.  Last year's solo exhibition LACUNA took place in a domestic-sized gallery, providing a playground for Roberts to explore various psychoanalytic ideas through physical objects.  Notable was the considered dialogue of the work with its architectural surroundings and his focus on design: consistent strengths throughout his work.  It is unquestionable therefore that Abney Park is a perfect location for Roberts to shine, it's Dissenting Gothic style favouring elements of design over promoting specific Gothic features.  Accompanying Jake's resonant sound piece, Roberts moves away from imagery directly associated with a Christian narrative.  Abstract black and white sculptural forms are open for the visitor to interpret.  The video does not influence one to read the church in a particular way, but is more focused on harmonising with the existing space and sound.  Meditative and ritualistic, the collage of images reiterates simple actions of the everyday.  That is not to say it is a familiar place – the collaboration with Jake welcomes you into the church but also provides an essence of haunting unease.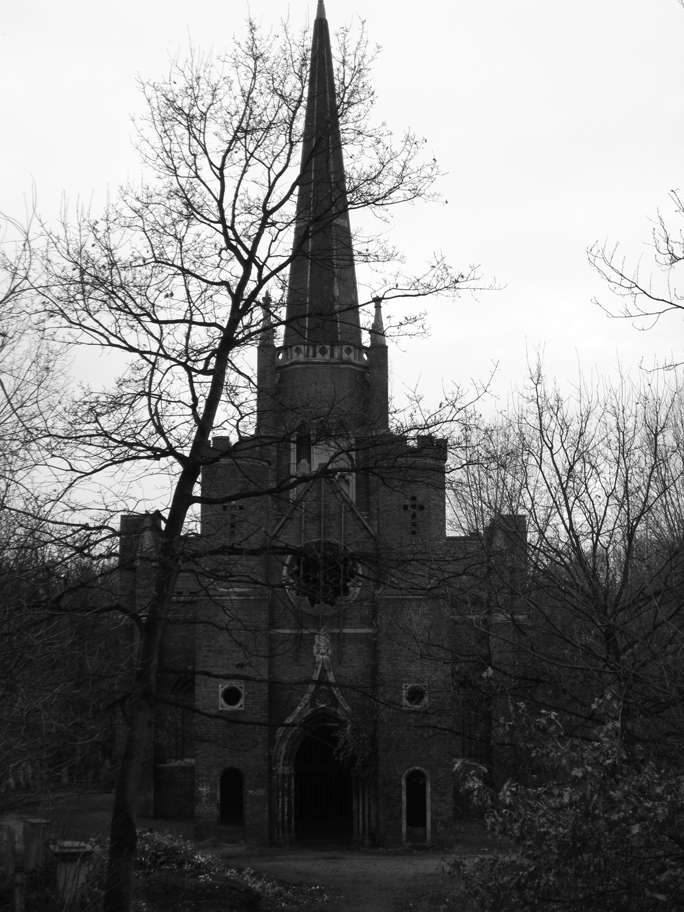 When & Where

Abney Park Chapel
Stoke Newington High St
N16 London
United Kingdom


Saturday, October 6, 2012 from 8:30 PM to 9:15 PM (PDT)
Add to my calendar