Sales Have Ended
Registrations are closed
Tickets for this event are no longer available. Thank you for your interest.
Sales Have Ended
Registrations are closed
Tickets for this event are no longer available. Thank you for your interest.
About this Event
The purpose of this workshop is to gain a deeper understanding of the impact of ACES on brain development, attachment and coping skills and to promote some practical ways staff can work together with children, young people and families to minimise the negative impact of ACES and to implement trauma informed practice. This workshop has been funded through the Police Violence Reduction Unit. The morning session will provide the theoretical framework through presentation and discussion and the afternoon will be an opportunity to work through case studies and work together to share ideas and local knowledge.
The term ACE was originally developed in America for the Adverse Childhood Experiences Study which found that as the number of ACEs increased, so did the risk of experiencing a range of health conditions in adulthood. Since then there have been numerous other studies which have found similar findings including in Wales and England. In St Helens we have high levels of need. Adverse Childhood Experiences (ACEs) are stressful events occurring in childhood including:
domestic violence
parental abandonment through separation or divorce
a parent with a mental health condition
being the victim of abuse (physical, sexual and/or emotional)
being the victim of neglect (physical and emotional)
a member of the household being in prison
growing up in a household in which there are adults experiencing alcohol and drug use problems.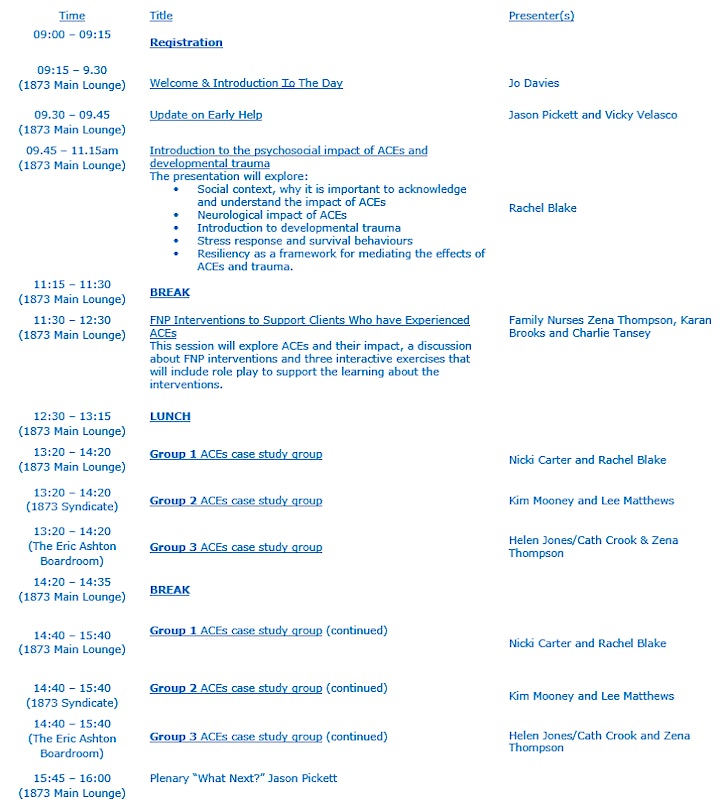 Who should attend?
Those at a strategic and operational level across all agencies including education, health, police, social care, child care providers, early years, housing, youth service, youth offending service, sports and leisure and the voluntary and community sector.
Please note this workshop is relevant to those who have attended previous ACEs sessions as it will provide a greater level of detail and insight and is also suitable for anyone who has not attended before.
Please ensure you book on to the Workshop through Eventbrite to secure your place as we would want to avoid disappointment on the day should those not booked on be turned away as places are limited.