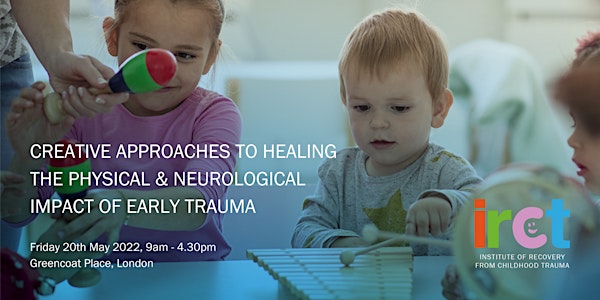 Early Impact of Trauma: Creative Approaches to Healing
Event Information
Location
Greencoat Place
24 Greencoat Place
London
SW1P 1RD
United Kingdom
Refund policy
Contact the organiser to request a refund.
Eventbrite's fee is nonrefundable.
Join expert speakers with workshop sessions to learn about creative approaches to healing the physical and neurological impact of trauma.
About this event
This is a one day experiential conference to include presentations and mini workshops demonstrating possible practical approaches for addressing the physical and neurological impact of early trauma. There will be three presentations in the morning session followed by the opportunity to sign up for two, from a choice of three, linked workshops in the afternoon.
This conference is suitable for anyone who is caring for or working with traumatised children and is seeking to understand their difficulties more and develop some practical skills for promoting recovery. This includes parents, foster and adoptive parents, residential carers, social workers, teachers and therapists.
Learning Objectives include:
To understand the impact of early trauma on neurodevelopment
To learn about creative approaches to redressing the impact of trauma on development
To have an experiential opportunity to learn about how to use the various creative approaches in your own work
SPEAKERS
DR SUE JENNINGS
Neuro-Dramatic-Play and Trauma: The importance of rhythmic play and the rhythm of Shakespeare's verse
Dr Sue Jennings is Professor of Play, awarded by the European Federation of Dramatherapy, and Senior Research Fellow of the Shakespeare Institute, University of Birmingham. As a lifelong pioneer of Dramatherapy in the UK and many other countries, she now focusses in early dramatic development both pre- and post-birth. She has been greatly influenced by her doctoral research in the Malaysian rainforest with a tribal community. She has written over 50 books on her subject including being co-editor of 3 International Handbooks for Routledge, the most recent being on Therapeutic Stories and Storytelling.
JOY HASLER
Healing Rhythms for Developmental Trauma
Joy Hasler has been a foster carer and is an adopter, a music teacher in a special school who then became a Music Therapist specifically to work with traumatised children and their foster and adoptive families. Joy set up a therapeutic company, Catchpoint CIC, which became a registered Adoption Support Agency. Joy has written chapters in books and co-edited Creative Therapies for Complex Trauma (2017). She is now retired and working as a therapist supervisor.
Joy will be looking at the power of rhythm and melody to heal the effects of developmental trauma. She will talk about the elements of musical rhythms that can be combined to help bring healing and resilience for trauma sufferers.
SARAH LLOYD
An Introduction to the BUSS Model – Building Underdeveloped Sensorimotor Systems
Sarah Lloyd is a Specialist Children's Occupational Therapist, Play Therapist and Author of the BUSS Model – Building Underdeveloped Sensorimotor Systems (BUSS) in children who have experienced developmental trauma. Sarah is based in Yorkshire and is the Founder and Director of the BUSS Model Ltd, which is a training and therapeutic organisation based within the Oakdale Team in Harrogate. Sarah also works within Leeds CAMHS, in fostering and adoption services (OAWY).
Sarah has published two books: Improving Sensory Processing in Traumatised Children (2016) and Building Sensorimotor Systems in Children with Developmental Trauma (2020).
The BUSS Model offers a framework to support children who have survived developmental trauma to re-build their sensory systems.
WORKSHOP LEADERS
SARAH LLOYD (BUSS)
JOY HASLER (MUSIC)
CLIVE HOLMWOOD (NEURODRAMATIC PLAY)
Clive will be leading Sue Jennings workshop session
Clive Holmwood is a Dramatherapist with 25 years' experience, and an Associate Professor in the Department of Therapeutic Arts at the University of Derby, where he lectures and researches in Dramatherapy and in the areas of play and Creative Arts Health and Wellbeing. He has written extensively on Dramatherapy, Play and Education, and is interested in the inter-disciplinary practices between arts, play, drama, therapy and education. He runs his own private dramatherapy practice specialising in working within children and adult mental health learning disabilities and looked after children and is an NDP trainer and practitioner. His most recent work being the co-edited Routledge International Handbook of Therapeutic Stories and Storytelling (2022) with Sue Jennings and Sharon Jacksties. Clive has known and worked with Sue Jennings for over 20 years. They have coedited two previous International Handbooks together on play and dramatherapy.
For more information about the event venue Greencoat Place and how to get there click here.
For latest News and Event Informatin follow our IRCT social accounts.
Date and time
Location
Greencoat Place
24 Greencoat Place
London
SW1P 1RD
United Kingdom
Refund policy
Contact the organiser to request a refund.
Eventbrite's fee is nonrefundable.