Description
In its 12th year, The Early Medieval Archaeology Student Symposium will be hosted jointly by the University of Glasgow and the Glasgow School of Art from 19-21 April 2018!
View the Call for Papers here.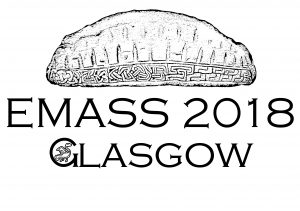 This year's conference will include two full days of papers and posters from 19-20 April 2018. Registration also includes a visit to the digital facilities at Glasgow School of Art's School of Simulation and Visualisation followed by a wine/whisky reception at Govan Old Parish Church (home to the famous Govan Stones) on Thursday 19 April 2018. Registration will cost £20 until 16 March 2018, after which it will increase to £25. (Note: Speakers will be notified of their acceptance by the end of February to allow for early registration. As is tradition at EMASS, all speakers must also register for the conference).
Our conference dinner will consist of a 2-course meal and traditional ceilidh at Sloan's, Glasgow's oldest bar and restaurant, on Friday 20 April 2018. Places are limited, so reserving a space in advance is advised.
Our field trip to Kilmartin Glen will be led by Dr. Ewan Campbell on Saturday 21 April 2018 and features a visit to Dunadd, the ancient capital of Dal Riata. The field trip will depart from Glasgow at 9am and return at 7pm.