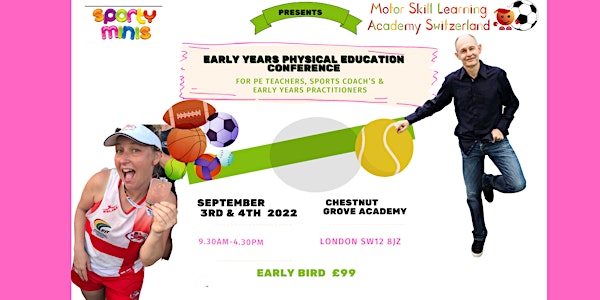 Early Years Physical Education Conference
Location
SW12 8JZ
Chestnut Grove
London
SW12 8JZ
United Kingdom
Refund policy
Contact the organiser to request a refund.
Eventbrite's fee is nonrefundable.
The UK's only conference dedicated to physical education in the early years - For PE teachers, Sports Coach's and Early Years Practitioners
About this event
Calling all PE teachers, Sports Coaches, Primary School Teachers/Assistants and Early Years Educators This is the only early years physical education conference that offers continual professional development for primary school teachers, sports coaches and early years educators.
It is an excellent opportunity to gain insights and practical strategies for promoting physical development, motor and fundamental movement skills among young children.
The conference will cover a wide range of topics such as planning and delivering PE lessons, assessing children's physical development, using indoor and outdoor spaces for active play, and much more. Walk away with hundreds of new & creative games you can implement right away.
There will also be plenty of opportunities to network with other like minded professionals and share best practice. This is a must-attend event for anyone who wants to improve the way they deliver physical education to young children.
Purchase your tickets now to get inspired by hundreds of new games & connect with like-minded teachers:
https://sportyminis.com/product/early-years-physical-education-conference-2022/
Here's a sneak peek of what you'll learn:
>> How to build progressions from a simple game and teaching aid into a multitude of activities.
>> How to design activities to force the learning outcome you want. (Implicit learning)
>> Advantages of a Game-based Approach & How to Create Games
>> A simple system you can use to structure your lessons (development stage, versatility, game based approach, story)
>> The importance of time on task to be a successful coach
>> Skill zones, how to help young children develop their skills quickly and effectively.
>> Why motor skill development is the ultimate path to successful sports participation, potential, and fun for young children ((Why Motor Skill learning and not exercise for children? Motor Skills to Coordination to Sport-specific skills.
Genes versus experiences/ Importance of the early years))
>> Use our top 100 games to quickly develop your confidence and credibility so you attract high-paying clients that love working with you
>> Get full year access to 4 P.E. curriculums ages 3-7 that work and you can follow step by step.
This workshop will be limited to 100 participants...
So register while you still can.
Costs:
Early Birds : £99
Full Price: £169
Last Minute : £199
When: Saturday 3rd and Sunday 4th of September . 9.30am-4.30pm each day
Where: Chestnut Grove Academy 45 Chestnut Grove, London SW12 8JZ
The Early Years Physical Education Conference is the perfect event for those who want to learn about the advantages of a game-based approach.This conference will provide you with the tools you need to create games that are both fun and educational. In addition, you will have the opportunity to hear from some of the top games designers in the industry and learn about their favourite games. This is a rare opportunity to gain insight into the world of physical education and how to make it more fun for everyone involved. Register now and don't miss out on this once-in-a-lifetime event.
Details: Join International expert educator and founder of the Motor Skills Learning Academy Switzerland (PE/Active play curriculum) - Dominique Chiquet.
AND
International athlete , PE teacher and founder of SportyMinis early years fundamental movement skills programme Marnie Wills
BUY Tickets HERE: https://py.pl/A8seGT6rhVQ
Bonuses :
1 year full access to Motor Skills Learning Academy - Worth £199 On Demand PE lessons that help you run great sports programmes for ages 3-7years. 'Get all the games you need so all the children engage' By founder of the Motor Skills Learning Academy Switzerland Dominique Chiquet
10 week little movers programme for children aged 9months- 2.5years.
Copy of best selling book - Sports Coach to CEO by Author and SportyMinis Founder Marnie Wills
Your Presenters
Bio's
Dominique
Founder/Owner Motorskilllearning.com, providing online PE/Active play curriculums for 3-7-year-olds & MotorSkillLearing PE certification workshops globally for teachers/coaches.
(representations in the United States, China, India, and many others).
Coach Expert Educator for Swiss Kindersport, part of Swiss Youth & Sport , with participation of 154'000+ children aged 4-9 annually.
CAPS president, (International Organization of Children's Active Play & Sports).
2009 - Founder/Owner http://kinderbasel.com, running motor skill development classes and multi-sport camps in the state of Basel, Switzerland
Partner Street Racket Academy Switzerland / Mantis Martial Arts Academy Asia
Coach 1 Swiss Olympic, the Swiss National Governing body for professional athletes.
Former Professional Athlete, Swiss No 1 Squash Player.
Marnie
Founder/Owner of SportyMinis Limited, early years - EYFS linked fundamental movement skills programme & SportyMinis franchisor
International athlete, England Touch Rugby player 86 caps
Primary and Secondary Physical Education Teacher; 16 years
Personal Trainer, Strength and Conditioning Coach
International Sports Coach; England Touch + England Netball (nets)
Best selling author - Sports Coach to CEO
Ex International England Netball (nets) player
Tickets on sale: https://sportyminis.com/product/early-years-physical-education-conference-2022/