Description
JOIN US FOR A DAY OF HEALING, ACTIVISM & EMPOWERMENT!

Advaya Initiative has curated a day of healing morning workshops, vegan lunch and afternoon talks. We'll be looking at how to create positive changes in our own lives and the world around us through healing, activism and education.
After morning workshops including a choice of Craftivism, Viniyoga or Kundalini Yoga we will share delicious Vegan lunch.
The afternoon talks will look at the need for new modes of understanding to navigate our ways to a better future; the importance of action grounded in empathy and a shift away from left-hemisphere mental predispositions; the main drivers of ecocide and the current state of extreme energy; and how we can expand the notion of activism to include more creative, gentle and targeted methods.
Come to meet like-minded individuals, expand your minds and open your hearts to new possibilities.

CHOICE OF MORNING WORKSHOP:
Craftivism (Sarah Corbett), Kundalini (Siri Sadhana Kaur) & Vini Yoga (Miranda Taylor)

LUNCH FOR ALL:
Delicious, healthy vegan lunch prepared by Piccalilli Caff

AFTERNOON TALKS:
Alex Evans - 'The Myth Gap: Finding New Myths for Renewal and Restoration'
Iain McGilchrist - 'The Divided Brain and Human Behaviour'
Damien Short - 'Extreme Energy and the Genocide-Ecocide Nexus'
Sarah Corbett - 'The Art of Gentle Protest'

______________________________________________________________________
THE SPEAKERS:
Ian McGilchrist will look into how the dominance of the left hemisphere in our brain predisposes our society to perceive ourselves as separate from nature. He expounds the acknowledgement and respect of our reciprocal relationships to the natural world and each other, arguing for action that is grounded in empathy and interconnectedness (the domains of the right hemisphere).

Alex Evans, campaign director at Avaaz, will discuss how this time of global crisis and transition needs new myths, new modes of understanding, to navigate our way to a better future. He advocates stories, rather than charts and facts, to animate and unite us so we may create the necessary changes in the world.

Damien Short will investigate the main drivers of genocide and ecocide in the world today and how can we avoid being indirect perpetrators.

Sarah Corbett, founder of the Craftivist Collective, also hosting a morning workshop, expands the notion of conventional activism and opens up ways for people to take action that are more creative, gentle and effective.
SCHEDULE
1045 Doors Open

1100 Choice of Workshops: Kundalini Yoga, Sound & Meditation with Siri Sadhana Kaur / Viniyoga: Movement and Breath with Miranda Taylor / Craftivism: A Heart For Your Sleeve with Sarah Corbett

1230 Vegan Lunch by Piccalilli Caff

1330 Alex Evans, The Myth Gap: Finding New Myths for Renewal and Restoration
1405 Dr Iain McGilchrist, The Divided Brain and Human Behaviour

1440 Break & Cacao Treats

1510 Dr Damien Short, Extreme Energy and the Genocide-Ecocide Nexus
1545 Sarah Corbett, Craftivism: The Art of Gentle Protest

1620 Closing & End

__________________________________________________________________________________
EXTRA INFO!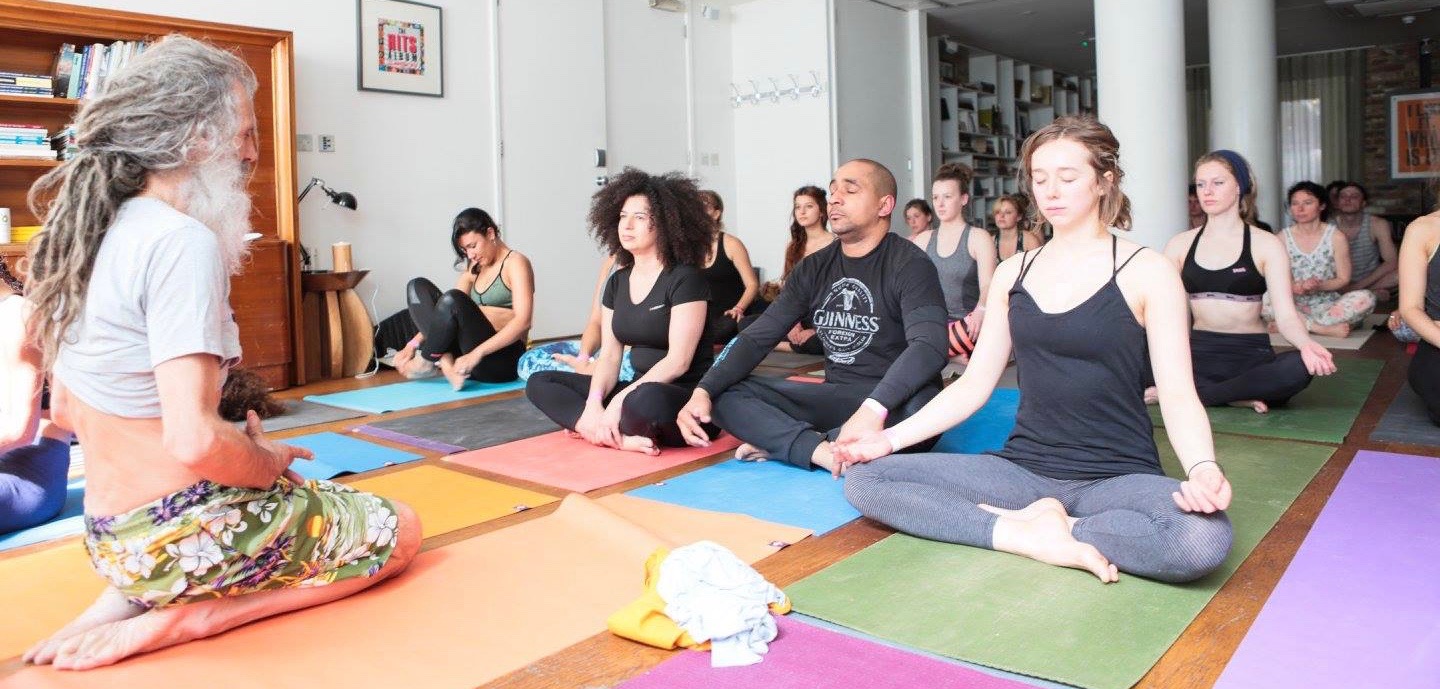 TALK & WORKSHOP DESCRIPTIONS, & BIOS
Dr. ALEX EVANS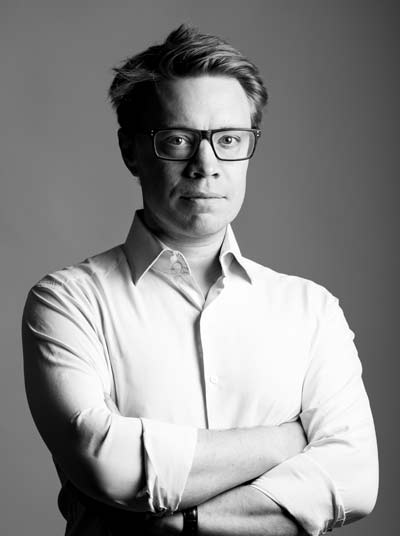 TALK: Once upon a time our society was rich in stories. They united us and helped us to understand the world and ourselves. We called them myths.
Today, we have a myth gap. Does that matter? Alex Evans argues persuasively that it does. In this time of global crisis and transition – of mass migration, inequality, resource scarcity and climate change – it is only by finding new myths, those that speak to us of renewal and restoration, that we will navigate our way to a better future. It is stories, rather than facts and pie-charts, that have the power to animate us and bring us together to change the world.
Drawing on his first-hand experience as a political adviser within British government and at the United Nations, and examining the history of climate-change campaigning and recent contests such as Brexit and the US presidential election, Alex Evans explores how tomorrow's activists are using narratives for change, how modern stories have been used and abused, and where we might find the right myths to take us forward.
BIO:
Alex Evans is campaign director at Avaaz, the global citizens' movement, and a Senior Fellow at New York University's Center on International Cooperation.
Over the last two decades Alex has worked on global issues in the UN Secretary-General's office, as Special Adviser to two UK Secretaries of State for International Development (Valerie Amos and Hilary Benn), and as a consultant for organisations from Oxfam to the US National Intelligence Council.
Other recent work includes co-authoring The Restorative Economy, a report for the NGO Tearfund, and research on global climate policy with the Center for Global Development among others.
All of Alex's publications are available here; he also blogs at Global Dashboard (which he co-edits), is a regular contributor on Development to the Guardian, and occasionally posts progressive house mixes on Soundcloud.
Alex is married to Emma Williams, and they live in North Yorkshire with their children Isabel (6) and Kit (3).
MORE: http://mythgap.org
SIRI SADHANA KAUR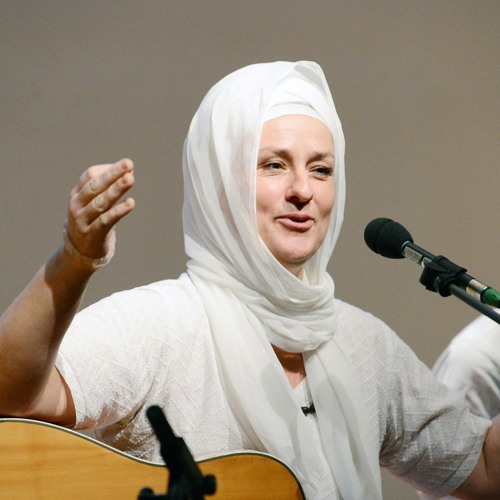 Workshop Description: Kundalini Yoga, Sound & Meditation
Siri will lead a transformational Kundalini Yoga Workshop accompanied by gong and guitar. Participants will be taken on a spiritual journey through Sound, Breath and Body to find flexibility, clarity and develop vital tools that help deal with everyday stresses. Siri's workshop will stretch and challenge the mind, body and spirit, enabling inner strength, balance and relaxation.
Kundalini yoga (as taught by Yogi Bhajan) is an ancient technology and science that activates health, potential and capacity. It works with powerful and relaxing breathing, visualisation, dynamic asanas (postures) mantras (chants) along with mudras (hand gestures).
It is taught in kriyas (a series of postures) that are designed to bring about a transformation and balance through working a particular system of the body (i.e. the nervous, endocrine, lymphatic and immune system). It is often called 'a yoga of awareness' as it expands consciousness and emphasises the flow of movement within any given kriya.
BIO
Siri's ethos and practice is to encourage others to experience themselves as joyful instruments of expression, transformation and helping them discover their own personal style and path. Performing internationally for many years, Siri has developed a vocal practice and training method involving the body and her spirituality.
Siri facilitates events sharing mantra dance, Kundalini Yoga, Gong baths and singing accapella choirs. She travels performing Kundalini mantra music and devotional music. Her music mantra CDs 'Awakening heart' 'Alokas Grace' 'Sacred Nectar' and 'Song of Soul' are available for purchase on iTunes, CD Baby, Spirit Voyage, and Sat Nam Versand.
As a certified KRI proffessional kundalini teacher trainer, she travels sharing kundalini yoga teachings as taught by Yogi Bhajan., and is mentored by her teacher Shiv Charan Singh at the Karam Kriya School She is a lead monitor for the Uk white tantra team, organizes Level 2 teacher trainings, sangat events for the Great British Kundalini Yoga Festival, and is co-ordinator for the Karam Kriya Women's Camp UK 2016 Karam Kriya School. Stage-wise, she has taught at Drama schools LAMDA and Rose Bruford College delivering theatre and singing workshops for adults and children. She has also produced a children's CD called 'Songs for the Seasons' for the North London Rudolph Steiner school kindergarten, which is available if you contact the school directly.
http://sirisadhana.com/
Dr. IAIN McGILCHRIST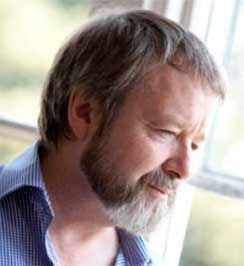 TALK: Dr Iain McGilchrist explores how the dominance of the left hemisphere over the right in our brain predisposes our culture to a particular way of being. Because of the left hemisphere's tendency to experience in specific and segregated parts rather than in whole and complex patterns, it perceives itself as separate and distinct from nature. The comprehensive insights and awareness of the right hemisphere have been displaced by a narrow thinking that is methodical, pragmatic and rigid. What makes us truly happy is in fact the reciprocal relationship between ourselves and one another, ourselves and the world – something the right hemisphere alone understands, since it is the ground of empathy and interconnectedness, where the left hemisphere is concerned with manipulation and sees the world atomistically. McGilchrist shows how this manipulative and atomistic way of thinking is fundamentally unbalanced and unhealthy and lies at the root of climate destruction.
WATCH: https://youtu.be/dFs9WO2B8uI
BIO: Iain McGilchrist is a psychiatrist and writer. He is committed to the idea that the mind and brain can be understood only by seeing them in the broadest possible context, that of the whole of our physical and spiritual existence, and of the wider human culture in which they arise – the culture which helps to mould, and in turn is moulded by, our minds and brains.
Iain is interested in a wide range of psychiatric conditions, including depression, psychosis, personality disorders (especially borderline personality disorder), anxiety disorders, chronic low self-esteem, phobias, alcohol and drug abuse, as well as neuropsychiatry.
He has published original articles in a wide range of papers and journals, including the Times Literary Supplement, The London Review of Books, The Listener, Essays in Criticism, Modern Language Review, The Sunday Times, The Sunday Telegraph, BMJ, English Historical Review, British Journal of Psychiatry, and American Journal of Psychiatry, on topics in literature, medicine and psychiatry, and has published original research on neuroimaging in schizophrenia, the phenomenology of schizophrenia, and other topics. He took part in a two-part Channel 4 documentary, Soul Searching, in 2003. His first book, Against Criticism, was published by Faber in 1982, and dates from before his medical training, but deals with issues of the wholeness, uniqueness and embodied nature of the work of art, which are continuous with his current concern, the relationship between the history of ideas and shifts in brain hemisphere function, a topic which he has been researching for 20 years, and which is the subject of a recent book published by Yale University Press, The Master and his Emissary: The Divided Brain and the Making of the Western World.
Iain was a late entrant to medicine. After a scholarship to Winchester College, he was awarded a scholarship to New College, Oxford, where he read English. He won the Chancellor's English Essay Prize and the Charles Oldham Shakespeare Prize in 1974 and graduated (with congratulated 1st Class Hons) in 1975 (MA 1979). He was awarded a Prize Fellowship of All Souls College, Oxford in 1975, teaching English literature and pursuing interests in philosophy and psychology between 1975 and 1982. He then went on to train in medicine, and during this period All Souls generously re-elected him to a further Fellowship (1984-1991), and again in 2002 (to 2004).
Iain was formerly a Consultant Psychiatrist of the Bethlem Royal and Maudsley NHS Trust in London, where he was Clinical Director of their southern sector Acute Mental Health Services. He is a Fellow of the Royal College of Psychiatrists and is specially approved by the Secretary of State under Section 12(2) of the Mental Health Act, 1983. He trained at the Maudsley Hospital in London, working on specialist units including the Neuropsychiatry and Epilepsy Unit, the Children's Unit and the Forensic Unit, as well as, at Senior Registrar level, the National Psychosis Referral Unit and the National Eating Disorder Unit. During this period he also worked as a Research Fellow in neuroimaging at the Johns Hopkins Hospital in Baltimore, USA. His clinical experience has been broad-based, and he has run a busy Community Mental Health Team in an ethnically diverse and socially deprived area of south London.
His other interests include the relationship between creativity and mental illness, and he is currently working on a number of books: a critique of contemporary society and culture from the standpoint of neuropsychology; a study of the paintings of subjects with schizophrenia; a series of essays about culture and the brain with subjects from Andrew Marvell to Serge Gainsbourg; and a short book of reflections on spiritual experience.
MORE: http://iainmcgilchrist.com
Dr. DAMIEN SHORT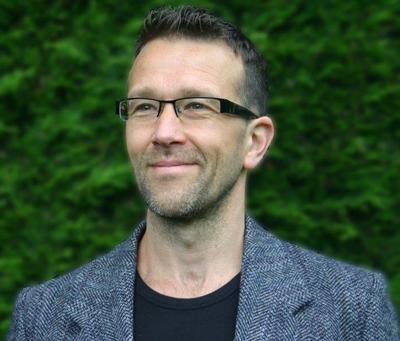 BIO: Dr. Damien Short is Director of the Human Rights Consortium (HRC) and a Reader in Human Rights at the School of Advanced Study. He has spent his entire professional career working in the field of human rights, both as a scholar and human rights advocate. He has researched and published extensively in the areas of indigenous peoples' rights, genocide studies, reconciliation projects and environmental human rights. He is currently researching the human rights impacts of extreme energy processes (e.g. Tar Sands and Fracking - http://extremeenergy.org).
Damien is a regular academic contributor to the United Nation's 'Expert Mechanism on the Rights of Indigenous Peoples' and an academic consultant for the 'Ethical Trade Task Force' of the Soil Association. He is also Assistant Editor of the International Journal of Human Rights (Taylor and Francis) and Editor-in-chief of the Journal of Human Rights in the Commonwealth (University of London) and convenor of the British Sociological Association's Sociology of Rights Study Group and an active member of the International Network of Genocide Scholars.
Damien has also worked with a variety of NGOs including Amnesty International, War on Want, Survival International, Friends of the Earth, Greenpeace and the International Work Group for Indigenous Affairs; and with a range of campaign groups including Eradicating Ecocide, Biofuelwatch, Climate Justice Collective and the UK Tar Sands Network. He currently advises local anti-fracking groups in the UK and county councils on the human rights implications of unconventional (extreme) energy extraction processes such as fracking.
SARAH CORBETT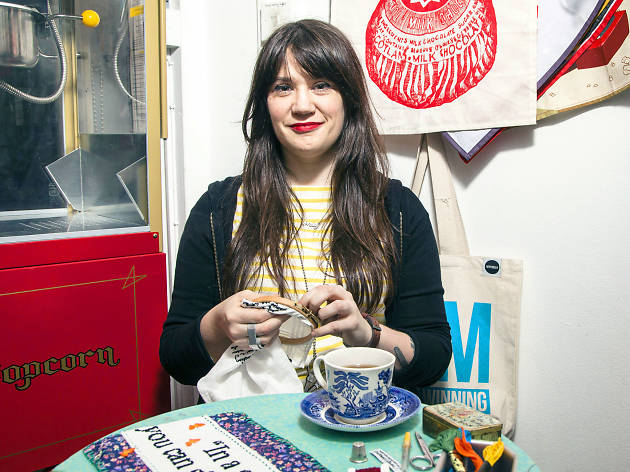 Workshop: A hand-stitched green heart can help remind us all to protect our beautiful world and secure a safer future for the next generation of crafters. Stitch what you love about the world on your sleeve in support of The Climate Coalition's #fortheloveof campaign and wear your conviction to stand up for what you love, as a catalyst for conversation and to show world leaders that people across the world with different passions, hobbies and backgrounds all care about climate change and want action. We all need to be climate change MAKERS
Talk: Activism often conjures up quick transactional signing of petitions, clicktivism, loud and aggressive ways to demand justice. Craftivist Collective provide 'slow activism' that uses craft as a meditative tool to stop, reflect and act on injustice issues in a transformative and gentle way. Join in this hopeful, creative and thoughtful way of doing activism.
BIO: Sarah Corbett founded Craftivist Collective in 2009 when after years of marches, signing protests and working on campaigns for large charities, she had begun to doubt the effects of some conventional activism, and as an introvert didn't feel she fitted in to many activist groups. The time felt right to add a slower and less aggressive approach to the activism toolkit, not to replace other forms of activism but to add more tools to do activism effectively.
Sarah saw how she could use some of the beneficial processes of craft and the final products as tools for a more gentle, respectful and more targeted way of doing activism. Although as a principle 'Craftivism' already existed, it took no time for Sarah to develop her own unique approach she calls 'Gentle Protest'. One focused first on putting the contemplative moments spent stitching to work for the maker; exploring global issues and using craft for critical thinking. But then the finished craft piece are used in different ways to engage, empower and encourage people to become part of the change we need to see in the world.
Now with thousands of members, Craftivist Collective is thriving. Craftivism kits and tools are sold to craftivists and intrigued people all over the world. 'A Little Book of Craftivism' book was release 2003 and a more in-depth book 'How To Be A Craftivist: the art of gentle protest' is due for release October 2017. You can find their approach to craftivism in many different publications (and languages) around the world; 4 TEDx talks; over 300 workshops and presentations given around the world attended by over 11,000 people, and many successful partnerships with charities (including Unicef and Save the Children), art institutions and universities (such as Bauhaus University, Falmouth University and Parsons New School NYC) have all helped carry the'gentle protest' methodology to a global audience whilst their campaigns have created tangible positive change. Worldwide project exhibitions and high profile collaborations, with the likes of cult jewellers Tatty Devine, The V&A and Secret Cinema, have helped extend its reach beyond the normal bounds of activism.
Stitch by contemplative stitch Craftivist Collective continues to thread activism through all it does, prioritising social injustice and using craft as a tool not taskmaster to expose the world's injustices and always striving to help people be part of the solution.
MORE: https://craftivist-collective.com